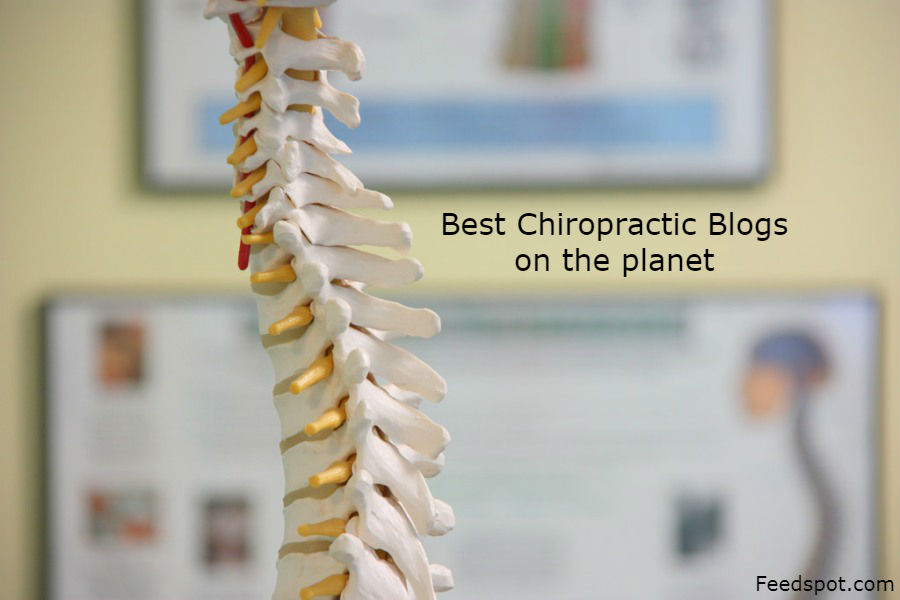 Chiropractic Blogs List
The Best Chiropractic blogs from thousands of Alternative Medicine blogs in our index using search and social metrics. Data will be refreshed once a week. Also check out Top Chiropractic Youtube Channels list for Top videos on Chiropractic and Chiropractic Podcasts.
If your blog is selected in this list, you have the honour of displaying this Badge (Award) on your blog.
Chiropractic Blogs

Toronto, Ontario, Canada About Blog Canadian Chiropractic Association (CCA) Blog helps Canadians live healthier lives. The Canadian Chiropractic Association (CCA) is a national, voluntary association representing Canada's licensed doctors of chiropractic and the 10 provincial chiropractic associations which are its charter members.
Frequency about 2 posts per month.
Also in Alternative Medicine Blogs
Blog chiropractic.ca/category/blog
Facebook fans 3,913. Twitter followers 2,704.

Towson, Maryland About Blog This blog provides convenient, affordable, and mainstream chiropractic care for neck and back pain, sports injuries, auto accidents.
Frequency about 1 post per month.
Blog towsonchiro.com/blog
Facebook fans 10,373. Twitter followers 512.

Meridian, Idaho, USA About Blog SMART Chiropractic Billing, Coding, Documentation, Compliance & Business Strategies from Dr. Tom Necela. Chiropractic Business Strategies to Work Smarter IN and OUT of Practice -The Strategic Chiropractor from The Strategic Chiropractor.
Frequency about 4 posts per month.
Since Jun 2009
Blog strategicdc.com/blog
Facebook fans 1,248. Twitter followers 554.

Washington DC, Maryland, Virginia, Landover, McLea About Blog Sport and Spine Rehab provides state of the art comprehensive care by combining chiropractic, physical therapy, rehabilitation and patient education to eliminate symptoms, restore full function and promote a healthy lifestyle.
Frequency about 2 posts per month.
Blog ssrehab.com/blog
Facebook fans 1,736. Twitter followers 1,240.

Freehold, New Jersey About Blog Offers Free Chiropractic Consultation. Dr. Russell Brokstein is the author of this blog providing excellent chiropractic care for 18 years, and is continually driven to deliver the friendliest and most professional service available in the chiropractic field.
Frequency about 1 post per month.
Blog chiropractorfreehold.com/blog
Facebook fans 1,510. Twitter followers 2,613.

Parramatta, South Wales, Sydney, Australia About Blog The Chiropractors' Association of Australia (CAA) is the peak body representing chiropractors which is focussed around supporting chiropractors and through them enhancing community health. An underlying principle of chiropractic is "healthy spine, healthier life". By offering expert drug-free spinal health care and lifestyle advice, chiropractors help Australians lead and maintain healthy lives.
Frequency about 2 posts per month.
Blog chiropractors.asn.au/blog
Facebook fans 3,054. Twitter followers 670.

London, UK About Blog Chiropractic blog at Putney Chiropractic has Outstanding friendly London chiropractors, helping you be at your best with our wealth of experience. Chiropractic is an effective, non-invasive, drug-free path to better health.
Frequency about 4 posts per month.
Since Jun 2004
Also in UK Chiropractic Blogs
Blog putneychiropractic.co.uk/blog
Facebook fans 1,035. Twitter followers 1,904.

Tampa, Florida About Blog This blog is dedicated to providing research relative to the practice of chiropractic. The Evidence Based Chiropractor is the premier interdisciplinary outreach service based on research.
Frequency about 3 posts per month.
Blog theevidencebasedchiropractor..
Facebook fans 10,227. Twitter followers 286.

Colorado About Blog Read Bill's blog posts with the latest ideas for improving chiropractic patient communications, reports, procedures and your own headspace. Patient Media supplies chiropractors around the world with chiropractic patient education and marketing products and supplies.
Frequency about 1 post per week.
Blog patientmedia.com/blog
Facebook fans 730. Twitter followers 2,655.

Austin, Texas About Blog Austin Chiropractor Dr. Daniel Gonzalez offers gentle family Chiropractic care helping Austin to move better and eat healthy. Here the primary form of treatment is the chiropractic adjustment yet our process is focused on education.
Frequency about 2 posts per month.
Blog familyhealthchiropractic.com..
Facebook fans 1,525. Twitter followers 71.

Houston, Texas About Blog Read articles and watch videos from the doctors at CORE Chiropractic blog. Our goal is to restore health to every person by establishing correct alignment in their spine as their foundation, then encouraging other healthy habits and activities to achieve their full health potential.
Frequency about 4 posts per month.
Blog corechiropractic.net/blog
Facebook fans 1,637. Twitter followers 1,246.

Denver, Colorado About Blog Find articles written by Dr. Trent Artichoker on a variety of chiropractic related subjects. Denver Chiropractic, LLC provides chiropractic manipulative therapy, cold laser therapy, flexion-distraction therapy, dry needling, custom orthotics, kinesio taping, graston technique, shockwave therapy, sports physicals, electro therapy, and ultrasound.
Frequency about 1 post per month.
Blog denvercoloradochiropractic.c..
Facebook fans 3,038. Twitter followers 529.

New Lenox, Chicago, Illinois About Blog MVP Chiropractic has a blog that lists helpful healthy tips, explanation of conditions, and treatment options. It provides premium chiropractic care and accepts most insurances. We provide quality care at a reasonable price.
Frequency about 1 post per month.
Blog mvpchiro.com/chiropractic-ch..
Facebook fans 14. Twitter followers 34.

Melbourne, Victoria About Blog Learn about complementary therapies & health at the Chiropractic Care Cranbourne blog. Our professional team shares their knowledge to help you. Chiropractor Cranbourne focuses on family chiropractic, pain treatment and management.
Frequency about 3 posts per month.
Blog cranbournefamilychiro.com.au..
Facebook fans 870. Twitter followers 169.

Cape Town, South Africa About Blog Relieving pain and suffering, rebuilding bodies, transforming lives and optimising performance
Frequency about 2 posts per month.
Blog capetownchiro.com/articles
Facebook fans 1,196. Twitter followers 313.

Nampa, Boise, Caldwell, ID About Blog A strong concern for the well-being of patients, a well trained staff, and the most modern equipment and procedures available for dealing with the suffering of low back and cervical pain.
Frequency about 2 posts per month.
Blog mckimchiropractic.com/chirop..
Facebook fans 459. Twitter followers 123.

Portland, Oregon About Blog Devine Chiropractic is committed to providing chiropractic solutions to address your unique needs, whether you are experiencing chronic back pain, neck pain, headaches, muscular tightness and tension, pain relief after an accident, experiencing an injury, suffering from spinal condition, or even if you're looking to improve your overall health.
Frequency about 3 posts per month.
Blog devinechiropractic.com/blog
Facebook fans 324. Twitter followers 220.

Denver, Aurora, Lakewood, Wheat Ridge About Blog Chiropractors are specially trained to treat and protect the nervous system by relieving pressure on nerves. Stay tuned for the latest information from the Aim High Chiropractic blog.
Frequency about 3 posts per month.
Blog mydenverchiropractor.com/blog
Facebook fans 5. Twitter followers 1,487.

Columbia, Maryland, USA About Blog Columbia Advanced Chiropractic treats everything from chronic back pain to sports injuries and a quality chiropractic and rehabilitative services are offered in a caring, compassionate, and warm environment.
Frequency about 1 post per month.
Blog yourchiropractor.net/categor..
Facebook fans 463. Twitter followers 137.

Northfield, Minnesota About Blog This chiropractor in Northfield will try to show you the best method for prevention. Chiropractic care is effective at treating many conditions such as back pain, neck pain, headaches, and so much more!
Frequency about 1 post per month.
Blog cannonpointe.com/northfield-..
Facebook fans n/a. Twitter followers 189.

Southwest Virginia About Blog At Tuck Chiropractic, we strive to be the leaders in providing quality chiropractic care treating most musculoskeletal conditions including neck pain, back pain, headaches, and carpal tunnel in order to facilitate healthier lives within the communities we serve.
Frequency about 1 post per week.
Blog tuckclinic.com/wellness-tips
Facebook fans 1,870. Twitter followers 771.

San Diego, Oceanside, California About Blog Check out our blog for current information on Chiropractic. The Chiropractors at Better Life Chiropractic provide high quality chiropractic care for many different conditions.
Frequency about 1 post per month.
Blog betterlifechiropractor.com/blog
Facebook fans 766. Twitter followers 27.

Victoria, British Columbia About Blog Click inside to read the latest blog posts on massage therapy and more from Achieve Health. Achieve Health provides massage therapy, chiropractic care, physiotherapy & acupuncture services in Victoria BC. Learn more about our clinic inside.
Frequency about 1 post per month.
Blog achievehealth.ca/blog
Facebook fans 176. Twitter followers 62.

Fort Wayne, Indiana About Blog Improve the quality of your life and the lives of those in your community. We know that health is so much more than just not feeling pain. We strive to have our patients reach their fullest innate potential. Chiropractic moves the bone, God Almighty does the healing!
Frequency about 1 post per month.
Blog newlifechiro.net/blog
Facebook fans 748. Twitter followers 8.

Miami About Blog Spine Center of Miami has over 20 years experience in spine surgery. We specialize in back problems, spine disorders, fractures & surgical revisions.
Frequency about 1 post per month.
Blog spinecentermiami.com/categor..
Facebook fans 63. Twitter followers n/a.

Destin, Florida About Blog This blog is a weekly blog to help educate and inform our patients and friends about health related topics. At Emerald Coast Chiropractic, we try to be the best Destin chiropractor that we can be, so that you can be the best you can be.
Frequency about 1 post per week.
Blog destinchiropractor.com/blog
Facebook fans 1,090. Twitter followers 3,392.

Virginia Beach, Virginia About Blog Virginia Beach chiropractor Dr. James Maggio offers quality chiropractic in a friendly, efficient office. At the ProAdjuster Chiropractic Clinic, we want to give you the chiropractic resources you need to succeed.
Frequency about 1 post per month.
Blog proadjusterchiropractorvirgi..
Facebook fans 1,436. Twitter followers 62.

Eastbourne, East Sussex About Blog These blogs have been written by Eastbourne based chiropractors, massage therapists, counsellor other practitioners. You'll find self-help chiropractic advice for looking after your spinal discs, knee exercises as well as practical explanations about choosing a mattress, what to expect in your chiropractic consultation and more.
Frequency about 3 posts per month.
Since Oct 2012
Blog backblog.co.uk/health-and-ad..
Facebook fans 1,126. Twitter followers 129.

Edmonton, Alberta About Blog Oliver Chiropractic Wellness Clinic's blog offers the latest on chiropractic treatments in Edmonton, as well as advice for back, neck, shoulder pain and any other discomfort. Oliver Chiropractic and Wellness Clinic in Downtown Edmonton offers chiropractic, massage therapy, acupuncture, shockwave therapy.
Frequency about 1 post per week.
Blog ocwc.ca/chiropractic-blog
Facebook fans 1,003. Twitter followers 190.

Aventura, Plantation, Florida About Blog Follow this blog for expert advice from our doctors of chiropractic! Markson Chiropractic is a chiropractic practice oriented toward family and pediatric care, athletic and motor vehicle injuries, worker's compensation cases, and preventative health care.
Frequency about 4 posts per month.
Blog marksonchiropractic.com/blog
Facebook fans 1,203. Twitter followers 216.

Morganville, NJ About Blog Serves the community through the practice of the highest quality Upper Cervical Chiropractic care and helps practice members restore health and achieve wellness in their lives through the correction of the Atlas Subluxation Complex. We are also committed to public health education and technical excellence in the healing.
Frequency about 1 post per month.
Blog getwellnj.com/blog
Facebook fans 308. Twitter followers 72.

Putney, Tooting, Fulham,Marylebone About Blog Our blog includes insight from our team into ways you can improve your health and wellbeing covering everything from nutrition and exercise to performance and mindfullness. You'll also find our latest news and offers in our blog.
Frequency about 4 posts per month.
Blog chiro.london/blog
Facebook fans 125. Twitter followers 149.

Calgary, Alberta About Blog Cadence Chiropractic provides Chiropractic Care, Active Release (ART), Graston Technique, Kinesiotape, Acupuncture, Massage Therapy and Foam Rolling.
Frequency about 1 post per month.
Blog cadencesportstherapy.com/blog
Facebook fans 61. Twitter followers 44.

Waukegan, IL About Blog We are a Waukegan Chiropractic clinic combining the power of the chiropractic adjustment and advanced FDA-cleared therapies like disc decompression. Blog for Straight Up Spine and Posture. Educational articles to help you get the best treatments for headaches, back pain and neck pain.
Frequency about 1 post per month.
Blog straightupspineandposture.co..
Facebook fans 189. Twitter followers 2.

Denver, CO About Blog Chiropractic Denver Back helps patients discover the benefits of a healthy lifestyle that includes exercise and a proper diet. If you are ready to takings control of your health and make a better life for yourself, Chiropractic Denver want to help you.
Frequency about 9 posts per week.
Since Aug 2017
Blog chiropracticdenverback.blogs..
Facebook fans n/a. Twitter followers 2.

About Blog I am a wife, mother, daughter and chiropractor. I am a crunchy mom who prefers to go natural.
Frequency about 3 posts per month.
Blog misslittledoc.com
Facebook fans n/a. Twitter followers n/a.

Frankfort, Illinois About Blog Be Well Chiropractic helps to improve the quality of life through specific, affordable, regular chiropractic care.
Frequency about 1 post per month.
Blog bewellchiropracticpc.com/blog
Facebook fans n/a. Twitter followers 75.

Omaha, NE About Blog Green Chiropractic welcomes people of all ages. They see newborns, those in their 90's and everyone in between. Some come to us to get help with pain, while others are already healthy and want to make sure they stay that way. Our aim is to determine the cause of your problem so that we can find the right solution for you.
Frequency about 3 posts per month.
Blog greenchiropractic.com/blog
Facebook fans n/a. Twitter followers 94.

Plymouth, Minnesota About Blog Active Family Chiropractic is your best choice for family, pediatric, sports-related, and golf-centered chiropractic care in the western suburban communities. Our subluxation-based approach to chiropractic wellness can help relieve chronic back pain, stiffness, headaches, stress, disc problems, and other conditions that impact your overall health and well-being.
Frequency about 1 post per month.
Blog activefamilychiropractic.com..
Facebook fans 293. Twitter followers 119.

Alexandria, Virginia About Blog Check out the helpful and informative posts on health and wellness by Dr. Steven Trauben of King Street Chiropractic Wellness Center in this blog.
Frequency about 1 post per month.
Blog kingstreetwellness.com/blog
Facebook fans 488. Twitter followers 14.

Seattle, Washington About Blog At Solution Chiropractic, our goal with every patient is to get you out of pain as quickly as possible, to correct and stabilize the CAUSE of the your symptoms, and provide tools to MAINTAIN long lasting results. We offer a solution, not just a short-term fix.
Frequency about 1 post per month.
Blog solutionchiropractic.com/blog
Facebook fans 270. Twitter followers 18.

Austin, Texas About Blog Dr. Michele Moore is a chiropractor with more than 20 years of experience, she is committed to promoting health and living a life drug free.
Frequency about 1 post per month.
Blog moorechiropracticaustin.com/..
Facebook fans 122. Twitter followers n/a.

Saratoga Springs, New York About Blog The team at Smith Chiropractic specializes in difficult and chronic cases in a state-of-the-art, friendly, caring environment. Dr. Smith specializes in providing gentle state-of-the-art non-surgical treatment of spine pain and many sport related injuries.
Frequency about 1 post per month.
Blog mattsmithchiropractic.com/bl..
Facebook fans 175. Twitter followers 138.

Manhattan, Kansas About Blog Nichols Chiropractic combines chiropractic and traditional acupuncture to bring you better health and quality of living. Through chiropractic care and rehabilitation treatments, our Manhattan chiropractor provides pain relief for back pain, neck pain, sciatica, headaches and migraines, car accident injury and sports injury.
Frequency about 1 post per month.
Blog nicholschiropractic.com/blog..
Facebook fans 993. Twitter followers 286.

Altamonte Springs, Florida About Blog Beyond Chiropractic is dedicated to your total health and well being. We not only work with you in finding solutions to target your unique health care needs but we involve your other health care professionals as needed so you truly are getting the "best" possible care to diagnose, treat, improve and maintain your health.
Frequency about 1 post per month.
Blog beyondchiropracticfl.com/blo..
Facebook fans 1,104. Twitter followers 156.

Warwick, Rhode Island About Blog Apponaug Chiropractic Center offers chiropractic adjustments, massage therapy, x-ray services, chiropractic treatment for headaches and more.
Frequency about 2 posts per month.
Blog apponaugchiro.com/blog
Facebook fans 2,228. Twitter followers 15.

Philadelphia, pennsylvania About Blog Rittenhouse Square's blog discusses chiropractic health topics. At Rittenhouse Square Chiropractic, we provide corrective chiropractic and wellness services for Philadelphia, PA. We offer chiropractic services, therapeutic massage, personal training and exercise programs, rehabilitation, and nutritional consultation.
Frequency about 1 post per month.
Blog rittenhousechiro.com
Facebook fans 654. Twitter followers n/a.
These blogs are ranked based on following criteria
Google reputation and Google search ranking
Influence and popularity on Facebook, twitter and other social media sites

Quality and consistency of posts.

Feedspot's editorial team and expert review
Top 75 Chiropractic Blogs Winners
CONGRATULATIONS to every blogger that has made this Top Chiropractic Blogs list! This is the most comprehensive list of best Chiropractic blogs on the internet and I'm honoured to have you as part of this! I personally give you a high-five and want to thank you for your contribution to this world.
If your blog is one of the Top 75 Chiropractic blogs, you have the honour of displaying the following badge on your site. Use the below code to display this badge proudly on your blog. You deserve it!:
<a href="https://blog.feedspot.com/chiropractic_blogs/" title="Chiropractic blogs"><img src="https://blog-cdn.feedspot.com/wp-content/uploads/2017/08/Chiropractic-transparent_216px.png" ></img></a>