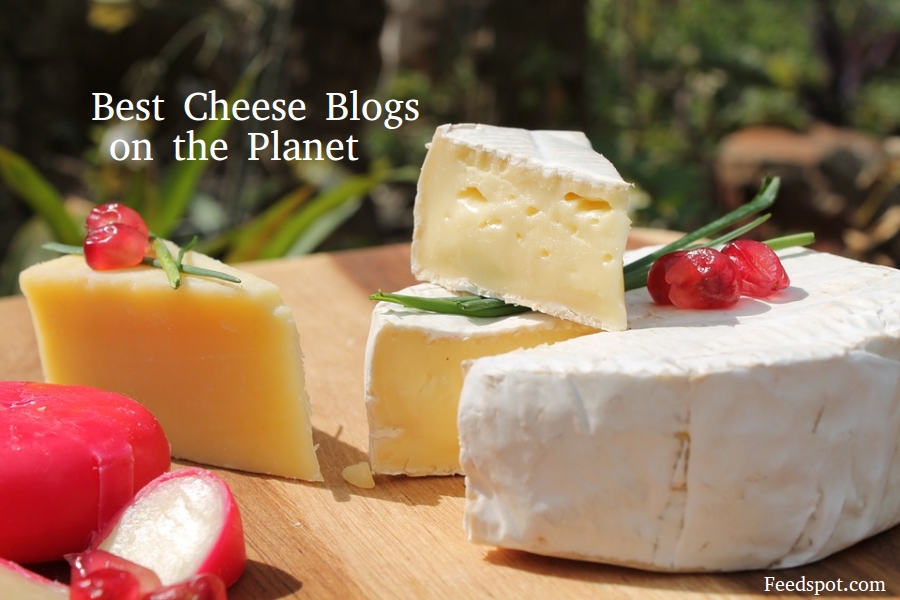 The Best Cheese blogs from thousands of top Cheese blogs in our index using search and social metrics. Data will be refreshed once a week. Also check out Top Cheese Youtube Channels list for Top videos on Cheese.
If your blog is selected in this list, you have the honour of displaying this Badge (Award) on your blog.
Rank

Blog Name

Facebook Fans

Twitter Followers

Alexa Rank

1

South Deerfield, MA

About Blog - Whey" back in 1978 we began our cheese making adventure and have been spreading the love of home cheese making far and wide ever since.
Frequency - about 2 posts per week

20,647
286
176,663
2

Boston, MA

About Blog - Culture is the ultimate publication for those who love cheese. Our bi-monthly magazine is devoted to delivering the most innovative, eye-opening stories about the world's many cheeses and cheesemakers. Within each issue, you can travel to gorgeous cheese regions, meet passionate makers and mongers, discover one-of-a-kind recipes, and even learn how to make your own cheeses.
Frequency - about 11 posts per week

102,801
14,900
768,311
3

Wisconsin, USA

About Blog - Welcome to Wisconsin Cheese Talk, the Wisconsin Cheese Blog—a place to share and express Wisconsin's unique cheesemaking heritage and your Wisconsin Cheese pride.

Frequency - about 1 posts per week

115,867
19,551
2,585,851
4

youtube.com/user/greeningofg..

Australia

About Blog - We have cheese making tutorials to help you master your home cheese making skills! All cheese related questions answered and used for the Ask the Cheesemaker or Podcast sessions.

Frequency - about 2 posts per week

695
n/a
2
5

New York, NY

About Blog - Founded in 1940 by Murray Greenberg and owned since 1991 by Rob Kaufelt, Murray's is based in Greenwich Village, with stores across the country. Our goal is to find the most delicious cheeses from around the world and feed them to you.
Frequency - about 1 post per month

22,155
17,386
427,481
6

Philadelphia, PA

About Blog - Di Bruno Bros is family owned since 1939. Dedicated to culinary pioneering, importing the finest artisan cheeses. Not just a Cheese Di Bruno Bros Gourmet Food Blog offers gourmet recipes and gourmet food online.
Frequency - about 1 post per week

43,360
16,958
630,609
7

Vermont, USA

About Blog - Cabot Cheese, owned & operated by real farmers, has been making award winning cheddar cheese & other dairy products since 1919.
Frequency - about 3 posts per week

127,025
25,293
332,021
8

cheeseunderground.blogspot.com

Wisconsin, United States

About Blog - Jeanne is a cheese geek and an American Cheese Society Certified Cheese Professional. She is the founder and executive director of Wisconsin Cheese Originals, where she educates consumers about the art and science of artisan cheese through educational seminars and dairy tours. She works as a Cheesemaker Liaison for Metcalfe's Markets in Wisconsin, helping introduce new products to market.
Frequency - about 4 posts per week

16,680
2,214
4,211,121
9

Vista, CA

About Blog - The Aniata Cheese Company distributes and imports fine gourmet food items throughout California. As our name implies we have a strong orientation towards artisan and imported cheeses stocking a unique selection of the world's best.
Frequency - about 7 posts per week

184
807
10,769,951
10

New Smyrna Beach, FL

About Blog - Grilled Cheese Recipes and Photography by MacKenzie Smith
Frequency - about 1 post per week

8,825
1,424
1,896,867
11

San Francisco, CA

About Blog - Cheese makes the world go round!
Frequency - about 13 posts per week

1,101,235
482,255
9
12

nytimes.com/topic/subject/ch..

New York City

About Blog - News about cheese. Commentary and archival information about cheese from The New York Times.
Frequency - about 2 posts per week

13,898,586
36,090,878
122
13

dairyfoods.com/topics/2625-c..

Troy, Mi

About Blog - Articles, news, photos and more regarding natural and processed cheese products for the Dairy Foods industry.

2,481
6,369
426,173
14

Bath, England

About Blog - The Fine Cheese Co. is a maturer, wholesaler, retailer and exporter of artisan British cheeses, most of which are unpasteurised and all of which are traditionally made. Our 'cheese shop' groans with artisan cheeses, and great food and wine, some of which you can't buy anywhere else.
Frequency - about 1 post per month

2,557
5,875
1,087,865
15

finlandiacheese.com/cheese-r..

About Blog - Find delicious, easy and healthy cheese recipes from Finlandia Cheese. Explore recipes for sandwiches, snacks and more featuring Finlandia Cheese products
Frequency - about 1 posts per week

30,145
679
1,385,224
16

London

About Blog - Neal's Yard Dairy selects and matures farmhouse cheese from the UK and Ireland. We work with about 40 cheesemakers. We visit them regularly to taste their cheese with them and select the batches we want to mature and sell.

1,903
9,055
1,833,910
17

New York, NY

About Blog - Saxelby Cheesemongers offers a premier selection of American farmstead cheese, focusing on cheeses produced in the Northeastern United States. Co-owners Anne Saxelby and Benoit Breal pride themselves on selecting cheeses from small producers who farm sustainably with respect for their land and animals.

2,418
5,148
2,207,294
18

Rogue River, Oregon, USA

About Blog - Gianaclis Caldwell is the author of "Mastering Artisan Cheesemaking" and "The Farmstead Creamery Advisor". Co-owner and cheesemaker at Pholia Farm Creamery, Rogue River, Oregon.

968
107
2,827,220
19

39,676
405
2,778,019
20

madison, wisconsin

About Blog - Fromagination is a specialty cheese market located at 12 S. Carroll St. in Madison, Wisconsin. We celebrate Wisconsin Artisanal Cheesemakers and highlight artisan cheeses from around the United States and the world
Frequency - about 2 posts per week

7,804
2,484
3,320,761
21

Brooklyn, NY

About Blog - A blog dedicated to cheesemaking, cheese tasting and appreciation and all things cheese and dairy related. Matt the author of this blog was a long-time urban cheesemaker in Gowanus, Brooklyn, and is now working as a cheesemaker at Jasper Hill Farm

1,820
1,801
3,851,275
22

Western North Carolina

About Blog - Explore the California Cheese Trail. A website and interactive map that connects people to the cheesemakers, their tours, cheesemaking classes and cheese events throughout California.

2,239
1,099
3,433,142
23

United States

About Blog - Westminster has a wide selection of cheddar cheese available in the USA. From Smoked to Sharp, our cheeses are made in the traditional way for added flavor!
Frequency - about 1 post per week

5,019
1,600
4,329,490
24

San Francisco, CA

About Blog - A San Francisco-based blog celebrating artisan cheese, food, and living.
Frequency - about 1 post per week

1,141
1,003
4,482,538
25

cheesegrotto.com/blogs/journal

Brooklyn, NY

About Blog - Cheese recipes, tips, and musings from Jessica Sennett, the founder of the Cheese Grotto, a humidor for the ultimate cheese lover.
Frequency - about 1 post per week

478
410
4,572,517
26

cheesyplace.com/blogs/cheesy..

Toronto, Ontario

About Blog - A blog discussing all things related to cheese including cheese & food pairings, cheese reviews, cheese recipes, wine pairings and other gourmet food products.

n/a
345
4,692,148
27

Philadelphia

About Blog - This blog is where Tenaya share pairing ideas, spotlight mostly hand-crafted cheeses, and record her cheese travels. She have been blogging for about eight years now, and in 2013 these explorations led to her first cookbook book, Di Bruno Bros. House of Cheese, written in collaboration with her fave specialty foods store in Philadelphia.
Frequency - about 1 post per month

2,322
3,592
3,220,697
28

About Blog - Explore a World of Cheeses, Cheese Pairings & Gifts for Cheese Lovers. Blue Valley Gourmet makes Cheese Companions, fruit conserves and honeys, especially designed for cheeses. Great cheese pairings for your cheese plate!
Frequency - about 1 post per month

206
n/a
5,145,312
29

Boulder County

About Blog - Haystack Mountain has been inventing and hand-making a range of award-winning goat's milk cheeses, from surface-ripened Snowdrop to Applewood Smoked Chèvre. Taste for yourself.

4,990
597
5,221,933
30

Oakland, CA

About Blog - Author of It's Not You, it's Brie: Unwrapping America's Unique Culture of Cheese, Kirstin Jackson is a cheese and wine writer, consultant, and teacher. She loves teaching people how to stretch mozzarella curds in cheese making classes as much as she adores sharing her favorite French Alpine cheese in pairing classes!
Frequency - about 1 post per month

1,186
3,400
5,744,792
31

omnomcheese.com/cheese-artic..

Sydney

About Blog - At Omnom we are passionate about all things to do with making cheese and cultured food from scratch. We are Sydney-based Australian suppliers of Cheese Making Ingredients and Equipment - including easy-to-use Cheese Kits, and run private, public and corporate team building workshops and cheese making classes in and around the Sydney.

731
n/a
5,243,269
32

Vancouver, BC

About Blog - les amis du FROMAGE is a family owned and operated specialty cheese store with two locations in Vancouver. With a carefully curated selection of local and imported cheeses, charcuterie and accompaniments,
Frequency - about 1 post per month

3,057
4,795
7,562,187
33

Ferndale, WA

About Blog - Our focus is making the highest quality farmstead artisan cheese. All our milk comes from our own dairy cows that we care for at the farm with our customer's needs in mind.

2,872
n/a
7,817,195
34

Washington, DC

About Blog - Righteous Cheese is a unique and uncommon artisan cheese shop in DC.

1,332
2,345
7,919,276
35

Chicago, IL

About Blog - A modern guide for cheese lovers by Erika Kubick, a cheese monger-turned-preacher. She is on a mission to help you make love to cheese the right way, everyday. Let me put some cheese inside you!
Frequency - about 1 posts per week

1,604
1,045
8,347,691
36

Longmont, CO

About Blog - Colorado's artisan home-cheesemaking school from dairy-goat farmer & award-winning cheesemaker, Kate Johnson. Located in the Haystack Mountain Cheese Creamery.

1,031
11
8,290,815
37

Friday Harbor Washington

About Blog - Your local cheese counter and lunch bistro featuring artisan cheeses & wines from the Pacific Northwest region and beyond.

1,080
59
8,109,152
38

Tooting, London, UK

About Blog - Fromage Homage is all about discovering cheese. New and different cheeses, Cheese recipes, Cheese shops, markets and events. Even home-made cheese to keep in my filthy cellar.
Frequency - about 2 posts per week

179
3,331
10,101,082
39

Wellington, NZ

About Blog - Lucy Hoffman writes Life and cheese to help spread the love about artisan, raw milk and downright delicious cheeses. She have a mission to learn more about cheeses and to share this learning with others

64
302
12,234,820
40

cheesecurdinparadise.blogspo..

Green Bay, WI

About Blog - Ashley started this blog in 2009 to share her favorite Cheese recipes.
Frequency - about 1 posts per week

754
117
12,390,802
41

curdsandwhey.co.nz/curds-whe..

Auckland, New Zealand

About Blog - Curds & Whey's home cheesemaking blog covers a range of topics including the latest trends in cheese, news about local cheesemakers and more.

n/a
234
14,330,032
42

familyfarmcreameries.com/che..

Pittsburgh, PA

About Blog - Family Farm Creameries is a Pittsburgh-based retailer of cheeses, milk, and specialty dairy products sourced exclusively from independent farmstead creameries of Western Pennsylvania.
Frequency - about 1 post per month

520
655
16,798,593
43

The New Forest

About Blog - An informative Cheese blog about the world of Cheese.
Frequency - about 1 post per month

14
502
23,083,794
44

Roslindale, MA

About Blog - A friendly locally-owned cheese shop, serving Roslindale, Boston and all surrounding neighborhoods.

1,534
246
23,957,494
45

thornburycheesegallery.com/blog

Thornbury, ON

About Blog - The Cheese Gallery is a cheese shop and tasting bar nestled within an art gallery setting. Our focus is extraordinary cheeses, locally-produced artisans foods, and featured artists who work in all media. Drop by to savour the tastes and art!
Frequency - about 1 post per month

1,553
1,062
n/a
46

London

About Blog - Ned Palmer is a Freelance cheesemonger, locum cheesemaker, and cheese curator.
Frequency - about 1 post per week

263
1,047
n/a
47

crisafullischeeseshop.com/blog

Frederick,MD

About Blog - They are a gourmet food store offering the finest in artisanal and farmstead cheeses from around the world to Frederick, Maryland. Their vision is to bring the finest cheeses, both imported and domestic, charcuterie, and the perfect accompaniments to the Greater Washington, D.C. area.
Frequency - about 1 post per month

1,909
146
n/a
48

themacandcheesefiles.tumblr.com

NYC

About Blog - The search for the perfect macaroni and cheese begins here! Occasionally we'll highlight other dishes and items of interest, just to give our arteries a break but this is a mac and cheese blog at heart, we're here to supply you with all the noodley, cheesy goodness you can stand!
Frequency - about 1 posts per week

278
94
n/a
49

journeysofacheesegirl.wordpr..

About Blog - Linnea Burnham author of this blog was awarded a grant to research cheese production in France and another to investigate the potential of cheese to build community, offset carbon emissions, and strengthen the local food movement. She designed courses about cheese and worked with numerous cheesemakers.

n/a
n/a
n/a
50

Cheshire

About Blog - The Adventures of Anne Hastings in the World of Cheese.

n/a
597
n/a
51

Albarracín, Teruel, Spain

About Blog - Gourmet sheep cheese from Albarracin. Gold Medal World Cheese Awards 2010. Cheeses from Albarracin are exclusively made with fresh milk from our own sheeps, combining traditional hand-made methods with the latest specialized technology

1,457
1,636
n/a
52

Conwy

About Blog - Artisan Cheese from North Wales from Jackie Whittaker, Artisan Cheese Maker.
Frequency - about 1 post per week

n/a
1,355
n/a
53

DC/MN

About Blog - CheeseandChampagne.com is dedicated to real American cheese — artisanal cheeses and the people who make them, from the traditional dairy states of Wisconsin and California to the upstarts in Georgia, Vermont, the Pacific Northwest and beyond. We're bringing you the freshest, stinkiest, creamiest and most pungent new finds here.

Frequency - about 1 post per month

960
4,570
9,195,971
54

thecheesetraveler.com/cheese..

Albany, NY, USA

About Blog - The Cheese Traveler features over 100 cheeses, a full pantry and larder selection, a bistro menu, catering, cheese classes, and special events.
Frequency - about 1 post per week

3,741
1,602
7,334,843
These blogs are ranked based on following criteria
Google reputation and Google search ranking
Influence and popularity on Facebook, twitter and other social media sites

Quality and consistency of posts.

Feedspot's editorial team and expert review
Top 50 Cheese Blogs Winners
CONGRATULATIONS to every blogger that has made this Top Cheese Blogs list! This is the most comprehensive list of best Cheese blogs on the internet and I'm honoured to have you as part of this! I personally give you a high-five and want to thank you for your contribution to this world.
If your blog is one of the Top 50 Cheese blogs, you have the honour of displaying the following badge on your site. Use the below code to display this badge proudly on your blog. You deserve it!:
<a href="https://blog.feedspot.com/cheese_blogs/" title="Cheese blogs"><img src="https://blog-cdn.feedspot.com/wp-content/uploads/2017/05/Cheese-transparent_216px.png" ></img></a>
Tags: cheese rss feeds