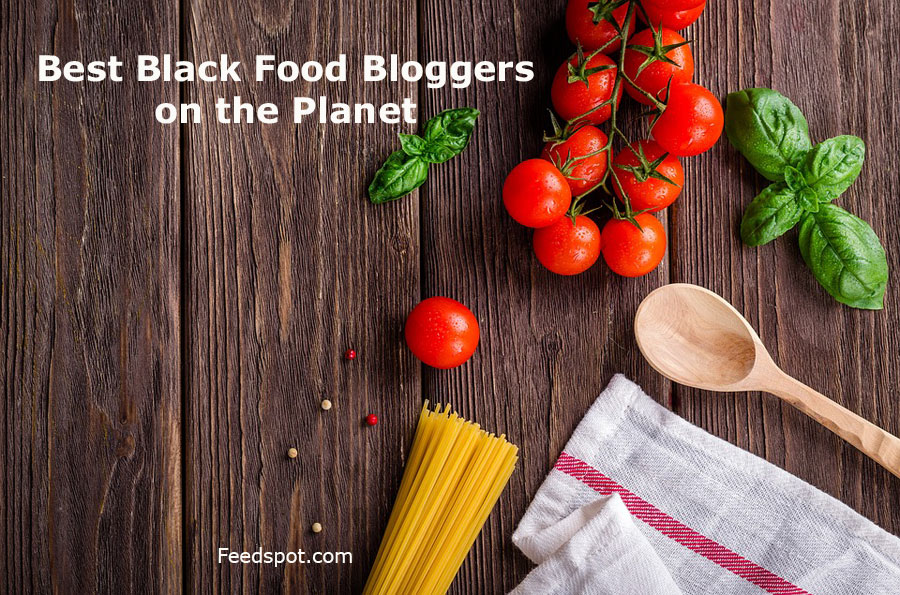 Black Food Bloggers List.
The Best Black Food Bloggers from thousands of Black Food Bloggers on the web using search and social metrics. Subscribe to these websites because they are actively working to educate, inspire, and empower their readers with frequent updates and high-quality information.
If your blog is selected in this list, you have the honour of displaying this Badge (Award) on your blog.
Black Food Bloggers
About Blog Welcome to Jessica in the Kitchen! This blog represents my passion for delicious, vegetarian and vegan food. My mission is to provide simple and delicious meals from my kitchen to yours.
Frequency 2 posts / week
Blog jessicainthekitchen.com
Facebook fans 168K ⋅ Twitter followers 2.5K ⋅ Instagram Followers 34.1K ⋅ Social Engagement 11ⓘ ⋅ Domain Authority 55ⓘ
About Blog My name is Kevin and I learned the hard way that nothing takes our fitness and health to the next level more than a healthy diet. Here on this blog I'm sharing my journey in healthy living and I invite you to do the same! Let's share recipes, diets and tips that will help us all achieve our fitness goals.
Frequency 2 posts / week
Blog fitmencook.com/recipes
Facebook fans 384.7K ⋅ Twitter followers 30K ⋅ Instagram Followers 1.5M ⋅ Social Engagement 12ⓘ ⋅ Domain Authority 55ⓘ
Hamilton, Ontario About Blog Let's explore the culinary culture of the Caribbean, share cooking & recipe ideas and revive traditional dishes so they're not lost in time.
Frequency 2 posts / month
Since Mar 2009
Blog caribbeanpot.com
Facebook fans 301.1K ⋅ Twitter followers 4.1K ⋅ Domain Authority 52ⓘ
California, USA About Blog Welcome to Immaculate bites, your one stop place for Tropical Recipes. Here, you will get to learn easy elegant Afro Caribbean recipes with pantry staple ingredients. Join me on this Exotic Journey.
Frequency 1 post / day
Since Nov 2012
Also in Caribbean Food Blogs, Caribbean Blogs, African Food Blogs
Blog africanbites.com
Facebook fans 261.1K ⋅ Twitter followers 1.1K ⋅ Instagram Followers 207.1K ⋅ Social Engagement 106ⓘ ⋅ Domain Authority 58ⓘ
About Blog Precious Core s your one-stop shop for African food recipes, family-friendly recipes and more. I love Jesus and coconut. Welcome to my core!
Frequency 1 post / month
Since Feb 2014
Blog preciouscore.com
Facebook fans 64.7K ⋅ Twitter followers 238 ⋅ Instagram Followers 24.5K ⋅ Social Engagement 57ⓘ ⋅ Domain Authority 38ⓘ
About Blog The best source for Southern recipes and Soul Food Recipes with a modern twist including cakes and savory dishes.
Frequency 1 post / week
Since Jul 2012
Blog grandbaby-cakes.com
Facebook fans 219.7K ⋅ Twitter followers 9.2K ⋅ Instagram Followers 98.5K ⋅ Social Engagement 23ⓘ ⋅ Domain Authority 55ⓘ
Nairobi, Nairobi City, Kenya About Blog Kaluhi Kitchen is a Kenyan food blog, for the everyday Kenyan. This blog plans to change the way people plan for meals, cook, eat, and share their food. Whether you are a culinary pro or you've just started cooking, the kitchen is our common ground and it is her hope that you shall stay inspired by her recipes.
Frequency 1 post / week
Since Jul 2014
Also in Food Blogs, Meal Planning Blogs
Blog kaluhiskitchen.com
Facebook fans 53.7K ⋅ Twitter followers 27.6K ⋅ Instagram Followers 78.6K ⋅ Social Engagement 1ⓘ ⋅ Domain Authority 41ⓘ
Syracuse, NY About Blog Welcome to A Classic Twist! Here, you will find a community for home cooks who truly love to cook, bake and get creative in the kitchen. We share everyday classic recipes with bold twists and flavors.
Frequency 2 posts / week
Since Dec 2012
Blog aclassictwist.com
Facebook fans 32.3K ⋅ Twitter followers 3.1K ⋅ Instagram Followers 5.2K ⋅ Social Engagement 9ⓘ ⋅ Domain Authority 52ⓘ
About Blog Learn to create quick, easy, and delicious recipes with pantry staples! From breakfast to dinner to dessert find the perfect recipe for you or your family.
Frequency 5 posts / month
Since Dec 2017
Blog whiskitrealgud.com
Facebook fans 26.1K ⋅ Twitter followers 2.4K ⋅ Instagram Followers 5.4K ⋅ Social Engagement 6ⓘ ⋅ Domain Authority 41ⓘ
Los Angeles, California, United States About Blog A vegan food and lifestyle blog and cooking show! Featuring easy, delicious, and healthy vegan recipes. Sweet Potato is a Soul Food journal. Also the food recipes provided are healthy, vegetarian, happy, and inspired.
Frequency 1 post / week
Since Feb 2010
Also in Vegan Blogs, Chef Blogs, Vegan Lifestyle Blogs, Cookbook Blogs
Blog sweetpotatosoul.com
Facebook fans 43K ⋅ Twitter followers 8.7K ⋅ Instagram Followers 152K ⋅ Social Engagement 1ⓘ ⋅ Domain Authority 54ⓘ
Michigan, USA About Blog This Worthey Life inspires everyone to live a worthy life by sharing our passion through food, travel, entertainment, and life adventures. Subscribe us to get easy to make recipes about breakfast, desserts and more from This Worthey Life.
Frequency 3 posts / week
Blog awortheyread.com/category/re..
Facebook fans 6.6K ⋅ Twitter followers 44.3K ⋅ Instagram Followers 14.3K ⋅ Social Engagement 8ⓘ ⋅ Domain Authority 50ⓘ
About Blog The Sweet Savant Blog was created to share Chef Demetra Overtons culinary inspirations from local farms, markets and fellow chefs as well as to provide honest product reviews and helpful tips.
Frequency 1 post / week
Since Feb 2012
Blog sweetsavant.com
Facebook fans 15.1K ⋅ Twitter followers 4.4K ⋅ Instagram Followers 12.9K ⋅ Social Engagement 2ⓘ ⋅ Domain Authority 38ⓘ
Washington, DC About Blog I'm Chef Resha -- a food-obsessed recipe developer, Youtuber, personal chef, and home-cook. To me, every food is comfort food. My brand and food is all about love. Pure eye-rolling, soul-stirring deliciousness. Every recipe on CarnalDish is food for the senses, the body and soul.
Frequency 1 post / quarter
Since Jul 2011
Blog carnaldish.com
Facebook fans 5.4K ⋅ Twitter followers 7.6K ⋅ Instagram Followers 79.9K ⋅ Social Engagement 54ⓘ ⋅ Domain Authority 42ⓘ
About Blog Welcome! I'm Angela, a self-taught home cook, food blogger, recipe developer, food photographer and mom of two residing in Virginia. The Kitchenista Diaries is where I've shared my personal journey from accountant to culinary entrepreneur. I'm all about taking comfort food to the next level, and I believe every dish has a story. Join me in a candid exploration of the ingredients, techniques and tools that will make the food you love even better!
Frequency 1 post / week
Since Apr 2012
Blog kitchenistadiaries.com
Facebook fans 5.3K ⋅ Twitter followers 107.3K ⋅ Instagram Followers 69.2K ⋅ Social Engagement 10ⓘ ⋅ Domain Authority 46ⓘ
New York, NY About Blog Welcome to the Food Heaven podcast, where we talk all things food, health, and nutrition! Our podcast is released every Wednesday. In each episode, we cover tips for making lifelong sustainable changes to improve your health. We also interview leading experts in the field of nutrition to pick their brains on how you can cultivate a healthy life that you love.
Frequency 1 post / week
Also in New York Food Blogs, Nutrition Podcasts
Blog foodheavenmadeeasy.com/podcast
Facebook fans 22.4K ⋅ Twitter followers 4.3K ⋅ Instagram Followers 1 ⋅ Domain Authority 52ⓘ
About Blog I'm a food lover who loves to cook, bake, eat and explore new foods. Subscribe us to get Guyanese recipes from a girl who has a life long love affair with food!
Frequency 4 posts / month
Since Jan 2009
Blog jehancancook.com
Facebook fans 20.6K ⋅ Twitter followers 886 ⋅ Instagram Followers 23.1K ⋅ Social Engagement 129ⓘ ⋅ Domain Authority 47ⓘ
About Blog Learn how to take control of your diet and your body with easy, everyday recipes and fitness advice.
Frequency 2 posts / month
Blog mybodymykitchen.com
Facebook fans 713 ⋅ Instagram Followers 42.9K ⋅ Domain Authority 29ⓘ
New York About Blog Welcome to the culinary adventures of a young(ish) man - I am a chef, writer, and lover of all things food. I like to eat. I like to cook. I like to experiment. I like to share. I like you. Hopefully this will inspire you to conquer your own kitchen and cook something yourself.
Frequency 4 posts / month
Since Sep 2009
Blog thehungryhutch.com
Facebook fans 1.6K ⋅ Twitter followers 2.3K ⋅ Instagram Followers 8.5K ⋅ Social Engagement 1ⓘ ⋅ Domain Authority 46ⓘ
Africa About Blog Join me as I celebrate the arts through African (Nigerian) cooking; and through my mother's recipes (some of which I tweaked to fit my choices). I shall also share some easy kitchen tips for the 'lazy' cooks like me.
Frequency 1 post / week
Blog nigerianlazychef.com
Facebook fans 2.5K ⋅ Twitter followers 467 ⋅ Instagram Followers 52.3K ⋅ Social Engagement 1ⓘ ⋅ Domain Authority 35ⓘ
Houston, TX About Blog My name is Marissa, and I am a food blogger, mama to 2, and wife to an NFL Offensive Lineman. First & Full is where I share tested recipes, stories about life as an NFL wife, and occasionally share defining moments as a mother.
Frequency 6 posts / quarter
Blog firstandfull.com
Twitter followers 567 ⋅ Instagram Followers 20.9K ⋅ Social Engagement 7ⓘ ⋅ Domain Authority 26ⓘ
Tampa, Florida About Blog Hi! I'm Quin and welcome to Butter Be Ready! I'm so glad you're here! This blog is an extension of my love for all things food and photography. I love creating unique, fun, and seasonally inspired dishes. My approach is often simple with little to no fussy ingredients.
Frequency 6 posts / month
Since Jan 2016
Blog butterbeready.com
Facebook fans 409 ⋅ Twitter followers 184 ⋅ Instagram Followers 5.3K ⋅ Social Engagement 3ⓘ ⋅ Domain Authority 28ⓘ
Houston, TX About Blog Hi! I'm Erika and I am a Black Girl Who Brunches and lunches, goes to happy hours and fancy dinners. I started this blog as a creative outlet and a means to share my favorite food finds!
Frequency 1 post / week
Since Jul 2014
Blog blackgirlswhobrunch.com
Facebook fans 1.6K ⋅ Twitter followers 311 ⋅ Instagram Followers 11.5K ⋅ Social Engagement 17ⓘ ⋅ Domain Authority 20ⓘ
Atlanta, GA About Blog Eating With Erica is a food blog by Erica. Erica is Atlanta-based blogger with a passion for all things dining, entertaining, and food.
Frequency 7 posts / month
Also in Georgia Blogs, Atlanta Food Blogs
Blog eatingwitherica.com
Facebook fans 3.6K ⋅ Twitter followers 6.4K ⋅ Instagram Followers 22.3K ⋅ Social Engagement 7ⓘ ⋅ Domain Authority 32ⓘ
About Blog Black Foodie is a blog that celebrates food and culture through a black lens. With a community of foodies, Blackfoodie creates content that highlights the diverse culinary landscape of the black diaspora.
Frequency 3 posts / month
Blog blackfoodie.co
Facebook fans 9.2K ⋅ Twitter followers 1.1K ⋅ Instagram Followers 10.7K ⋅ Social Engagement 17ⓘ ⋅ Domain Authority 31ⓘ
Houston, TX About Blog Dash of Jazz is a food & lifestyle blog geared toward inspiring kitchen confidence and southern hospitality in busy boss women.
Frequency 1 post / week
Since Jan 2015
Blog dashofjazz.com/category/recipes
Facebook fans 977 ⋅ Twitter followers 452 ⋅ Instagram Followers 3.6K ⋅ Social Engagement 8ⓘ ⋅ Domain Authority 35ⓘ
About Blog In the Kitchen with K Marie is a blog started by Katrina Adams for her passion for cooking and entertaining. I love to share and create recipes. My passion for event planning, cooking, baking, and entertaining started early. I believe the kitchen is the heart of the home. You can have so much fun making wonderful meals for your family and friends.
Frequency 2 posts / month
Blog kmariekitchen.com
Social Engagement 1ⓘ ⋅ Domain Authority 29ⓘ
Cincinnati, OH About Blog Welcome to Brown Sugar Mama. I am a food blogger that creates easy recipes, and also writes articles about places to eat in the city.
Frequency 1 post / week
Since Jan 2012
Blog bsugarmama.com
Facebook fans 22.7K ⋅ Twitter followers 3.5K ⋅ Instagram Followers 14.1K ⋅ Social Engagement 4ⓘ ⋅ Domain Authority 50ⓘ
Indianapolis, Indiana About Blog I'm Candace. I'm a Mid-Western born and raised home cook that loves to eat! Food is my love language and sharing it with you combines the two. I love to make family recipes and cultivate new flavors. I'm passionate about delicious meals, food access and getting people comfortable in the kitchen.
Frequency 7 posts / year
Since Mar 2013
Blog foodlovetog.com
Facebook fans 2K ⋅ Twitter followers 619 ⋅ Instagram Followers 2.7K ⋅ Social Engagement 3ⓘ ⋅ Domain Authority 27ⓘ
Raleigh, NC About Blog Hi! I'm Richelle. I have five types of flour in my pantry at all times because that's totally reasonable. I'm a lawyer most of the time and a baking ninja on the weekend.
Frequency 6 posts / quarter
Since Nov 2011
Blog southernshelle.com
Facebook fans 81 ⋅ Twitter followers 285 ⋅ Instagram Followers 194 ⋅ Domain Authority 13ⓘ
Atlanta, GA About Blog Erika Council is the charismatic food writer, recipe developer and photographer behind the popular website, Southern Soufflé. It is here the reader is taken through a brilliantly southern focused epic, with tales of food, love and freedom.
Frequency 4 posts / year
Since Feb 2012
Blog southernsouffle.com/blog
Twitter followers 1.7K ⋅ Instagram Followers 7.4K ⋅ Social Engagement 1ⓘ ⋅ Domain Authority 39ⓘ