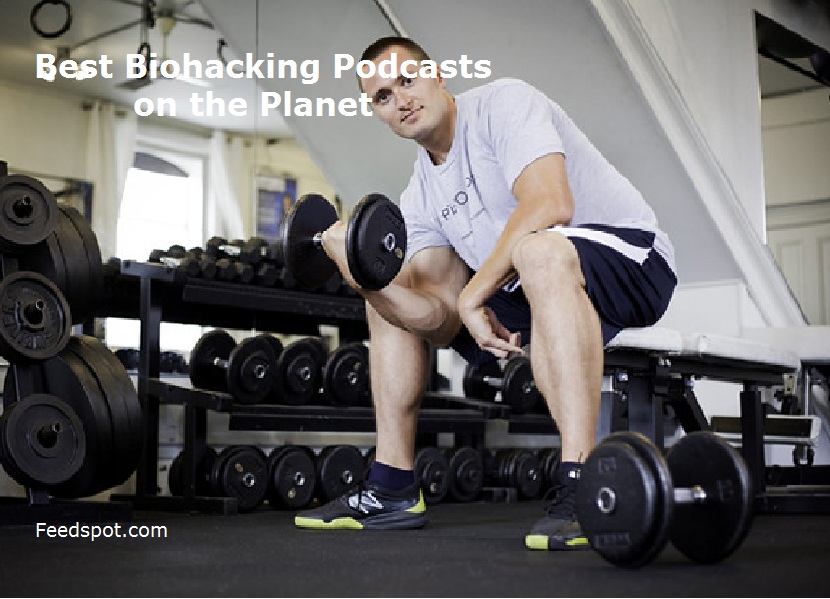 Biohacking Podcasts.
Subscribe to these audio podcasts because they are actively working to educate, inspire, and empower their readers with frequent updates and high-quality episodes.
These podcasts are ranked based on following criteria
Google reputation and Google search ranking
Influence and popularity on Facebook, twitter and other social media sites

Quality and consistency of episodes.

Feedspot's editorial team and expert review
Biohacking Podcasts

About Podcast The art of biohacking can have an enormous impact on how you look, feel, think, perform, and really every aspect of self-improvement. Put simply, biohacking is manipulating your biology through the use of proper nutrition, supplements, specialized training tactics and gear, self-quantification for measuring improvements, and more all in the interest of being your best self. So take a deep-dive into my biohacking podcasts and learn all of the tips, tricks, and biohacks developed.
Frequency about 1 post per month.
Podcast bengreenfieldfitness.com/pod..
Facebook fans 136,936. Twitter followers 73,604.

About Podcast Get the latest from biohacking on Bulletproof Radio where Dave Asprey interviews expert guests about hacking life so you can kick more ass every day!
Frequency about 2 posts per week.
Podcast blog.bulletproof.com/categor..
Facebook fans 397,527. Twitter followers 326,007.

Florida, USA About Podcast A show created to inform listeners on the important aspects of health, wealth and happiness to ensure you live life to its fullest. Jason Hartman, and Fernando Aires, interview top-notch authors and gurus in the field to reveal expert advice.
Frequency about 1 post per month.
Since Dec 2014
Podcast hartmanmedia.com/the-longevi..
Facebook fans 2,973. Twitter followers 25,546.

About Podcast BioHackers Lab interviews experts in health, fitness & low carb/keto diets + reviews the best products available to help you start biohacking (improving) your health starting today!
Frequency about 3 posts per month.
Since Apr 2017
Podcast biohackerslab.com/podcast
Facebook fans 1,816. Twitter followers 2,549.

Helsinki, Finland About Podcast Biohacker's Handbook weaves together novel perspectives on technology, nature, and self-development. A biohacker sees his or her body as a complex system that can be probed, analyzed, understood, and put under the test. Such controlled experimentation (i.e. biohacking) can be used to pursue self-development and deeper self-understanding.
Frequency about 1 post per month.
Podcast soundcloud.com/biohakkeri
Facebook fans 7,801. Twitter followers 2,061.

Merrillville, IN About Podcast The Dynamism Biohack Podcast will show you the latest tips and tricks of how to make the right choice in nutrition, chiropractic and lifestyle medicine. Starting from the basics we will show you how to start living well and the best ways to choose nutrition despite conflicting experts.
Frequency about 3 posts per month.
Podcast newlifefamilychiropractic.ne..
Facebook fans 5,256. Twitter followers 17.

Chicago, IL About Podcast Biohacker and bestselling author Anthony DiClementi deconstructs the most effective, uncommon biohacking strategies to rapidly upgrade physical and mental performance. He sits down with world-class experts from a wide variety of disciplines to tease out the latest research, products, routines, habits, and resources for hacking the human body and optimizing the quality of life.
Frequency about 3 posts per month.
Since Jul 2016
Podcast biohackingsecrets.libsyn.com
Facebook fans 70,428. Twitter followers 4,334.

About Podcast HVMN Co-founder and CEO, Geoffrey Woo, on his journey to deconstruct how we can become the best versions of ourselves. Guests include professionals spanning nutrition, fitness, biohacking and entrepreneurship.
Frequency about 1 post per week.
Since Jul 2016
Podcast hvmn.com/podcast
Facebook fans 18,048. Twitter followers 7,173.

About Podcast Stellar Life podcast is about taking your life to the next level; from just 'Ok' or 'good' to 'STELLAR'. This podcast features world-renowned experts in various topics from self-development, health, wealth, and sexuality to relationship advice, women's empowerment, biohacking and much more.
Frequency about 3 posts per month.
Podcast orionsmethod.com/podcast
Facebook fans 1,327. Twitter followers 2,553.

Los Angeles About Podcast For people who are dedicated to living life at the highest level of human potential. Our host Luke Storey brings you the most thought-provoking interviews with the biggest experts in the fields of health, spirituality, and personal development and digs deep into biohacking technologies and tactics.
Frequency about 1 post per week.
Since Jun 2016
Podcast lukestorey.com/lifestylistpo..
Facebook fans 3,929. Twitter followers 3,837.

Austin / Seattle About Podcast Optimal Performance is the podcast all about taking your mental and physical performance to the next level. Whether it's through nootropics, cutting-edge biohacking techniques, or adjusting your approach to nutrition and fitness.
Frequency about 3 posts per month.
Since Jun 2015
Also in Health Podcasts
Podcast optimalperformancepodcast.li..
Facebook fans 21,006. Twitter followers 2,614.

About Podcast Sky Sports presenter and author Tony Wrighton goes on a podcast adventure to find more energy, vitality, and motivation. Packed with science, health tips, biohacking gadgets, supplements and some of the most respected and well-known experts on the planet. Oh, and occasionally all this experimentation goes wrong - you'll hear those too.
Frequency about 4 posts per month.
Since Feb 2015
Podcast tonywrighton.com/zestology
Facebook fans 15,852. Twitter followers 11,791.

About Podcast Uncommon methods for maximizing health and performance with an emphasis on real-world implementation of Heart Rate Variability and other biomarkers. From biohacking to quantified self, world-class doctors, coaches, and athletes cover the latest research (from the lab and field), and the methods and 'tricks' that get the best results.
Frequency about 1 post per month.
Podcast elitehrv.com/podcast
Facebook fans 4,034. Twitter followers 2,057.

Santa Monica, CA About Podcast Get Yourself Optimized is a podcast full of secret knowledge that will enable you to reboot your life and improve your health, wealth, partner intimacy, peer group, spirit, career, business, and more!
Frequency about 1 post per month.
Since Mar 2015
Podcast getyourselfoptimized.com/cat..
Facebook fans n/a. Twitter followers 153,119.

About Podcast Podcast by Brittany Ford. She shares info on nutritional medicine, biohacking, and fitness!
Frequency about 1 post per week.
Podcast biohackingbrittany.com/blogs..
Facebook fans 97. Twitter followers n/a.

About Podcast Ryan Goodwin continued to pour over every study he can get his hands-on, and he is now on a mission to make the complex science of biohacking simple.
Frequency about 1 post per month.
Podcast thehax.com
Facebook fans 42. Twitter followers n/a.

Iceland About Podcast The world's first daily biohacking podcast, for biohackers. Featuring guests in the health, longevity, fitness, and wellness fields, and epic biohacks. Tune in for new episodes every Monday to Friday.
Frequency about 4 posts per week.
Podcast bioalchemy.co/podcast
Facebook fans n/a. Twitter followers 24.