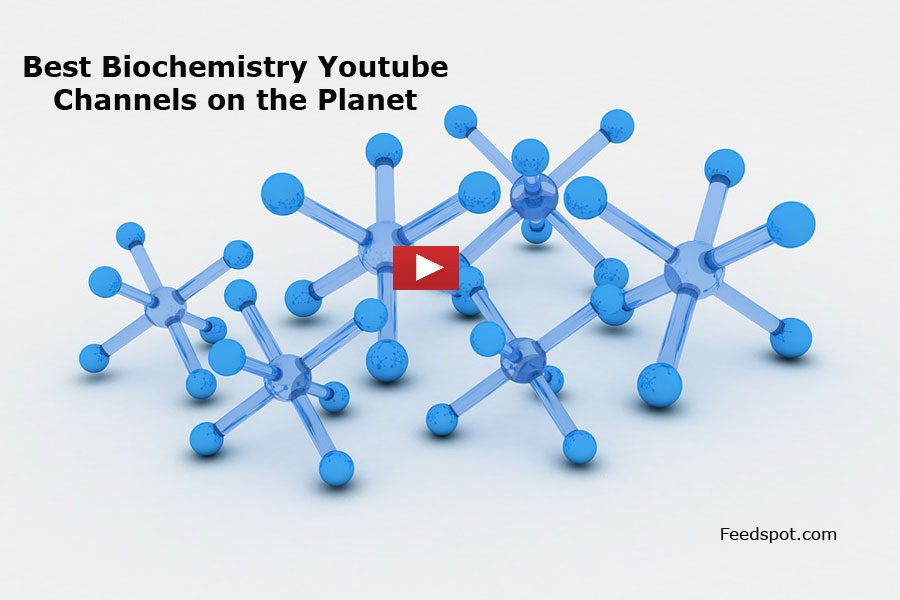 Biochemistry Youtube Channels List.
The Best Biochemistry Youtube Channels in our index using search and social metrics. Subscribe to these youtubers because they are actively working to educate, inspire, and empower their audience with frequent updates and high-quality videos.
If your Youtube is selected in this list, you have the honour of displaying this Badge (Award) on your website.
Biochemistry Youtube Channels
About Youtuber I'm Dr Prakash Mungli, MD, physician professor and a passionate teacher of Medical Biochemistry. Currently I'm Assistant Dean of Student Affairs, Chairman of department of Molecular Sciences and Professor of Biochemistry at University of Medicine and Health Science, St Kitts. For brief write up on some important biochemistry concepts and other useful topics specially on food and nutrition, obesity, weight loss tips please visit my site.
Since Jul 2010
Channel youtube.com/user/PMUNGLI/..+ Follow
Youtube Followers- 24,619 . Views Count- 1,887,593 . Video Count - 270

About Youtuber Welcome to quick biochemistry basics. The videos in this channel are short and to the point, with few animations, that allows you to grasp the basic concepts of biochemistry and molecular biology quickly.
Frequency 1 video / week
Since Sep 2017
Channel youtube.com/channel/UC5YJ..+ Follow
Youtube Followers- 4,034 . Views Count- 438,441 . Video Count - 72

India About Youtuber This channel features everything about Biochemistry by Dr Rajesh Jambhulkar. Follow to keep up with the latest updates.
Frequency 1 video / week
Since Nov 2011
Channel youtube.com/user/9423407557/..+ Follow
Youtube Followers- 15,033 . Views Count- 779,705 . Video Count - 94

London, England About Youtuber The Biochemical Society promotes the future of molecular biosciences; facilitating the sharing of expertise, supporting the advancement of biochemistry and molecular biology, and raising awareness of their importance in addressing societal grand challenges.
Frequency 11 videos / year
Since Feb 2011
Channel youtube.com/user/biochemsoc/..+ Follow
Youtube Followers- n/a . Views Count- n/a . Video Count - n/a

MD About Youtuber The Society's mission is to advance the science of biochemistry and molecular biology and to promote the understanding of the molecular nature of life processes.
Frequency 21 videos / quarter
Since Jan 2014
Channel youtube.com/user/TheASBMB..+ Follow
Youtube Followers- n/a . Views Count- n/a . Video Count - n/a

About Youtuber Mechanisms and Screencasts to support Winona State University's Biochemistry courses CHEM 405-408.
Frequency 1 video / month
Since Feb 2017
Channel youtube.com/channel/UCcQm..+ Follow
Youtube Followers- 366 . Views Count- 51,966 . Video Count - 58

SA About Youtuber Biochemistry Made Simple is a channel by Rola Al-Fantoukh who tries to share knowledge about biochemistry.
Since Feb 2016
Channel youtube.com/channel/UCqfe..+ Follow
Youtube Followers- 377 . Views Count- 7,402 . Video Count - 14

Tempe, Arizona About Youtuber Chemistry and biochemistry are central to many educational and technological initiatives in our modern society. The Department of Chemistry and Biochemistry at Arizona State University offers advanced training for those who seek to best position themselves to take advantage of the rich diversity of career and mission opportunities in contemporary molecular science.
Frequency 1 video / week
Since May 2014
Channel youtube.com/user/asuchemistr..+ Follow
Youtube Followers- n/a . Views Count- n/a . Video Count - n/a