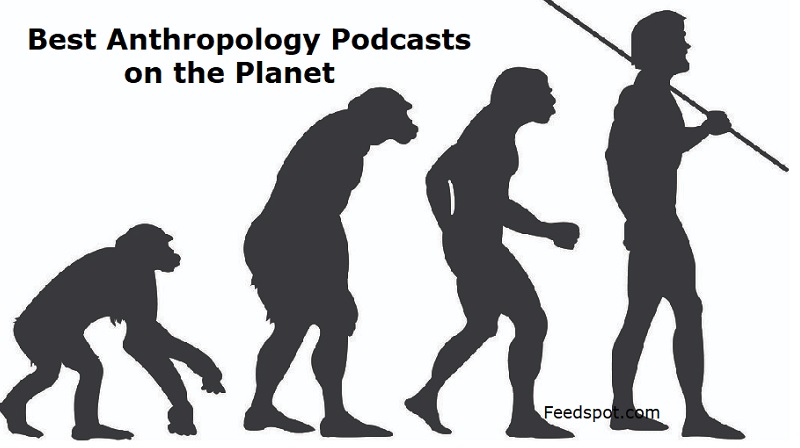 Anthropology Podcasts.
The Best Anthropology Podcasts from thousands of Anthropology Podcasts on the web using search and social metrics. Subscribe to these audio podcasts because they are actively working to educate, inspire, and empower their readers with frequent updates and high-quality episodes.
These podcasts are ranked based on following criteria
Google reputation and Google search ranking
Influence and popularity on Facebook, twitter and other social media sites

Quality and consistency of episodes.

Feedspot's editorial team and expert review
Anthropology Podcasts

Boston, MA, USA About Podcast This Anthro Life is an experimental narrative podcast that takes a unique cross cultural and time spanning perspective on what makes us human, from the designed world, future hopes, and myths of how things came to be. Join anthropologist Adam Gamwell and friends as they venture into the countless possibilities encountered in everyday global life. From Missing Link Studios in Boston, MA.
Frequency about 2 posts per month.
Podcast thisanthrolife.com/archives
Facebook fans 1,861. Twitter followers 7,308.

About Podcast AnthroPod is produced by the Society for Cultural Anthropology (http://www.culanth.org). Each episode, we explore what anthropologists and anthropology can teach us about the world and people around us.
Frequency about 1 post per month.
Podcast culanth.org/fieldsights/cont..
Facebook fans 34,774. Twitter followers 33,258.

About Podcast The Anthropocene is the current geological age, in which human activity has profoundly shaped the planet and its biodiversity. On The Anthropocene Reviewed, #1 New York Times bestselling author John Green (The Fault in Our Stars, Turtles All the Way Down) reviews different facets of the human-centered planet on a five-star scale.
Frequency about 1 post per month.
Podcast wnycstudios.org/podcasts/ant..
Facebook fans 1,551. Twitter followers 6,406.

Australian National University, Canberra. About Podcast The Familiar Strange is a podcast about doing anthropology: that is, about listening, looking, trying out, and being with, in pursuit of uncommon knowledge about humans and culture. Brought to you by your familiar strangers: Ian Pollock, Jodie-Lee Trembath, Julia Brown, Simon Theobald, Kylie Wong Dolan; produced by Deanna Catto and Matthew Phung.
Frequency about 2 posts per month.
Podcast thefamiliarstrange.com/podcast
Facebook fans 971. Twitter followers 2,492.

United States About Podcast Interviews with Anthropologists about their New Books.
Frequency about 3 posts per week.
Podcast newbooksnetwork.com/category..
Facebook fans 2,669. Twitter followers 3,702.

Columbus, OH About Podcast An original podcast brought to you by the graduate students of the Department of Anthropology at The Ohio State University. Join us once a month as we explore the human experience! Our humanity, our history, and our department from the Graduate Students of Anthropology.
Frequency about 1 post per month.
Podcast u.osu.edu/astoryofus
Facebook fans 783. Twitter followers 233.

Philadelphia, PA About Podcast Anthropological Airwaves is the official podcast of the journal American Anthropologist. Building on the journal's commitment to four-field, multimodal research, we host conversations about anthropological projects, from fieldwork and publishing to the discipline's role in public debates. We aim to ask a series of fundamental questions about past, present, and future disciplinary practice, and to learn from those who chart new paths for a more broadly engaged anthropology.
Frequency about 1 post per month.
Podcast americananthropologist.org/a..
Facebook fans 289. Twitter followers 715.

About Podcast How did race become such a flash point in modern society, and why does it remain contentious in our genomic age? In this first-of-its-kind trans-disciplinary podcast, biological anthropologist Jim Bindon joins with cultural anthropologist Lesley Jo Weaver and historian of science Erik L. Peterson to explore our species centuries' long debates over how to define biological and behavioral difference, and why it continues to matter today.
Frequency about 2 posts per week.
Podcast speakingofrace.ua.edu/podcast
Facebook fans 276. Twitter followers 45.

About Podcast The Arch and Anth Podcast aims to provides entertaining and educational content about archaeology and anthropology. Hosting the show is Dr Michael B. C. Rivera, an expert in the study of human biology, human behavior and human societies worldwide, from the earliest beginnings to modern times. Episodes come out every Monday, Wednesday and Friday, featuring a special guest talking about their work.
Frequency about 3 posts per week.
Podcast archandanth.com/category/pod..
Facebook fans 131. Twitter followers n/a.

About Podcast How many ways are there to be human? Each week Anthropologist on the Street Dr. Carie Little Hersh invites different cultural experts to illuminate the hidden ideas, practices, and power dynamics that make our lives both familiar and strange.
Frequency about 1 post per month.
Podcast anthropologistonthestreet.co..
Facebook fans 550. Twitter followers 391.

About Podcast A podcast about life, the universe and anthropology based at Deakin University in Victoria, Australia. Each episode features an anthropologist or two in conversation with David Boarder Giles and Timothy Neale. Presented with support from the Faculty of Arts & Education at Deakin University and in partnership with the American Anthropological Association.
Frequency about 1 post per month.
Podcast blogs.deakin.edu.au/anthropo..
Facebook fans n/a. Twitter followers n/a.

Tampa, FL About Podcast AnthroAlert is a podcast recorded live on USF Bulls Radio. Each week we interview an anthropologist to learn more about their work.
Frequency about 1 post per week.
Podcast shows.pippa.io/anthroalert-p..
Facebook fans 37. Twitter followers 77.

Toronto About Podcast AnthroDish is a weekly show about the intersections of food, culture, and identity. Each Tuesday, host and anthropology PhD student Sarah Duignan interviews guests on topics that relate to their experiences or expertise. If you're curious about the new and exciting food research coming out of academia, or you're interested in the unique and fascinating lives of everyday people who have been shaped by their relationship with food, this show is for you!
Frequency about 4 posts per month.
Podcast anthrodish.com/episodes
Facebook fans 547. Twitter followers 241.

Munich, Bavaria About Podcast Online Gods is a monthly podcast on digital cultures and their political ramifications, featuring lively conversations with scholars and activists. Presented by anthropologist Ian M. Cook, the podcast is a key initiative of the five year ERC project ONLINERPOL www.fordigitaldignity.com led by media anthropologist Sahana Udupa at LMU Munich, and co hosted by HAU Network for Ethnographic Theory.
Frequency about 1 post per month.
Podcast fordigitaldignity.com/online..
Facebook fans 206. Twitter followers 358.

Denver, CO About Podcast What makes you.. you? Is it your DNA, culture, environment? SAPIENS hosts Jen Shannon, Esteban Gómez, and SAPIENS.org Editor-in-Chief Chip Colwell speak with anthropologists from around the globe to help us uncover what makes us human.
Frequency about 2 posts per month.
Podcast sapiens.org/sapiens-podcast
Facebook fans 67,131. Twitter followers 15,051.

Oxford About Podcast Podcasts from the School of Anthropology and Museum Ethnography. The School is renowned for its contributions to anthropological theory, its commitment to long-term ethnographic fieldwork, and its association with the Pitt Rivers Museum and the anthropology of visual and material culture.
Frequency about 1 post per month.
Podcast podcasts.ox.ac.uk/series/ant..
Facebook fans 1,801. Twitter followers 11,669.

About Podcast Camthropod is produced by a collective of staff and students from the Cambridge Department of Social Anthropology. We broadcast regularly during term time. Camthropod includes interviews with visiting speakers about their work, as well as audio pieces presenting aspects of our research or just things that interest us about daily life.
Frequency about 1 post per month.
Podcast socanth.cam.ac.uk/media/list..
Facebook fans n/a. Twitter followers 155.