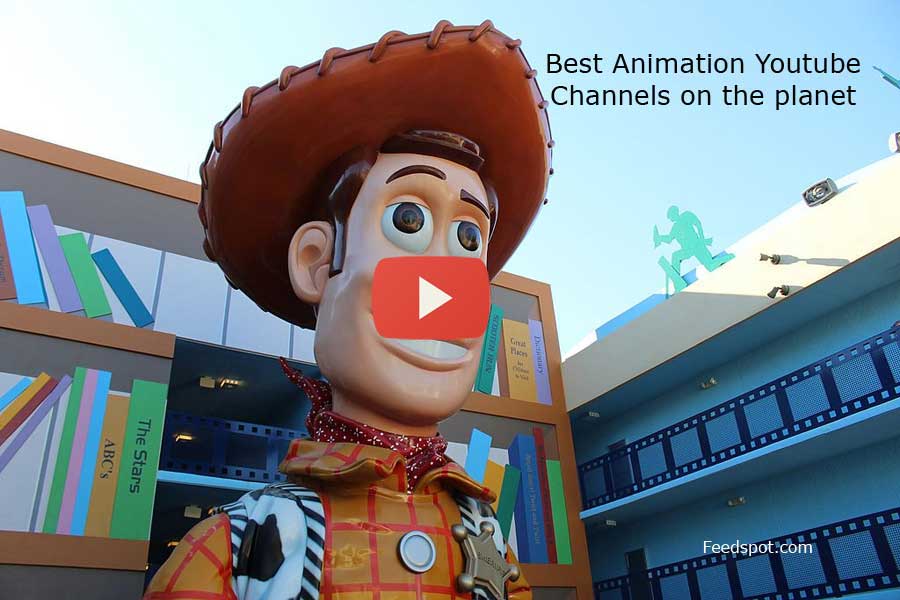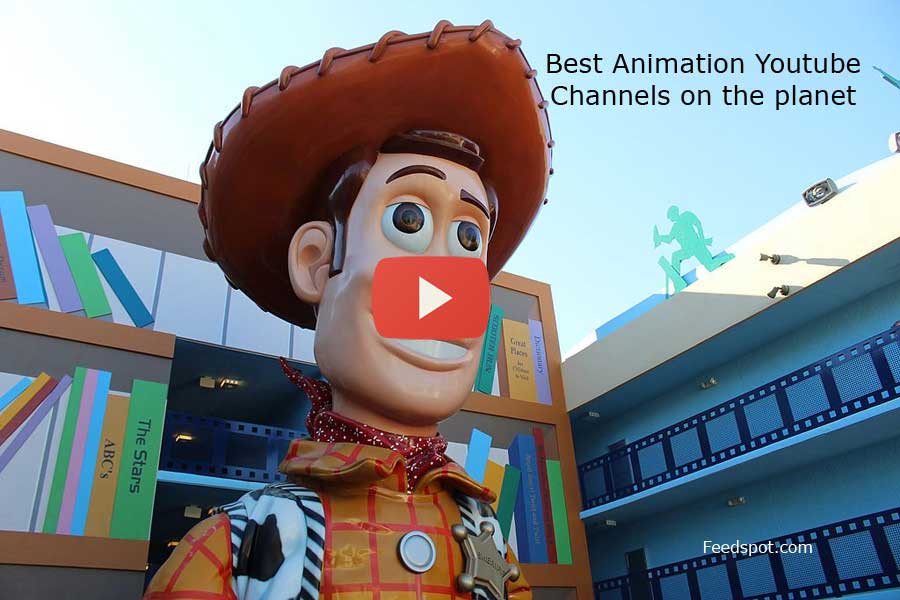 Animation Youtube Channels List
The Best Animation Youtube Channels selected from thousands of Animation channels on youtube and ranked based on youtube channel subscribers and popularity. Data will be refreshed once a week.
These Youtube Channels are ranked based on following criteria
Total youtube channels subscribers, video views, and video uploads
Quality and consistency of videos

Youtube search ranking

Feedspot editorial team' objective and subjective review
Top 100 Animation Youtube Channels Winners
CONGRATULATIONS to every user that has made this Top Animation Youtube Channels list! This is the most comprehensive list of best Animation Youtube Channels on the internet and I'm honoured to have you as part of this! I personally give you a high-five and want to thank you for your contribution to this world.
If your Youtube Channel is one of the Top 100 Animation Youtube Channels, you have the honour of displaying the following badge on your site. Use the below code to display this badge proudly on your blog. You deserve it!:
<a href="https://blog.feedspot.com/animation_youtube_channels/" title="Animation Youtube Channels"><img src="https://blog-cdn.feedspot.com/wp-content/uploads/2017/09/Animation_Youtube_216px.png" ></img></a>
Top Animation Youtube Channels
Rank

Blog Name

Facebook Fans

Twitter Followers

Alexa Rank

1

Hollywood, CA

About Blog - The Animation World Network is the largest animation-related publishing group on the Internet, providing readers from over 151 countries with a wide range of interesting, relevant and helpful information pertaining to all aspects of animation.
Frequency - about 28 posts per week

108,670
28,838
66,975
2

Calabasas, CA

About Blog - Animation Magazine is the largest animation website and only international magazine in the world devoted to breaking daily news and in-depth articles and profiles about animated films, TV series, cartoons, new media, visual effects and CG software and technologies.
Frequency - about 34 posts per week

179,823
45,376
164,444
3

San Francisco, CA

About Blog - THe Animation sub-category of Reddit provides news, shorts, and everything else in the World of Animation. Reddit is a community of millions of users engaging in the creation of content and the sharing of conversation across tens of thousands of topics.
Frequency - about 168 posts per week

1,009,658
434,017
25
4

Everywhere

About Blog - Every day since 2004, Cartoon Brew has delivered the latest news, trends and ideas in animation to over 25,000 different artists, entertainment execs and cartoon aficionados. It is the Internet's leading source for animation news and commentary.
Frequency - about 17 posts per week

35,567
49,015
38,941
5

Bournemouth, UK

About Blog - 3D Artist is the ultimate magazine for CG tutorials, industry insight and awesome 3D stuff. It is an exciting and imaginative publication aimed at artists of all levels.
Frequency - about 3 posts per week

272,079
43,633
105,430
6

Worcester, U.K.

About Blog - 3DTotal is the CG artists homepage, daily news with links to all the best 3d animations and sites. It provides huge libraries and galleries with free downloads. It offers inspirational and educational resources for artists, both through its website for CG artists and its wide range of art books.
Frequency - about 13 posts per week

195,370
33,071
45,839
7

Hollywood, CA

About Blog - CG Channel is your goto source for everything cg and visual effects related. It is an online destination for entertainment artists, covering markets including visual effects, animation, game development and illustration.
Frequency - about 10 posts per week

127,417
27,388
41,879
8

Global

About Blog - Motionographer shares inspiring work and important news for the motion design, animation and visual effects communities. With thousands of visits a day from around the world, Motionographer is a leading source of inspiration, covering only the best short films, commercial work, music videos, student work and industry news.
Frequency - about 6 posts per week

40,076
44,522
54,541
9

Orlando, FL

About Blog - Traditional Animation is the go to place for all things hand-drawn animation. It includes behind the scenes information on movies, cartoon TV shows, and professional animators. It also has an extensive guide for upcoming animation festivals and expos from around the world. The team hopes to pave the way towards the future of Traditional Animation.
Frequency - about 1 post per month

167,907
10,588
1,201,935
10

Orlando, FL

About Blog - The Disney Blog is written by fans for fans and covers all aspects of the Walt Disney Company, the Disney family, their history, fans, competitors and related organizations.
Frequency - about 12 posts per week

46,722
113,709
345,110
11

Location: All over the world.

About Blog - The latest news, tips and insights directly from the Animate team. Keep up to date on all things Animate CC (formerly Flash Pro CC), Flash Player, and Adobe AIR.
Frequency - about 14 posts per week

438,227
57,959
98
12

Orem, UT

About Blog - AnimSchool is the premiere online school for the broader world of 3D animation. AnimSchool instructors are 3D animation pros by day, and teach animation, modeling and rigging after work. Students at AnimSchool learn how to make characters and how to move characters.
#animationtutorial
Frequency - about 1 post per month

177,854
1,847
1,350,149
13

About Blog - MAAC is the perfect place for students who are looking for a successful career in the animation industry. MAAC is now certified by the International VFX & Animation Council (IVAC) - an industry association of VFX & animation
Frequency - about 4 posts per month

116,240
415
177,794
14

About Blog - BlenderNation provides daily news, art and tutorials for Blender, the open source 3D content creation suite.
#animationtutorial
Frequency - about 34 posts per week

11,661
21,214
24,473
15

Earth

About Blog - iAnimate.net is an online animation school like no other. We offer a complete set of workshops designed to target all your animation needs, and put youiAnimate in direct contact with veteran animators from the biggest & best studios in our industry.
Frequency - about 2 posts per month

111,646
4,849
266,848
16

India

About Blog - On the Arena Blog, get film news, tips, tutorials, and latest technology updates from animation, VFX, gaming, filmmaking, and publishing industries. Arena Animation is the pioneer in animation and multimedia education with a global network of centres.
Frequency - about 1 post per month

125,564
657
108,943
17

About Blog - Looking for animation tips, industry news, and characters? Look no further. Animation Mentor blog has that and more. It teaches character and creature animation in a real-world production environment. Programs are designed and taught by top industry animators.
Frequency - about 4 posts per month

100,682
36,801
126,577
18

blog.nfb.ca/blog/category/an..

Baltimore, Maryland

About Blog - The Animation category of the NFB blog features all posts related to animation from the blog. The blog is dedicated to blogging about Canadian and global documentary, animation, and interactive media projects and communities.
Frequency - about 4 posts per month

48,554
157,796
150,010
19

Online

About Blog - On the AnimationXpress blog, stay updated with the latest in the Animation, VFX, Comic and Gaming industry across the world. It is edited and managed by Sidharth Iyer under the guidance of Anil Wanvari, the Founder and Editor In Chief of Animation Xpress India Pvt Ltd.
Frequency - about 24 posts per week

42,213
1,972
254,549
20

About Blog - Anime Blog provides, Naruto, Dragon Ball, Pokemon Go, Dragon Ball Super News, Updates, Tricks, Quiz and everything related to anime.
Frequency - about 84 posts per week

155,869
544
2,532
21

Get involved in the comments!

About Blog - Honey's Anime is the best place for anime enthusiasts! news, guides, reviews, recommendations, character bios, they have it all.
Frequency - about 56 posts per week

78,368
49,702
16,683
22

Montreal, Canada

About Blog - The new Toon Boom Animation Blog includes news, stories, and animation tips from industry experts and animation professionals. Their mission is to build uniquely creative animation and storyboarding software solutions that provide artistic freedom and production efficiency.
Frequency - about 2 posts per week

50,866
41,674
54,805
23

About Blog - Learn more about game design and animation courses by reading the CG Spectrum blog
Frequency - about 2 posts per month

30,020
1,188
873,699
24

About Blog - On Animation blog provides a daily dose of inspiration carefully curated for the animation artist. It is a daily blog about animation and the art of film making. Production art, short films, insights, analysis, inspiration, and passionate ramblings.
Frequency - about 3 posts per week

26,729
4,201
156,400
25

Everywhere

About Blog - STASH is the essential creative resource for ad agencies, broadcasters, animation and VFX studios, designers, animators, post houses, production companies and schools. It is the planet's largest online library of animation, VFX and motion design. It delivers inspiration and insight into outstanding design, visual effects and animation projects and the people who create them.
Frequency - about 13 posts per week

9,143
10,122
228,845
26

Emeryville, CA

About Blog - The collaboration platform for making animated films, commercials, video games and VR content.
Frequency - about 3 posts per month

17,690
2,216
456,060
27

About Blog - The 11 Second Club is a character animation competition open to everyone. Animators from all over the world participate, animating a character speaking a line of dialogue provided by the club.
Frequency - about 1 post per month

10,915
1,271
194,922
28

animatedshortfilms.net/index..

United States

About Blog - Animated Short Films - 2D animations, 3D or stop motion. New and good animation short movies and cartoons. Every day we select the best online animations.
Frequency - about 3 posts per month

23,963
n/a
2,949,251
29

nickanimationstudio.tumblr.com

Burbank, California

About Blog - Nick Animation Studio blog provides animation news and other news related to Nick Animation Studio.
Frequency - about 13 posts per week

n/a
47,677
4,679,700
30

Australia

About Blog - Motionworks provides information on broadcast design and motion graphics with Adobe After Effects and Maxon Cinema 4D. John Dickinson is a motion graphic designer, trainer and presenter, specialising in Adobe After Effects and Maxon Cinema 4D.
Frequency - about 4 posts per month

11,409
29,390
275,082
31

Australia

About Blog - HelloLuxx is a collection of creative professionals from around the globe. Sharing Cinema 4D knowledge for the vfx & motion graphics community. It provides free cinema 4D Tutorials, Cinema 4D Training and Professional training.
Frequency - about 3 posts per month

8,463
17,388
178,004
32

Emeryville, CA

About Blog - Launched in 2004, Upcoming Pixar has become a respectable news blog for all things Pixar. It is a blog dedicated to the world's most successful animation studio, Pixar Animation Studios. It is your number one site for Pixar and Disney discussion, theories, fun and games.
Frequency - about 1 post per week

1,761
34,069
1,387,160
33

Kolkata, India

About Blog - Hitech Academy is a leading Animation Institute. Their blog provides tips and how to's about animation.
Frequency - about 2 posts per week

19,773
41
1,925,246
34

California, USA

About Blog - Dragonframe blog provides news and production highlights. It is the stop motion animation software that captured Laika's ParaNorman, The BoxTrolls and Disney's Frankenweenie.
Frequency - about 3 posts per month

10,536
1,304
334,948
35

India

About Blog - Animation tutorial is a 2D and 3D animation and vfx portal.It provides tutorials, news and tips related to animation and vfx industry. Topics include CG Tutorials and News related to CG Industry CG Modeling CG Lighting Particles and Dynamics Editing Photography Compositing News Events.
Frequency - about 1 post per month

11,446
n/a
2,808,603
36

UK

About Blog - Skwigly is the largest & longest running animation magazine in the UK, dedicated to news, interviews, tutorials, podcasts & videos.
Frequency - about 6 posts per week

3,570
7,510
818,839
37

About Blog - Reallusion blog serves as an online resource for 2d and 3d animators. It is a leader in the development of 3D cinematic animation tools for consumers, students and professionals.
Frequency - about 1 post per week

32,060
92
19,485
38

About Blog - Bloop Animation is an animation learning hub offering free video tutorials, how to's and articles for aspiring animators and visual artists. It is a blog/YouTube channel about making animation.
Frequency - about 2 posts per month

9,966
1,793
144,926
39

About Blog - Animation Digital Digest is an online portal for animation, vfx, comics & gaming industry. It focuses on providing integrated news related to the industry which is not only informative but also instructive to all the audiences referring to the site.
Frequency - about 28 posts per week

6,291
469
454,065
40

UK

About Blog - Anime Ltd started out as a consultancy company ran by Andrew Partridge and since has grown into something completely different. Their blog is an updated blog about all thing anime.
Frequency - about 5 posts per week

12,094
10,263
328,043
41

Los Angeles, CA

About Blog - DKNG is a design studio based in Los Angeles, California with a focus on the music and entertainment industries.
Frequency - about 2 posts per month

12,293
7,819
641,672
42

Kolkata, India

About Blog - MAAC animation kolkata is a best animation institute that conducts training in 3d animation courses, Multimedia course in Kolkata, web designing course in kolkata, graphic design courses in kolkata, autocad courses
Frequency - about 3 posts per week

2,185
7
257,203
43

About Blog - Animated Views provides animation news, reviews, and commentary.
Frequency - about 17 posts per week

832
453
441,103
44

ncca.bournemouth.ac.uk/news/..

Bournemouth, UK

About Blog - Stay up to date with what's happening at the NCCA. Est. 1989, The National Centre for Computer Animation has pioneered UG & PG courses in 3D Games & VFX and conducts leading research in 3D related fields
Frequency - about 1 post per month

n/a
756
46,184
45

About Blog - Angry Anime Bitches Anime Blog is a blog dedicated to everything about anime. It focuses on reviewing currently airing anime series that are open for discussion. Also reviews collectibles, manga, games and novels.
Frequency - about 7 posts per week

n/a
114
546,489
46

tokyo

About Blog - Thinking Animation Book, Blog, Tutorials and Videos by Angie Jones.
Frequency - about 8 posts per week

621
591
851,289
47

United States

About Blog - Cartoon Research is Jerry Beck's personal website and blog devoted to animation history – past, present and future. This site celebrates classic cartoons from all over the world, with a special emphasis on Hollywood studio animation. Jerry is aided on this blog by a select group of respected colleagues and historians who also share their enthusiasm for the field, it's history and its legacy.
Frequency - about 7 posts per week

n/a
1,217
439,896
48

New York, NY

About Blog - IdeaRocket is a New York City-based animation studio specializing in explainer videos. On their blog, you will find important tips, interviews with different animators, creative ideas and everything else you need to know about animation.
Frequency - about 4 posts per week

541
910
499,284
49

Madrid

About Blog - Sergio Pablos is the real soul of a studio that since 2004 offers the highest quality in Animation for clients such as Universal, Blue Sky, Warner or Disney. Their blog is full of useful tips and news about animation.
Frequency - about 2 posts per week

11,994
1,497
1,522,434
50

USA

About Blog - South Australian Artist, Writer, Video Producer and Animator, David Arandle working under the pseudonym 'The Extraordinary Tourist' or 'TET' for short Blogs about his personal animation projects as well as Tips, Software Reviews, Featured Animators Animation Business and a whole lot more.
Frequency - about 2 posts per month

124
193
1,927,845
51

About Blog - Ron Doucet was raised on a healthy overdose of 80s Cartoons, Muppets, and Mad magazines. Now he directs animated shows for television.

Frequency - about 9 posts per week

n/a
899
1,479,778
52

triplet3d.com/blog-cinema-4d..

Cleveland, Ohio

About Blog - Triplet 3D is a full-service creative studio based in Cleveland, Ohio, that specializes in Visualization, 3D Animation, and Motion Graphics. On their blog you will find in-depth Cinema 4D tutorials, free online training, and daily creative explorations.
Frequency - about 3 posts per month

873
101
1,387,201
53

Lees Summit, MO

About Blog - Trinity Animation is a blog of news, articles and information about animation, computer graphics and visualization related to the industry and Trinity Animation's services.
Frequency - about 1 post per month

715
777
1,696,085
54

About Blog - OpenGL Projects provides free source code for opengl projects, computer graphics mainly focusing mini project on computer graphics using visual C plus plus.
Frequency - about 1 post per month

2,860
152
1,062,778
55

Daytona Beach

About Blog - Reach your dream job without massive debt. Learn how to animate and level up with our animation courses, tutorials, ultimate guides, and podcasts. Your animation career hinges on learning from the right courses, leveling up rapidly, and building a rock solid network.
Frequency - about 1 post per month

n/a
44
1,097,063
56

Dublin City, Ireland

About Blog - Boulder Media is an Irish animation company based in Dublin, Ireland.
Frequency - about 1 post per month

2,149
802
1,771,374
57

Ireland

About Blog - Animation Ireland brings together the leading Irish animation studios to discuss industry issues & promote Ireland as destination for production. It has been representing Ireland's best animation studios.
Frequency - about 4 posts per month

493
3,916
1,434,177
58

Los Angeles, CA

About Blog - Animation Scoop is the new blog of news, reviews and commentary written by animation historian Jerry Beck with Charles Solomon, Greg Ehrbar and others.
Frequency - about 4 posts per week

4,913
5,966
1,075,092
59

England

About Blog - A113Animation is an animation news, views, reviews and interviews site: Disney, Pixar, DreamWorks, Aardman, Blue Sky, Sony, Illumination, Laika, Warner Bros., Ghibli, Marvel and more.
Frequency - about 1 post per week

1,331
2,906
2,880,000
60

About Blog - A Blog about Animation (2D,3D,Stop Motion, Game Cinematics and more!), Interviews (Animators,Studios,Illustrators) and anything else we find inspiring on the web! We focus on creating a list of animators,illustrators and Game Developers in South Africa for hire or networking. Submit,Hire or Network!
Frequency - about 3 posts per month

645
2,545
1,278,258
61

fudgeanimation.com/latest_news

Sandhurst, United Kingdom

About Blog - The latest newa section of the Fudge Animation website has been providing latest news about the animation industry, interviews, inspiration, as well as art and design influences from the world of animation. An award-winning independent animation studio based in the UK, it inspires and motivates target audiences with distinctive character animation.
Frequency - about 2 posts per month

202
214
2,430,619
62

Midwest, United States

About Blog - Run by anime blogger iblessall, Mage in a Barrel is an anime blog dedicated to unveiling the brights moments of light and the best moments of beauty Japanese animation has to offer. The core mission of this blog is to promote anime and elements of particular anime that the blogger finds to be beautiful.
Frequency - about 1 post per week

296
1,609
2,045,749
63

Culver City, CA

About Blog - Stop Motion Animation news outlet focused on handmade animation. It is a website and publication dedicated to the art of Stop Motion Animation. It's goal is to educate, inform, and inspire those whom share a love and passion for Stop Motion Animation in all its forms.
Frequency - about 2 posts per month

2,184
745
2,875,726
64

Los Angeles, CA

About Blog - Eric Miller Animation Studios is a full service animation production company in the Los Angeles area. Their blog if full of animation news, tips and interviews with animators.
Frequency - about 1 post per week

4,753
734
2,906,933
65

.

About Blog - Online Tutorials for Flash Effects Animators. The blog is an archive of effects animation references for 2D animators.
Frequency - about 2 posts per month

n/a
n/a
2,569,487
66

animationguildblog.blogspot.com

Los Angeles, CA

About Blog - TAG blog features the thoughts and observations of the leaders of The Animation Guild (TAG), Local 839 IATSE. The blog represents animation and visual effects artists and writers in Los Angeles.
Frequency - about 1 post per week

1,834
9,984
2,282,972
67

About Blog - AnimationStudies 2.0 has been inspired by excellent academic sites as In Media Res and CST Online and hopes to develop into a vital resource. The posts will hopefully provide a starting point for feedback and discussions among the animation (and moving image) community.
Frequency - about 3 posts per month

1,502
822
2,223,483
68

Burbank, California

About Blog - The Animation Academy was founded by Charles Zembillas (Character Designer for Crash Bandicoot, Spyro the Dragon and Jak and Daxter) in 1998 and is located in Burbank California. The Animation Academy specializes in the rapid development of artistic skills necessary for achieving a successful career in animation. It is a home to many of the industry's greatest artists over the years.
Frequency - about 1 post per month

2,042
143
3,131,756
69

curveball-media.co.uk/catego..

About Blog - From concept to production, we specialise in explainer videos, infographics and adverts at our film and animation studio. Norwich, London.
Frequency - about 2 posts per week

542
297
3,556,382
70

Southampton. UK

About Blog - The Animated Documentary page is run by animadoc directors Ellie Land & Alys Scott Hawkins.
Frequency - about 1 post per month

1,897
467
3,652,165
71

The Web

About Blog - MH Tutorials is the premier website for 3D modeling & animation tutorials as well as CG industry news, behind the scenes and more.
Frequency - about 2 posts per week

159
135
3,475,798
72

Los Angeles, CA

About Blog - TheAnimationBlog.com is dedicated to the wonderful world of animation. Hector Cortez's goal is to provide readers with animation news, reviews, trailers, short films and classic cartoons from decades past.
Frequency - about 8 posts per week

n/a
379
3,004,729
73

Waterloo, ON

About Blog - This site is dedicated to accumulating and highlighting research in the exciting field of physics-based animation for computer graphics. The topics that Christopher Batty (author) usually include are rigid bodies, deformable bodies, cloth, articulated bodies, collision detection, meshing, shells, hair, liquids, gases/smoke, explosions, fracture, and the list goes on.
Frequency - about 2 posts per week

n/a
705
829,735
74

Birmingham, UK

About Blog - CharacterShop is an award-Winning Animation Studio and Production Company, Birmingham, West Midlands. They specialize in the design and animation of original characters and environments for commercials, TV, film, games, online & corporate productions. On their blog, you will find animation news and updates on upcoming events related to animation.
Frequency - about 1 post per month

n/a
611
3,734,374
75

San Francisco

About Blog - Providing insight into the animation industry from an artistic, technical and business point of view. Run by Jean-Denis Haas.
Frequency - about 4 posts per week

590
3,628
4,186,008
76

About Blog - Angular Geometry is a blog for shapes and geometry. It is the daily GIF art of Tyler Haywood.
Frequency - about 7 posts per week

141
314
4,302,842
77

About Blog - Best Animation college,Animation Mysore, Animation Institute Mysore, BSc, degree, diploma in animation, visual effects,multimedia, web design,Graphic Design,VFX.
Frequency - about 168 posts per week

n/a
41
5,059,524
78

South Africa

About Blog - Our mission is to provide strategic leadership to the local industry. Boosting education and skills and increasing capacity, as well as getting South African IP ready for international trade will be key goals for ASA in the next few years.
Frequency - about 2 posts per week

1,038
610
5,172,057
79

Toronto

About Blog - Canadian Animation Blog is a blog created to celebrate animation through interviews, photos, and event coverage. The blog provides an online showcase for Canadian artists, animation, and events.
Frequency - about 3 posts per month

972
679
5,873,175
80

UK

About Blog - Edge of Frame is a blog about experimental animation. It aims to stimulate artistic discourse around experimental animation, focusing on work at the intersection of animation, experimental film and artists' moving image.
Frequency - about 1 post per month

853
1,028
6,347,694
81

United Kingdom

About Blog - BAFTA, Royal Television Society and Sandford Saint Martin's award winning 2D animation studio based in Yorkshire, UK.
Frequency - about 2 posts per month

248
832
8,848,799
82

Minneapolis, MN

About Blog - hibli Blog is the premier website dedicated to Studio Ghibli, animation and the movies. The blog covers news, reviews, videos, essays, commentaries, and more.
Frequency - about 11 posts per week

617
1,056
8,509,200
83

animationapprentice.blogspot.uk

World Wide Web

About Blog - Animation Apprentice is an online animation school teaching character and creature animation. It aims to provide the highest quality animation training available anywhere in the world.
Frequency - about 2 posts per week

2,026
1,152
12,227,142
84

About Blog - The Animation Educators Forum is dedicated to the preservation and promotion of animation through education. The team members have diverse backgrounds in both the education and professional fields.
Frequency - about 1 post per month

865
188
13,962,043
85

Breda, the Netherlands

About Blog - Animate the World is the animation studio for brain popping stop motion animation and moving motion design.
Frequency - about 2 posts per month

699
271
19,288,047
86

Oxford, England

About Blog - VidPlane blog provides Explainer video samples and interesting info for video marketers and online animators. VidPlane are a specialist video marketing company which uses video, animation and storytelling to create high-impact 'explainer' videos.
Frequency - about 1 post per week

93
194
16,545,286
87

Adelaide, Australia

About Blog - Paper Rabbits is a website celebrating Animation & Illustration by Makoto Koji
Frequency - about 1 post per month

595
225
12,662,444
88

ucarochester-cgartsandanimat..

UCA Rochester

About Blog - Ba Hons Computer Generated Arts & Animation is a 3 year degree course at the University for the Creative Arts, Rochester Campus, Kent, UK
Frequency - about 4 posts per week

n/a
1,190
15,481,020
89

.

About Blog - A place for all of the most useful and valuable Blender tips, tricks and tutorials the author, Paul Van Gaansa, discovers on the web.
Frequency - about 4 posts per week

n/a
n/a
8,335,560
90

escapestudiosanimation.blogs..

Montespertoli (Firenze)

About Blog - Escape Studios launched its integrated BA/MArt in computer animation in September 2016. Our goal is to offer The Best Degree in 3D Computer Animation in the UK. Run by Alexander Williams .
Frequency - about 4 posts per week

n/a
n/a
12,412,899
91

Port Angeles, WA, United States

About Blog - Acme Punched! is for people crazy about 2D animation. It may be enjoyed by beginners and others, but it is aimed at animators who know already something about the process of animation and the basics of character animation. Jim Bradrick is a long-time 2D animator, self-taught and still as passionate as ever and still learning the craft.
Frequency - about 2 posts per month

n/a
n/a
25,502,469
92

Rochester, South East

About Blog - Art of Mark is a collection of artworks, animations, concepts and thumbnails created by myself. A great artist is passionate, and that is what I enjoy.
Frequency - about 1 post per week

24
300
n/a
93

Boston

About Blog - Mike Manor blog features animation and other goofy stuff by Mike Manor.
Frequency - about 1 post per week

n/a
1,184
n/a
94

Detroit, MI

About Blog - An avid film enthusiast who enjoys the history and process of movie design and development. An animation is a film category that should be highly recognized for its appeal to a general audience, its impact, and advancement in the film industry.
Frequency - about 4 posts per week

n/a
148
n/a
95

About Blog - Worms animated comedy web series. It's rough, cheap and in yer face! Love the crude and rude, then this series is for you. Come in and take a swim.
Frequency - about 2 posts per week

3
52
2
96

About Blog - Birla Institute of Technology Mesra Ranchi, Extension Centre Noida, Animation and Multimedia Department Students' Work Blog. BIT Mesra is the first University to start Animation and Multimedia Degree Course in India and BIT Noida is amongst top 10 Best Animation Institutes of India.
Frequency - about 4 posts per week

n/a
16
n/a
97

.

About Blog - This blog is a collection of animation tips, tricks and tutorials. A place to share advice on how to make your animations better.
Frequency - about 1 post per month

n/a
n/a
n/a
98

.

About Blog - Drew Adams blog features the art and animations of Drew Adams, third year animation student.
Frequency - about 1 post per month

n/a
n/a
n/a
99

.

About Blog - TheReal - Starlord blog features Action Figures, Pop Figures and Artwork.
Frequency - about 2 posts per week

n/a
n/a
n/a
100

.

About Blog - Learn Animation provides Game & Character Animation Tutorials for beginner to advanced animators to learn and practice their skills.
Frequency - about 5 posts per week

n/a
n/a
n/a
101

.

About Blog - Animatorial blog is a place for all the inspirational people, animation clips, resources and tutorials the author, Paul Van Gaans, finds on the web.

Frequency - about 8 posts per week

n/a
n/a
n/a
102
n/a
n/a
1
103
n/a
n/a
1
104
n/a
n/a
1
105
n/a
n/a
1
106
n/a
n/a
1
107
n/a
n/a
1
108
n/a
n/a
1
109
n/a
n/a
1
110
n/a
n/a
1
111
n/a
n/a
1
112
n/a
n/a
1
113
n/a
n/a
1
114
n/a
n/a
1
115
n/a
n/a
1
116
n/a
n/a
1
117
n/a
n/a
1
118
n/a
n/a
1
119
n/a
n/a
1
120

San Francisco, CA

About Blog - This subreddit is the home of software/film/other animations which either look really good, or have an interesting story behind them. You can post whatever you want, as long as it is appropriate to the subreddit. Have fun looking at the animations.
Frequency - about 5 posts per week

n/a
n/a
25
121

reddit.com/r/Minecraft_Anima..

San Francisco, CA

About Blog - Here you can publish your minecraft animations as well as view animations published by other users.
Frequency - about 1 post per month

n/a
n/a
25
122

San Francisco, CA

About Blog - A subreddit for wallpapers from Japanese Animation (Anime) series and movies, as well as Manga.
Frequency - about 84 posts per week

n/a
n/a
25
123

reddit.com/r/computeranimation

San Francisco, CA

About Blog - All computer animation. There are /r/animation, /r/vfx and /r/3Dmodeling subreddits but nothing specifically for the art of Computer Animation!
Frequency - about 2 posts per month

n/a
n/a
25