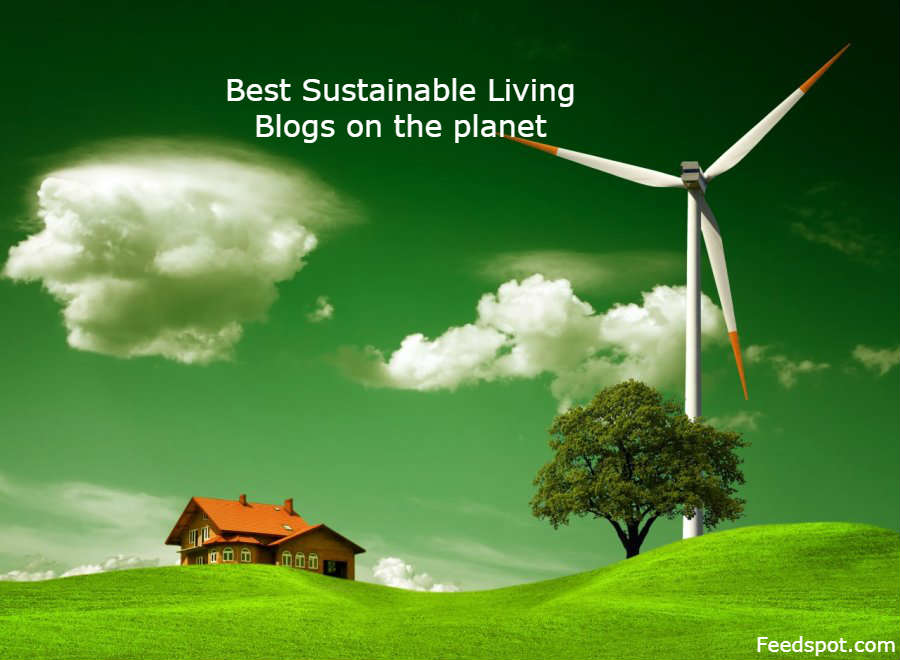 Sustainable Living Blogs List.
The Best Sustainable Living blogs from thousands of top Sustainable blogs in our index using search and social metrics. Data will be refreshed once a week. Also check out Sustainable Living Youtube Channels.
If your blog is selected in this list, you have the honour of displaying this Badge (Award) on your blog.
Sustainable Living Blogs

Australia About Blog Founded in 2010 by Jennifer Nini, Eco Warrior Princess covers the topics that matters — sustainable fashion, conscious businesses, green politics, feminism, eco beauty, wellness, green technology — in an analytical, intelligent and honest way.
Frequency about 10 posts per week.
Also in Eco Friendly Blogs, Sustainability Blogs
Blog ecowarriorprincess.net
Facebook fans 3,622. Twitter followers 5,598.

San Francisco About Blog Chris and Dawn Agnos Co-founded Sustainable Human. Our mission is to examine the flawed mindsets and behaviors which are at the root of our sustainability crises and offer alternatives that can form the foundation of a more sustainable world.
Frequency about 2 posts per month.
Blog themaven.net/sustainablehuman
Facebook fans 1,697,951. Twitter followers 4,601.

San Diego, CA About Blog Articles, how-to's and tips to empower and inspire you to save money, consume less, produce more, and live a greener, healthier, more sustainable life.
Frequency about 1 post per month.
Blog smallfootprintfamily.com
Facebook fans 36,216. Twitter followers 1,792.

Perth, Australia | London, UK About Blog Hello. I'm Lindsay. And I'm so glad you're here! Learning, teaching and sharing skills for sustainable living: zero waste and plastic-free, minimalism, real food and simple living. I support others to make choices to live with less stuff and less waste, and to embrace a life more aligned with their values and the things that matter.
Frequency about 3 posts per month.
Blog treadingmyownpath.com
Facebook fans 9,505. Twitter followers 2,732.

Seattle, WA About Blog Insteading serves up the best resources for gardening, chickens, beekeeping, natural building, sustainable living, and more. Insteading helps people on their journey to live a more positive life—positive for themselves, for their neighbors, and for the world around them. As the world awakens to the need to transition away from fossil fuels, people are making alternative choices with the clothes they wear, the products they buy, and the transportation choices they make.
Frequency about 1 post per week.
Blog insteading.com
Facebook fans 20,842. Twitter followers 3,060.

About Blog RecycleNation is a dynamic recycling and green living-focused website that makes recycling, conserving, reusing and living wisely easy. RecycleNation is regularly updated with important how-to directives aimed at increasing recycling awareness. Visit regularly for eco-friendly stories, ideas, news, anecdotes and initiatives. By changing the way we think, we can change the way we live.
Frequency about 3 posts per month.
Blog recyclenation.com
Facebook fans 9,743. Twitter followers 531.

Global About Blog Green Living Ideas, part of the Important Media Network, provides ideas, tips, and information to help you 'green' every aspect of your life: home energy, green building and remodeling, cars, food, waste recycling—and everything in between. We've worked with the world's top green living authors and experts to bring you the latest information and great insights for green and sustainable living.
Frequency about 1 post per week.
Blog greenlivingideas.com
Facebook fans 3,369. Twitter followers 10,123.

Oakland, CA About Blog Think we can't live without plastic? Think again. In 2007 I committed to stop buying any new plastic & I've almost succeeded! Won't you join me? Let's see what plastic-free looks like today for the health of our bodies, our oceans, our planet. How I Kicked the Plastic Habit and How You Can Too Join me in living life with less plastic.
Frequency about 1 post per month.
Since Jun 2007
Also in Zero Waste Blogs
Blog myplasticfreelife.com/blog
Facebook fans 48,128. Twitter followers 10,649.

Edinburgh About Blog Moral Fibres is a green lifestyle blog about seasonal recipes, energy saving, ethical fashion, eco-friendly gardening, ethical shopping, sustainable travel & more
Frequency about 1 post per week.
Since Jan 2013
Also in UK Eco Friendly Blogs, UK Sustainable Living Blogs
Blog moralfibres.co.uk
Facebook fans 2,981. Twitter followers 7,682.

About Blog Welcome to My Zero waste! A blog about how we reduced waste and pollution to save our environment since 2004. Join us as we reduce the amount of rubbish we send to landfill each week.
Frequency about 3 posts per month.
Blog myzerowaste.com
Facebook fans 5,267. Twitter followers 5,666.

Adelaide Australia SA About Blog Welcome to Recycled Interiors & The Sustainable Home Hub: Your Home for sustainable living, decorating & design. We believe in beauty in nature, that we need to#dropthemumguilt & love our children more than the latest trends, in your home being perfect the way you want it, family, love, spending time with each other, blending old with new, doing it yourself, sustainability, health and happiness.
Frequency about 2 posts per week.
Blog recycledinteriors.org/blog
Facebook fans 82,686. Twitter followers 4,359.

About Blog Welcome to the Green Elephant Blog! We love all things sustainable, healthy & ethical and this is the place where we put our latest discoveries for sustainable living. Here you will find our thoughts on healthy & ethical products we love, and the environment and generally helpful and interesting information to help you care of the earth and live an eco friendly life.
Frequency about 1 post per month.
Blog greenelephant.co.nz/blog
Facebook fans 1,345. Twitter followers 203.

About Blog The Green Living Guy, Seth Leitman is a green living expert, celebrity and Editor of the McGraw-Hill, TAB Green Guru Guides. Seth is also an Author, Radio Host, Reporter, Writer and a Environmental Consultant on green living. The Green Living Guy writes about green living, green lighting, the green guru guides and more.
Frequency about 19 posts per week.
Blog greenlivingguy.com
Facebook fans 17,999. Twitter followers 61,285.

About Blog We're a diverse and passionate team, but we share one purpose: to create a world where people's shopping choices drive businesses to be sustainable and fair. There are millions of people around the world who believe in our vision for a better future. Imagine the real change we can create together.
Frequency about 2 posts per week.
Blog goodonyou.eco/blog
Facebook fans 14,647. Twitter followers 5,593.

Kansas City, MO About Blog Learn about local options for sustainable living for your home, work and family. Whether you've been making healthy environmental choices for years, or are just now looking for some easy alternatives for greener living, Greenability is your local source for news, events, resources, products and ideas.
Frequency about 2 posts per week.
Blog greenabilitymagazine.com/gre..
Facebook fans 1,929. Twitter followers 1,543.

Minneapolis, MN About Blog I started the Mindful Momma blog because I believe that anyone can create a flexible, natural lifestyle without a ton of stress. I'll show you how to make some of your own cleaning and beauty products that are affordable and safe to use. My goal is to provide well-researched information and to help you prioritize and make the changes that work for you!
Frequency about 3 posts per month.
Blog mindfulmomma.com
Facebook fans 6,975. Twitter followers 15,583.

New York, NY About Blog EcoCult is stunningly informed, brash, beautiful and unapologetic. EcoCult loves anything local, sustainable, eco-friendly, handmade. Living sustainably just makes sense to me, even though it's not always easy.
Frequency about 2 posts per week.
Also in Sustainable Fashion Blogs
Blog ecocult.com
Facebook fans 4,360. Twitter followers 5,341.

About Blog The world's first sustainable luxury publication, Eluxe Magazine delivers online information and inspiration every single day. From eco-chic fashion and natural beauty to organic food and responsible travel, Eluxe Magazine is the world's leading voice on eco-luxury living.
Frequency about 7 posts per week.
Blog eluxemagazine.com
Facebook fans 35,955. Twitter followers 13,599.

USA About Blog Sustainable Living is being able to produce food, energy, water, housing, and more in harmony with nature, self-reliant, and prepared to thrive.
Frequency about 1 post per month.
Since Jun 2007
Blog ic.org/category/sustainable-..
Facebook fans 15,662. Twitter followers 590.

Hawaii About Blog The whole idea behind this site it that sustainability at some level is within our reach. Sure, we'll all still have to buy things at the grocery store. And maybe some aspects of living a more self-reliant lifestyle just aren't your cup of tea. But look around your home or your office. There's so much room for improvement. And that's what brought me here.
Frequency about 2 posts per week.
Blog attainable-sustainable.net
Facebook fans 461,906. Twitter followers 1,496.

Shelburne, Vermont About Blog Shelburne Farms is a nonprofit organization educating for a sustainable future. That means learning that links knowledge, inquiry, and action to help students build a healthy future for their communities and the planet. We care about the sustainability and quality of life on earth. We care about young people having hope for the future.
Frequency about 3 posts per month.
Blog shelburnefarms.org/blog
Facebook fans 34,217. Twitter followers 8,348.

Los Angeles, California About Blog Pick My Solar is an online solar purchasing marketplace, providing homeowners and business owners with expert advice and high quality custom bids from a national network of highly qualified solar installers. The overarching mission of Pick My Solar is to simplify the solar purchasing process, drive down costs, and provide the consumer advocacy necessary for solar to achieve broad market success.
Frequency about 1 post per week.
Blog blog.pickmysolar.com
Facebook fans 4,925. Twitter followers 1,397.

Worldwide About Blog Trend Prive Magazine aims to create a world where fashionable lifestyle meets a humanitarian and eco mindset, becoming one and the same. We are at a point in society where it is not only desirable to find or evolve into this, but necessary. What WE understand is that natural fabrics, a small footprint, good design and sustainable thinking already ARE the luxury.
Frequency about 9 posts per week.
Blog trendprivemagazine.com
Facebook fans 30,196. Twitter followers 18,215.

BOS/ACK About Blog Welcome! Whether you're renovating a home, structuring a travel experience or revamping your lifestyle, there are many ways to incorporate eco-friendly ideas. Join us and share the best, both near and afar, in sustainable shades of green.
Frequency about 1 post per month.
Blog greenwithrenvy.com
Facebook fans 1,606. Twitter followers 10,025.

Toronto, Ontario About Blog Learn simple tips that promote sustainability and green living. With these everyday tips, you can easily start to be green, and help the Earth. This blog presents you with easy, unique and fun ways to be eco and green.
Frequency about 1 post per month.
Since Jun 2016
Blog get-green-now.com/living
Facebook fans 50. Twitter followers 1,341.

Toronto, Ontario About Blog Conscious green living for those who love the planet. Greenmoxie is managed and edited by author / journalist Nikki Fotheringham and is a lifestyle magazine exploring the merits of green living, adventure travel, upcycling and sustainable building. "If you think you are too small to make a difference, you haven't spent a night with a mosquito," African Proverb
Frequency about 2 posts per week.
Blog greenmoxie.com
Facebook fans 1,973. Twitter followers 4,781.

About Blog Green Living magazine is the premiere Arizona eco-conscious lifestyle magazine centered on your daily life and the way you express yourself as you live, work, and play green Our content is modern and has a wide-spread reach. Green Living magazine is designed to empower you with new ideas and inspirations using nature's resources to lead you to a more sustainable you.
Frequency about 3 posts per week.
Also in Healthy Lifestyle Blogs
Blog greenlivingaz.com/blog
Facebook fans 7,994. Twitter followers 4,249.

Santa Monica, CA About Blog Global Green USA is the American affiliate of Green Cross International, founded by President Gorbachev to foster a global value shift toward a sustainable and secure future. For 20 years, Global Green USA has been a national leader in advancing smart solutions to climate change that improve lives and protect our planet.
Frequency about 2 posts per month.
Blog globalgreen.org/blog
Facebook fans 60. Twitter followers 38,127.

Spokane, Wa About Blog Hi! I'm Christine! I'm an Eco-friendly, frugal living 30 something hippie at heart Mom of teens with dreadlocks. I love fitness, yoga, and enjoying life wherever I happen to be planted at the moment which currently is the Pacific Northwest.
Frequency about 2 posts per week.
Blog savedbygraceblog.com
Facebook fans 4,146. Twitter followers 6,473.

India About Blog Find latest environmental news and climate change reports. Learn about sustainable consumerism and ethical fashion and join us in this journey of going plastic free!
Frequency about 3 posts per week.
Blog ecorightbags.com/blog
Facebook fans 21,904. Twitter followers 356.

Australia About Blog Australia's popular eco lifestyle blog on zero waste and plastic-free living, sharing tips on how to reduce plastic and rubbish every day.
Frequency about 2 posts per month.
Since Jan 2013
Blog therogueginger.com
Facebook fans 10,470. Twitter followers n/a.

New York Metro About Blog The Green Divas offer low-stress ways to live a deeper shade of green - quality digital content via blog, podcast, and video.
Frequency about 2 posts per month.
Blog thegreendivas.com
Facebook fans 8,486. Twitter followers 4,810.

About Blog Green Your Decor a blog by Jennae Petersen is your guide to all things eco-friendly for your home. If you're looking for green furniture, organic textiles, safe nursery decor or anything else, we can help you find it.
Frequency about 1 post per month.
Blog greenyourdecor.com
Facebook fans 2,434. Twitter followers 103.

Brighton and Hove, UK About Blog Hi, my name is Zoë Morrison and I am the author of Eco Thrifty Living. I have learned so much about being eco-friendly, saving money and setting healthy limits when it comes to both of those activities!
Frequency about 1 post per month.
Since Jul 2011
Also in Thrifting Blogs, UK Thrift Blogs
Blog ecothriftyliving.com/blog
Facebook fans 1,588. Twitter followers 5,625.

Chippendale, Sydney About Blog I live in Sydney's #SustainableHouse. No sewage or #water has left in 20 years; energy n water bills are less than $300 a year. Anyone can #offgrid
Frequency about 2 posts per month.
Blog sustainablehouse.com.au/mich..
Facebook fans n/a. Twitter followers 1,600.

South Australia About Blog I'm an award-winning Eco-living Educator on a mission to make green mainstream by empowering parents to make more sustainable lifestyle choices. Here's to making green mainstream and creating a future that's a happier, healthier place for generations to come
Frequency about 2 posts per month.
Blog lauratrotta.com/blog
Facebook fans 6,666. Twitter followers 882.

UK About Blog I'm a thirty something woman living in semi-rural UK. If you are committed to a greener way of life, or are just starting out on the path of eco awareness, then you might find something within these blog pages to interest you. I have a passion to share information I have gathered over the years in the hope that someone else can benefit from it too.
Frequency about 2 posts per month.
Blog littlegreenblog.com
Facebook fans n/a. Twitter followers 1,076.

About Blog An every day guide to leading a greener lifestyle. Greenne also features an eco directory of businesses with strong eco credentials.
Frequency about 1 post per week.
Blog greenne.com
Facebook fans 1,273. Twitter followers n/a.

Santa Monica, CA About Blog I started English Lass in LA in January 2016 a couple of months after relocating to California. This blog is Sustainable lifestyle and ethical fashion blog.
Frequency about 1 post per month.
Blog englishlassinla.com
Facebook fans 184. Twitter followers 708.

London About Blog TGF is a light green resource and shopping blog, with lots of great tips and info to help green your life. We aim to bring you the best green, organic and eco friendly products available, along with green tips and info to help simplify the whole process.
Frequency about 6 posts per week.
Blog thegreenfamilia.com
Facebook fans 1,262. Twitter followers 7,578.

Dublin City, Ireland About Blog The blog for people who care about others, about the environment and about themselves. To know more on sustainable living, follow us.
Frequency about 1 post per month.
Since Jul 2017
Blog sustainableresponsibleliving..
Facebook fans 41. Twitter followers 317.

Bengaluru, India About Blog Flavours of beauty is a lifestyle blog focusing on natural, sustainable and environment friendly lifestyle. This blog introduces you to the natural skincare and lifestyle brands of India, provide product reviews and guides you to make informed choices for a joyful and healthy life.
Frequency about 2 posts per month.
Blog flavoursofbeauty.com
Facebook fans 184. Twitter followers 10.

Houston, TX About Blog 4th House on the Right is a green interior design blog that follows my family's journey to a modern sustainable lifestyle. Reduce, Reuse, RE-IMAGINE!
Frequency about 2 posts per month.
Blog blog.xbydesign.biz
Facebook fans 227. Twitter followers 264.

About Blog Sigrun's Sustainable Kitchen features recipes, stories and more, representing multiple cuisines (Asian, Mediterranean, German, Middle Eastern, to name just a few). I am happy to share my passion for a sustainable and just food system, cooking, baking, and education with readers.
Frequency about 1 post per month.
Blog sigrunssustainablekitchen.com
Facebook fans 64. Twitter followers n/a.

About Blog I'm Jeff, and my goal is to help you earn your freedom by living sustainably and shattering through the walls of an ordinary life.
Frequency about 3 posts per month.
Blog sustainablelifeblog.com
Facebook fans n/a. Twitter followers n/a.

About Blog The main focus of this blog are areas like food, fashion, travel, DIY, fitness and other random things I love. However, I put a little twist to it by challenging myself to do all of the things Zero Waste and in a sustainable way. With this blog, I want to show that living a Zero Waste lifestyle doesn't have to be expensive, isolating or life-consuming.
Frequency about 2 posts per month.
Blog thewastedblog.com
Facebook fans 1,761. Twitter followers 321.

Cape Town, South Africa About Blog The Green Africa Directory is an online pan-African network that aims to connect and promote sustainability organisations across Africa and is a green hub for news and information. The Green Africa Directory aims to inspire and accelerate sustainability across all sectors in Africa - raising awareness, facilitating knowledge-sharing, enabling collaboration and igniting innovation.
Frequency about 3 posts per month.
Since Feb 2012
Blog greenafricadirectory.org/blog
Facebook fans 9,240. Twitter followers 9,353.

Boston About Blog Hi, I'm Diana Rodgers, RD, LDN, NTP. I'm a "real food" Licensed Registered Dietitian Nutritionist, and Nutritional Therapy Practitioner living on a working organic farm west of Boston. I speak at universities and conferences internationally about nutrition and sustainability, social justice, animal welfare and food policy issues. The blog is about the dish on sustainable eating and food production
Frequency about 1 post per month.
Blog sustainabledish.com/blog
Facebook fans 15,512. Twitter followers 6,490.

Big Bear City About Blog Tips, tools and tactics for living a life that honors Mother Earth and her inhabitants. We Marianne West and Jenise Fryatt, attempt to draw a detailed picture of what Charles Eisenstein calls, "the more beautiful world our hearts know is possible.
Frequency about 2 posts per month.
Blog sustainablelivingpodcast.com
Facebook fans n/a. Twitter followers 1,008.

About Blog We at EnviroGadget are firmly driven by a philosophy to create a safer and greener world and bring to our readers the latest in Eco-friendly gadgets and technologies. We hope that this would encourage our users to look into renewable alternatives for a better planet. Envirogadget.com has reviews on the latest and popular Eco-friendly gadgets and well as insights into new sustainable technologies.
Frequency about 1 post per month.
Also in Gadget Blogs
Blog envirogadget.com
Facebook fans 1,302. Twitter followers 554.

Victoria, Australia About Blog We are Melbourne's eco friendly suppliers of biodegradable, compostable, sustainable and environmentally friendly products and solutions for home and business. For eco friendly catering supplies and food packaging solutions look no further than Going Green Solutions.
Frequency about 1 post per month.
Blog goinggreensolutions.com.au/blog
Facebook fans 2,569. Twitter followers 109.

Sunshine Coast, Queensland About Blog Welcome to sustainability in style! A web platform committed to helping stylish folks become resilient, mindful and conscious consumers. "Sustainability in Style is a blog that demands your attention- your wardrobe and your wallet will soon be thanking you.
Frequency about 2 posts per month.
Blog sustainabilityinstyle.com/su..
Facebook fans n/a. Twitter followers 142.

Regina, Saskatchewan About Blog Socially responsible and eco-friendly brands, products and ideas. Our community is dedicated to sharing and promoting eco-friendly and socially responsible brands and products. We are dedicated to promoting brands that are making a positive impact on the economy, environment and society. Help us spread the word and make some ecoripples!
Frequency about 1 post per month.
Blog ecoripples.com/category/posts
Facebook fans 3,185. Twitter followers 358.

Brisbane, Queensland About Blog Our Planet Travel was started because, like many of you, I LOVE travelling – but I'm also passionate about protecting our environment… so the natural choice was to combine these two passions, and hence Our Planet Travel & Living blog and magazine was born!
Frequency about 1 post per month.
Blog ourplanettravel.com.au
Facebook fans 1,491. Twitter followers 31.

Sutton Coldfield (Birmingham) About Blog I believe that a life with craft is a necessity; an antidote to modern living and a welcome escape from life. I also believe in sustainable, ethical choices that look after both the environment and people and so Thimble End is my place to bring those things together.
Frequency about 4 posts per month.
Also in UK Sustainable Fashion Blogs
Blog thimble-end.co.uk
Facebook fans 102. Twitter followers 667.

About Blog There are 7864 local Farmers Markets in the US. There are only 4100 Walmarts. Farmers Markets and local Farming help regions be self sufficient and promote safe food. Farmers Markets provide more Organic Choice and CSA.
Frequency about 28 posts per week.
Blog healthysustainableliving.blo..
Facebook fans 591,336. Twitter followers n/a.

London About Blog The most comprehensive directory of green, sustainable, natural, ethical & eco-friendly goods, services, projects, contacts & organisations in the UK, with over 22,000 entries.
Frequency about 5 posts per week.
Blog greenguide.co.uk/blog
Facebook fans 331. Twitter followers 22,573.

8.02, 70 Edith st, St Peters About Blog This is a haven for all things upcycled, recycled, reclaimed, repurposed...a place where outstanding & affordable design is paramount and functionality is key. This is design for the future and it is all here at your very fingertips.
Frequency about 1 post per month.
Since May 2013
Blog upcyclestudio.com.au/blogs/s..
Facebook fans 20,277. Twitter followers 2,264.

Newcastle, Australia About Blog I'm Tricia. I write here about learning to live better with less. I dream of living close to nature; having space to grow food; having a little ecological footprint; and being part of a community.
Frequency about 3 posts per month.
Blog littleecofootprints.com
Facebook fans 1,468. Twitter followers 551.

Tucson, AZ About Blog We created this blog to promote sustainability in our home town of Tucson. We will be sharing our adventures in sustainable living and what we learn about water harvesting, heritage farming, native seeds, seed libraries, farmers markets, local produce, desert gardening. Our goal is to create awareness of the many ways to implement sustainability into our everyday life, and share the resources to help us do that. To help inspire Tucson adapt to a more sustainable lifestyle.
Frequency about 3 posts per month.
Since Feb 2016
Also in Tucson Blogs
Blog sustainablelivingtucson.org
Facebook fans 255. Twitter followers 92.

Australia About Blog ECO FRIENDLY FASHION is an online portal providing people with thoughtful, sustainable ways to slow down and make more conscious choices. Covering clothing, homewares, books, lifestyle tips, resources and real life stories, E.F.F. embraces a culture of design & creativity with social & environmental issues in mind.
Frequency about 1 post per month.
Blog ecofriendly-fashion.com
Facebook fans 3,190. Twitter followers 438.

Boston About Blog Groovy Green Livin is dedicated to providing an honest and credible setting for sharing green ideas, thoughts and other useful tips and trends relating to living a greener lifestyle.
Frequency about 1 post per month.
Blog groovygreenlivin.com
Facebook fans 9,137. Twitter followers 10,505.

USA About Blog The blog will attempt to be a resource for all things frugal and sustainable. With current trends moving toward issues regarding the homestead, prepping, preserving, and restoration it is my desire to turn our faces in the direction of sustainability. Everything we need is provided in the natural world that surrounds us. Together let's discover!
Frequency about 1 post per month.
Blog frugallysustainable.com/blog
Facebook fans 173,683. Twitter followers 2,371.

About Blog Learn the basics of sustainable community development and how to live a healthy sustainable lifestyle from a development sociologist.
Frequency about 1 post per month.
Since Dec 2015
Blog mysocialsketch.com/category/..
Facebook fans 529. Twitter followers n/a.

About Blog My name is Karleen. I want to educate, inspire, and encourage others to live a conscious lifestyle. Whether it's a small change or a lifestyle shift, these things have a ripple effect! I want this blog to be a starting ground for even BIGGER change because it comes with big numbers & community is so Powerful.
Frequency about 1 post per month.
Blog theworldisbiggerthanme.com
Facebook fans n/a. Twitter followers n/a.

Mill Valley, CA About Blog Hi there and thanks for visiting my blog! My name is Bea Johnson, native of France and currently living in Mill Valley, California. Since adopting the Zero Waste lifestyle in 2008, my life and that of my family have changed for the better. I propose a simple guideline, my 5R's: Refuse, Reduce, Reuse, Recycle, and Rot.
Frequency about 1 post per month.
Since Dec 2009
Blog zerowastehome.com
Facebook fans 125,047. Twitter followers 36,101.

New York, NY About Blog My name is Lauren Singer and I live a Zero Waste life in NYC.Trash is for Tossers is my attempt. It will document my Zero Waste journey and show that leading a Zero Waste lifestyle is simple, cost-effective, timely, fun, & entirely possible for everyone and anyone. If I can do it, anyone can!
Frequency about 1 post per month.
Since Mar 2013
Blog trashisfortossers.com
Facebook fans 116,761. Twitter followers 17,557.

Waterloo Region, Ontario About Blog REEP Green Solutions is an environmental charity that helps people in Waterloo Region live sustainably. For example, we conduct home energy evaluations.
Frequency about 1 post per month.
Blog reepgreen.ca/category/reep-news
Facebook fans 1,065. Twitter followers 3,511.

New York, NY About Blog Jill is the founder of Ecouterre a freelance designer and a green-design consultant. The website is devoted to the future of sustainable fashion design. We're dedicated to showcasing and supporting designers who not only contemplate cut, form, and drape, but also a garment's social and environmental impact, from the cultivation of its fibers to its use and disposal.
Frequency about 1 post per month.
Blog ecouterre.com
Facebook fans 77,936. Twitter followers 26,177.

Brisbane About Blog This is our sustainable-living story which we would like to share with you to provide information, ideas, inspiration and courage to take the first step in your life. Being less reliant on the system and becoming self-sufficient by growing food, utilizing recycled material and using the urban environment to our benefit, is our passion and lifestyle.
Frequency about 1 post per month.
Blog spurtopia.blogspot.com
Facebook fans 2,331. Twitter followers n/a.

Vancouver, BC About Blog Eartheasy is a family owned business committed to bringing you practical products and information for sustainable living. Our mission is to help people improve their quality of life by offering information and products for sustainable living.
Frequency about 1 post per month.
Blog learn.eartheasy.com
Facebook fans 118,929. Twitter followers 4,878.

Amsterdam, North Holland About Blog Hi, I am Natalia and I'm going zero waste, which means my ultimate goal is to produce zero trash and stop the infinite demand for extraction of non-renewable resources that end up polluting the soil, the oceans and the air. That way I can rest my head in my pillow at night knowing I'm doing my part on being the change I want to see in the world. This is my lifestyle journal.
Frequency about 1 post per month.
Blog vivasustentavel.blog/en
Facebook fans 51. Twitter followers 947.
These blogs are ranked based on following criteria
Google reputation and Google search ranking
Influence and popularity on Facebook, twitter and other social media sites

Quality and consistency of posts.

Feedspot's editorial team and expert review
Top 75 Sustainable Living Blogs Winners
CONGRATULATIONS to every blogger that has made this Top Sustainable Living Blogs list! This is the most comprehensive list of best Sustainable Living blogs on the internet and I'm honoured to have you as part of this! I personally give you a high-five and want to thank you for your contribution to this world.
If your blog is one of the Top 75 Sustainable Living blogs, you have the honour of displaying the following badge on your site. Use the below code to display this badge proudly on your blog. You deserve it!:
<a href="https://blog.feedspot.com/sustainable_living_blogs/" title="Sustainable Living blogs"><img src="https://blog-cdn.feedspot.com/wp-content/uploads/2017/07/Sustainable-Living-transparent_216px-1.png" ></img></a>
Tags: sustainable living rss feeds, sustainable living blogs uk