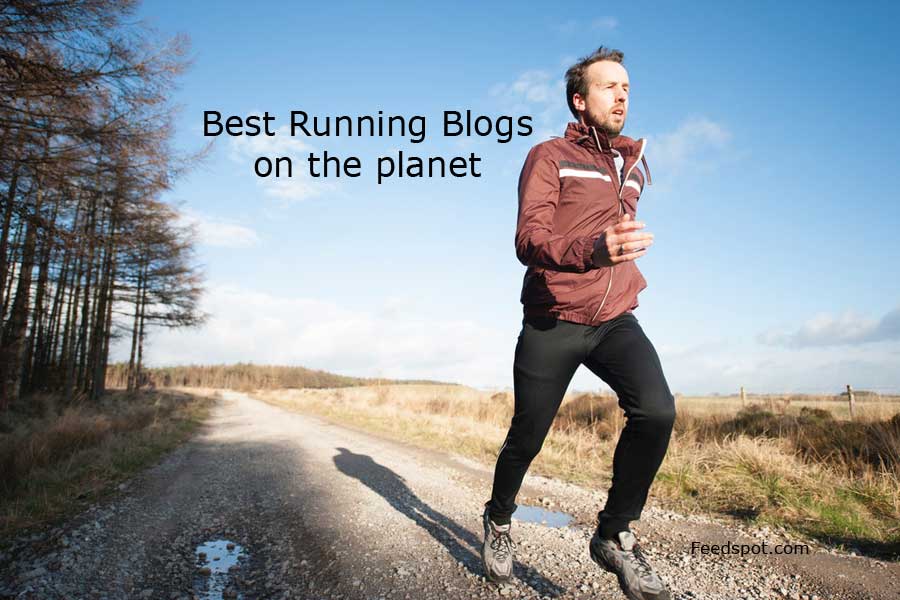 Running Blogs List
The Best Running blogs from thousands of top Running blogs in our index using search and social metrics. Data will be refreshed once a week. Also check out Running Podcasts & Top Running Youtube Channels list for Top videos on Running.
If your blog is selected in this list, you have the honour of displaying this Badge (Award) on your blog.
Running Blogs

Boulder, CO About Blog Women's Running is the world's largest women-specific running magazine. We cover all aspects of the running lifestyle. Women's Running focuses on providing editorial content focused on running, fitness, nutrition and wellness to the ever-growing community of women runners.
Frequency about 5 posts per week.
Also in Women's Running Blogs, Running Magazines, Women's Magazines
Blog womensrunning.competitor.com
Facebook fans n/a. Twitter followers 190,857.

London About Blog Men's Running Magazine is your guide to the latest news, top training tips, kit reviews and race previews. Whether you're a beginner, or ultra afficionado, Men's Running is here to help.
Frequency about 3 posts per month.
Also in Mens Blogs
Blog mensrunninguk.co.uk
Facebook fans 25,811. Twitter followers 18,087.

Brighton About Blog RunningPhysio is a site to help you manage your running injuries. Tom is a physiotherapist with over 10 years of experience and a very keen runner! He graduated with a BSc (Hons) degree in 2002 and since then has worked in clinics in the UK and overseas. Its aim is to offer expert advice in preventing and managing running injuries.
Frequency about 2 posts per month.
Since Mar 2012
Also in UK Running Blogs, UK Physical Therapy Blogs, Personal Running Blogs
Blog running-physio.com
Facebook fans 25,502. Twitter followers 40,274.

Denver, CO About Blog Amanda Brooks Running Blog is a Researched Running Blog Designed to Help You. It is a place to find motivation for whatever healthy change you're trying to make, especially with running.
Frequency about 3 posts per week.
Blog runtothefinish.com
Facebook fans 16,868. Twitter followers 16,972.

San Luis Obispo, CA About Blog Running Warehouse is America's Finest Running Specialty Store. One of our other goals is to provide in-depth education about running shoes, running apparel and running accessories, along with resources to help you train and perform better. Our blog is a prime educational resource for the running community, offering regular sneak peeks of upcoming running shoes, apparel and other products.
Frequency about 1 post per week.
Also in Shoe Blogs
Blog blog.runningwarehouse.com
Facebook fans 157,167. Twitter followers 7,977.

Denver, CO About Blog Jason Fitzgerald's Blog provide actionable running advice, motivation, and coaching for distance runners who want to see results.
Frequency about 1 post per week.
Blog strengthrunning.com/blog
Facebook fans 15,502. Twitter followers 12,844.

United Kingdom About Blog The UK's first running magazine for women. Women's running training advice for 5K, 10K, half-marathons and marathons, female-specific kit reviews, women's running shoe reviews and more from Women's Running magazine.
Frequency about 4 posts per week.
Since May 2010
Also in Women Blogs, UK Women Running Blogs, UK Women Blogs, UK Womens Magazines
Blog womensrunninguk.co.uk
Facebook fans 225,912. Twitter followers 49,400.

Seattle, WA About Blog A team united by one purpose: To inspire everyone to run and be active. At Brooks, they take running and running technology pretty seriously. Their specialized high-tech features are what really set their running shoes apart.
Frequency about 2 posts per month.
Blog talk.brooksrunning.com
Facebook fans 1,384,950. Twitter followers 217,937.

About Blog A community of and resources for all mother runners. A supportive space for women runners of all speeds to (virtually) gather to be enlightened and entertained. No topic too basic or too much information.
Frequency about 2 posts per week.
Since Feb 2010
Blog anothermotherrunner.com/website
Facebook fans 115,867. Twitter followers 7,625.

Houston, TX About Blog Running blog by Steve Magness. Steve is a performance coach, author, and lecturer. He currently serves as a coach to almost 20 professional runners, is the Head Cross Country coach at the University of Houston and a Lecturer of Strength and Conditioning at St. Mary's University, UK.
Frequency about 3 posts per month.
Since Aug 2006
Also in Running Coach Blogs
Blog scienceofrunning.com
Facebook fans n/a. Twitter followers 37,400.

About Blog Follow us to keep up with news and articles on Running from the New York Times.
Frequency about 1 post per week.
Blog nytimes.com/spotlight/well-r..
Facebook fans 16,807,411. Twitter followers n/a.

US/UK & Europe About Blog At Runnerclick we provide straight forward reviews of the best running and exercise shoes on the market. As there are many different shoes available out there for different types of activities, different types of feet, and of course, different conditions, we thought it was important to offer detailed reviews and ratings to help our visitors find the appropriate shoe to best fit their sporting needs.
Frequency about 7 posts per week.
Blog runnerclick.com/blog
Facebook fans n/a. Twitter followers 2,465.

Once DC & Paris, now Amsterdam About Blog Ray Maker Likes Swimming, Running and Biking. His little slice of the internet, dedicated to endurance sports and sports technology. In-Depth product reviews, running and triathlon goodness, and slices of his day to day life.
Frequency about 4 posts per week.
Blog dcrainmaker.com
Facebook fans 84,312. Twitter followers 56,691.

Waltham, MA About Blog Running shoe sneak peeks, inspiration, training tips, athletes and all things running from Saucony.
Frequency about 1 post per month.
Blog saucony.com/en/blog
Facebook fans 1,546,969. Twitter followers 104,054.

About Blog Running shoes advice? Reviews, buying guides and price comparison on the best running shoes plus hundreds of opinions from other runners.
Frequency about 3 posts per week.
Blog runningshoesguru.com
Facebook fans 32,419. Twitter followers 14,654.

London, UK About Blog Runner's World is the UK's largest and best running website and magazine and this is our podcast, a monthly chat about all things running including interviews, advice, in-depth discussion and much, much more.
Frequency about 2 posts per month.
Also in Running Podcasts
Blog runnersworld.co.uk/listen-to..
Facebook fans 239,968. Twitter followers 97,326.

Boston About Blog Runners Connect is a community of expert coaches that provide custom and dynamic training plans tailored specifically to your abilities, pace and goals.
Frequency about 1 post per week.
Since Jan 2010
Blog runnersconnect.net/blog
Facebook fans 22,411. Twitter followers 9,595.

Asheville, NC About Blog How a Plant-Based Diet Can Make You Fitter, Faster and Happier in life.
Frequency about 4 posts per month.
Also in Personal Development Blogs
Blog nomeatathlete.com
Facebook fans 135,219. Twitter followers 27,649.

Grand Forks, ND About Blog Steve Wagner is forging bonds with friends through trials of miles. Twenty marathons. Desert mountain trail races. Always in training. Grand Forks, N.D.
Frequency about 1 post per month.
Blog runningspud.areavoices.com
Facebook fans n/a. Twitter followers n/a.

Canada About Blog Canadian Running Magazine for running news, nutrition & training tips, gear and race reviews for the Canadian running community.
Frequency about 24 posts per week.
Also in Canadian Running Blogs
Blog runningmagazine.ca
Facebook fans 86,802. Twitter followers 40,411.
Running Blogs By Country
---
Argentina
Running Blog Argentina
About - Site of athletics, running, adventure and street races. Review of sports products and running news.
Just Run | Toda Running
About - A Blog dedicated to Running . Find here the news, tips, videos, articles, medals, races, testimonials and everything related to Running.
Trail Running Argentina
About - Information, news, and everything you want to know about Trail Running in Argentina , South America and the world!
Australia
The Long Run
About - The Long Run is a community for those that are passionate about all things running - From track and road, to trail and ultra!
Running Mums Australia Blog
About - Running Mums Australia is an Australian wide running network for mums who love to run. Our aim is to encourage, equip and empower you, as a mum and a runner in your running journey.
iheartrunning | Running & Fitness Blog
About - Here, on my blog you'll find my thoughts on running, exercising and living a positive, balanced and healthy life. This is a positive place, where you can come for a break from your busy life, learn something new, have a laugh, be inspired and share with me your highs and lows of running.
Running Divas Blog
About - Running Divas is an online women's running community. Providing training, support, motivation & inspiration.
Canada
Canadian Running Magazine
About - The voice of the Canadian running community, designed to inspire and motivate runners of all abilities.
iRun.ca | Home To Canada Running Community
About - Until now, Canadian runners haven't had our own running magazine. But now, there's iRun, providing a uniquely Canadian perspective on the activity and the sport. Published six times a year, iRun educates, informs and inspires Canadian runners.
iRun.ca | Home To Canada Running Community
About - Until now, Canadian runners haven't had our own running magazine. But now, there's iRun, providing a uniquely Canadian perspective on the activity and the sport. Published six times a year, iRun educates, informs and inspires Canadian runners.
Chile
Runners Chile
About - A place for all the Runners of Chile and the world. Tips, news, cumshots, workouts, shoes and much more.
Cyprus
Cyprus Ultra Blog
About - News, tips and reviews. All things running, fitness, Limassol, Cyprus.
Czechia
RunCzech
About - Inspired by the legacy of running legend Emil Zatopek, together with our dearest friend, late Zane Branson we launched a project called RunCzech Racing, aiming to develop a new generation of world class athletes.
Denmark
Running Copenhagen
About - Guided running tours in Copenhagen.
England
Jog's Blog
About - A light-hearted look at running, cycling and general fitness.
France
Running Addict
About - Here you will be able to understand running training with ease. And if you want to know if progress and have fun to run, it's compatible, I guarantee it!
Normal Runner Blog
About - Blog dedicated to running, running and trail running enthusiasts at a beginner and intermediate level. Tips, tricks, stories, tests by a "normal runner".
FrenchFuel | French Running Blogger
About - News about activity trackers and wearables for Sport.
Greg Runner
About - The blog of running, trail and running.
Georgia
Funner Runner
About - Running has provided me with many great opportunities over the past few years. Not only have I found my "happy place", I have met some amazing friends, and traveled to some wonderful places. I am excited to share my adventures with you.
Germany
Runtastic Blog
About - The Runtastic Portfolio offers users a comprehensive and easy-to-use portfolio of health and fitness products, services & content.We want our users to track their daily lives and develop better awareness of how they're living.
Greece
Runner Magazine
About - The official page of www.runnermagazine.gr and RUNNER's first magazine about running in Greece! Everything you want to know about running!
Runningreece | Run.Stay.Enjoy
About - Have you ever thought to visit Greece for running? We are here to offer you the opportunity to run in unique routes and participate in race events all over Greece. The place that gave birth to the Olympic Games offers you, except of the one and only Classic Marathon a variety of different running events.
Hong Kong
Hong Kong Trail Runner
About - I blog about races, training and other running related factoids on my trail running hong kong page.
India
Mom On The Run
About - Running has been my source of fitness and positive energy for so many years now, my endeavor is to help people realize that it's a recreation meant for everyone.
Running And Living In India
About - From the challenges of getting people started, to musings of an accidental marathon runner.
Running In India By Christine Pemberton
About - Last month I wrote 2 blog posts about blogging in my personal blog because I felt that the whole issue of rubbish and littering was one that needed addressing in a general forum, and not just in a running context, given the magnitude of the problem here in India.
Indonesia
Virtual Run Indonesia
About - Virtual Run is a running event that can be done wherever you choose. You can also run, jog, trail running or while running in other race events.
Ireland
Run Republic
About - Ireland's Online Running Community.
Running In Cork, Ireland
About - Welcome to the Running in Cork blog, home of the Cork running community. This is the largest website in Cork & Munster for news on road races and athletics.
Forget The Gym Blog
About - At ForgetTheGym, we love running, fresh air, feeling good and having fun. We coach everyone from complete beginners right up to marathon runners.
Israel
Running in Israel
About - I run because it makes me feel alive, and the real chase is after a fuller understanding of what that means.
Italy
Italy By Run
About - Guided running tours in Venice, Florence, Milan, Verona to visit main landmarks and hidden places in a healthy, out of the crowd way.
Jamaica
Reggae Marathon
About - The Reggae Marathon & Half Marathon is Jamaica's premier International Marathon Event.
Japan
Japan Running News
About - The world's window into elite japanese distance running, since 2007
Malaysia
RunWitMe
About - This is a virtual invitation for you to RUN WITH ME in most road races all over my beautiful country, MALAYSIA and also in oversea places that I have visited.
Mexico
Paul's Running Blog
About - As a keen amateur runner from Scotland living in Mexico, this is the place for my race reports and ramblings.
RunMx | The Best Of Running
About - We are the leading specialist in Running in Mexico, we reached more than 12 million runners. Our articles reach more than 700 thousand brokers in 24 hours via our app, web, newsletter and social networks.
Morocco
Run Style Run
About - This is my blog about fashion, fitness, and the things that I love and enjoy in life.
Nepal
Trail Running Nepal Blog
About - This website is design to promote trail running in Nepal, support Nepali athletes where possible, and provide an up-to-date list of trail running events.
New Zealand
NZ Trail Run Blog
About - We document our training, exploration, and journey to running ultra-distance trails in New Zealand's beautiful mountains, valleys, and everywhere in-between.
Running High | Trail Running In New Zealand
About - Trail running in New Zealand. Blog, tours, advice.
Philippines
Running Pinoy
About - Inspiring others to get off their butt and start running. Different routes, different times, and different adventures each time.
Running Diva PH
About - Trail running in New Zealand. Blog, tours, advice.
Portugal
Run in Portugal
About - My passion about the city of Lisbon aligned with the amazing city trail paradise I live in, made me discover the best must-see places of Lisbon while running.
Russia
Russia Running Life
About - This Blog contains news, articles, opinion guide for running and which are the places in Russia for Running.
Scotland
Markgallmac
About - I'm documenting the difficulties I faced both mentally and physically to get myself in a position where I could face joining a clubs and actually compete in races again.
Singapore
Run Singapore
About - Run Singapore is the first flagship title created by Bold Ink Magazines in 2012. Positioned as the only running magazine in Singapore, the publication has since built its strong reputation within the running/sports industry.
South Africa
Bruce Fordyce
About - Running the Comrades began as a personal journey, something undertaken to prove to myself I could do it. I never expected it to become such a public story.
Run Trail | Trail Running South Africa
About - RunTrail.co.za brings you trail running news, trail running gear reviews, nutrition tips, health & wellness advice, events, and trail running routes.
Spain
Runnics
About - On the Runnics blog you will find everything you need to know about running, fitness and nutrition, as well as the latest news and trends in sportswear.
Pose Running Spain
About - In this section you will find texts, inspiration, examples, theory, practice, advice, evaluations, studies and much more.
Thailand
Vincent Khor
About - I would like to share my humble running fitness experiences with you.I hope my little sharing can help to inspire you to live a sports-inspired simple, healthy, positive life.
UK
Run Eat Repeat
About - Hi, I'm Jeff McCarthy and can usually be found trail running. 5x award-winning blogger, writer for Trail Running magazine, ambassador for #Run1000Miles challenge, race reviewer, kit reviewer, runner interviewer and interviewee.
Helsbels | UK Based Running Blogger
About - London based running, exercise, bowling & fitness blog of a 30 year old woman. Personal experiences and tips on running marathons, exercising and product.
Men's Running Blog
About - Read Latest News and Blogs Updates, Race Reports, Running Gear Reviews, and Much More From Men's Running Bloggers.
Full Stride Running Blog
About - Full Stride is a running community in the North East of England. We share training and nutrition tips as well as our very own personal running stories.
USA
Runner's World
About - Runner's World, the world's leading running magazine, informs, advises, and motivates runners of all ages and abilities.
Science Of Running
About - An in depth look at training, coaching, Sport Science, and anything else that relates to enhancing endurance performance.
She Can & She Did Blog
About - Run, Selfie, Repeat is a running blog by Kelly Roberts. From how to start running to funny running memes, your go to for half marathon training, the best running gear, running for .
These blogs are ranked based on following criteria
Google reputation and Google search ranking
Influence and popularity on Facebook, twitter and other social media sites

Quality and consistency of posts.

Feedspot's editorial team and expert review
Top 200 Running Blogs Winners
CONGRATULATIONS to every blogger that has made this Top Running blogs list! This is the most comprehensive list of best Running blogs on the internet and I'm honoured to have you as part of this! I personally give you a high-five and want to thank you for your contribution to this world.
If your blog is one of the Top 100 Running blogs, you have the honour of displaying the following badge on your site. Use the below code to display this badge proudly on your blog. You deserve it!:
OR
If your blog is one of the Top 200 Running blogs, you have the honour of displaying the following badge on your site. Use the below code to display this badge proudly on your blog. You deserve it!:
Tags: running rss feeds, running blogs uk, running blogs australia, running news