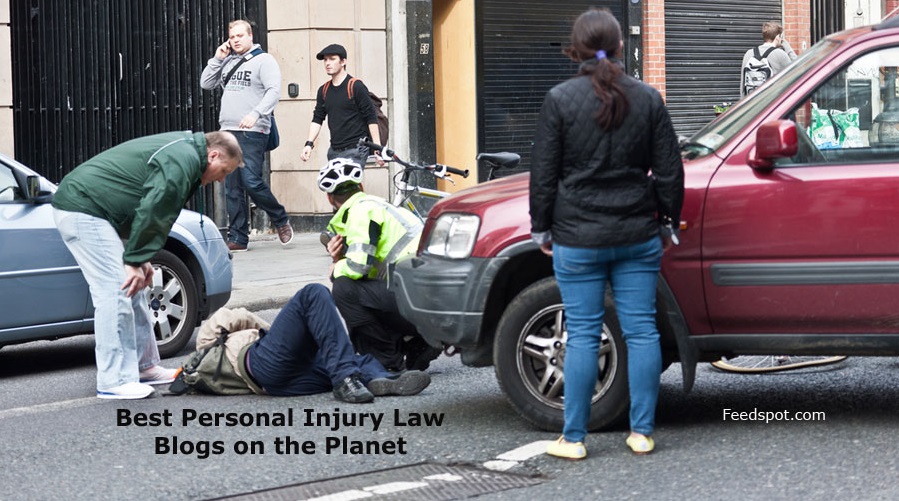 Personal Injury Law Blogs List.
The Best Personal Injury Law Blogs from thousands of Personal Injury Law blogs in our index using search and social metrics. We've carefully selected these websites because they are actively working to educate, inspire, and empower their readers with frequent updates and high-quality information.
If your blog is selected in this list, you have the honour of displaying this Badge (Award) on your blog.
Personal Injury Law Blogs

Mountainside, NJ About Blog NJ Personal Injury Lawyer, Francis M. Smith has yielded outstanding results for seriously injured clients from auto accidents, slip and fall accidents, trip and falls, dog bites, work place and industrial accidents. I offer personalized legal representation to clients who have been injured due to the negligence of another person or entity.
Frequency 30 posts / year
Since Mar 2012
Blog franksmithlaw.com/nj-persona..
Facebook fans 5 ⋅ Twitter followers 123 ⋅ Domain Authority 24ⓘ

Sheffield About Blog Taylor & Emmet LLP is one of the leading and most successful law firms in the South Yorkshire region, a position it has held for more than 130 years. This success has been achieved by delivering the highest quality legal advice to business and private clients, many of whom have remained with the firm for generations. Follow us to keep up with articles on Personal Injury.
Frequency 1 post / week
Since Jun 2012
Also in UK Personal Injury Law Blogs
Blog tayloremmet.co.uk/blog/wordp..
Facebook fans 230 ⋅ Twitter followers 2K ⋅ Domain Authority 35ⓘ

Philadelphia | NYC | NJ About Blog The Rothenberg Law Firm LLP, founded by Allen L. Rothenberg handles all types of personal injury cases and has locations in Philadelphia, NYC and NJ.
Frequency 1 post / week
Since Oct 2012
Blog injurylawyer.com/blog
Facebook fans 9.4K ⋅ Twitter followers 4.6K ⋅ Domain Authority 38ⓘ

About Blog Follow us to keep up with articles on Personal Injury from Boston Personal Injury Blog.
Frequency 8 posts / year
Since Aug 2012
Blog massinjuryfirm.com/Boston-Pe..
Domain Authority 19ⓘ

San Jose, CA About Blog FindLaw, a Thomson Reuters business, providers consumers and lawyers with a range of case law, statutes, legal news, online career center, blogs and a variety of community-oriented tools.
Frequency 1 post / week
Since Mar 2009
Blog blogs.findlaw.com/injured
Facebook fans 42.1K ⋅ Twitter followers 18.5K ⋅ Social Engagement 2ⓘ ⋅ Domain Authority 84ⓘ

About Blog Follow us to keep up with articles on Personal Injury Law from Breyer Law Offices.
Frequency 2 posts / week
Since Oct 2008
Blog breyerlaw.com/blog
Social Engagement 1ⓘ ⋅ Domain Authority 30ⓘ

Los Angeles, CA About Blog J&Y Law provides clients who've been injured with a voice and fighting to compensate them for their pain and suffering. We don't just settle for the minimum, we fight to get our clients the results they deserve. If you are interested in learning more about personal injury cases or news, follow our blog today.
Frequency 3 posts / month
Since Jul 2016
Blog jnylaw.com/blog
Facebook fans 528 ⋅ Twitter followers 114 ⋅ Domain Authority 29ⓘ

Atlanta, GA About Blog At Greathouse Trial Law LLC we focus on 4 core areas of practice - Personal Injury, Premises Liability, Wrongful Death & Car Accidents. Follow us to keep up with updates regarding Greathouse Trial Law and noteworthy personal injury cases and news from around the legalsphere.
Frequency 1 post / month
Since Oct 2015
Blog atltriallaw.com/blog
Facebook fans 1K ⋅ Twitter followers 137 ⋅ Domain Authority 23ⓘ

About Blog We are a Dallas personal injury law firm, representing individuals and families throughout Texas who have suffered catastrophic injuries or a wrongful death of a loved one. Attorneys Michael Guajardo and Greg Marks have decades of proven experience handling cases involving car accidents, truck wrecks, vehicle defects, construction site accidents and more.
Frequency 26 posts / year
Since Jan 2012
Blog guajardomarks.com/injury-blog
Facebook fans 442 ⋅ Social Engagement 6ⓘ ⋅ Domain Authority 33ⓘ

About Blog Follow us to keep up with articles on Personal Injury from Staver Law Group P.C.
Frequency 3 posts / month
Since Jun 2014
Blog chicagolawyer.com/legal-blog
Domain Authority 44ⓘ

London About Blog Based in London, Fieldfisher is one of the UK's leading personal injury and medical negligence law firms. Over the past 25 years we have helped thousands of people recover compensation for their injuries and illnesses.
Frequency 2 posts / month
Since Jan 2013
Blog personalinjuryblog.fieldfish..
Facebook fans 163 ⋅ Twitter followers 1.2K ⋅ Social Engagement 1ⓘ ⋅ Domain Authority 55ⓘ

Houston, TX About Blog Leading Houston personal injury lawyer, Greg Baumgartner founded the Baumgartner Law Firm over 30 years ago with the mission of providing the best representation to protect our clients financial future after a serious injury accident or the loss of a family member. Our goal is to maximize your compensation!
Frequency 2 posts / week
Since Jan 2012
Blog baumgartnerlawyers.com/blog
Facebook fans 1.5K ⋅ Twitter followers 1.4K ⋅ Social Engagement 2ⓘ ⋅ Domain Authority 38ⓘ

Southern California About Blog Harris Personal Injury Lawyers, Inc. is dedicated to protecting the rights of injured people and their families.
Frequency 12 posts / week
Blog harrispersonalinjury.com/blog
Facebook fans 1.1K ⋅ Twitter followers 366 ⋅ Domain Authority 38ⓘ

Brooksville, FL About Blog This is a Personal Injury Lawyer Blog addressing issues regarding all types of personal injury areas from auto accidents to wrongful death issues.
Frequency 1 post / week
Blog lowmanlawfirm.com/blog
Twitter followers 2.5K ⋅ Social Engagement 5ⓘ ⋅ Domain Authority 35ⓘ

Texas About Blog We like to spread the word about how personal injury and wrongful death law works. Our blog covers a variety of topics related to the law.
Frequency 9 posts / month
Since Sep 2013
Blog injuryrelief.com/blog
Facebook fans 469 ⋅ Twitter followers 247 ⋅ Domain Authority 36ⓘ

About Blog Find the latest news and advice on personal injury, medical negligence, and other legal issues for the expert legal team at McCarthy & Co.
Frequency 13 posts / year
Blog mccarthy.ie/blog
Social Engagement 1ⓘ ⋅ Domain Authority 26ⓘ

United Kingdom About Blog We publish everything related to peronal injury claims. Our aim is to give better service and obtain maximum compensation to get the Justice that you deserve.
Frequency 1 post / week
Since Jun 2008
Blog theinjurylawyers.co.uk/injur..
Facebook fans 179 ⋅ Twitter followers 584 ⋅ Social Engagement 2ⓘ ⋅ Domain Authority 28ⓘ

About Blog Meet some of the most dedicated personal injury lawyers on Long Island. From the moment you choose RGLZ Personal Injury Law, you'll have access to our storied team of attorneys, who have improved the lives of countless clients since our founding in 1968.
Frequency 2 posts / week
Blog rglzlaw.com/the-rglz-report
Facebook fans 793 ⋅ Twitter followers 108 ⋅ Social Engagement 10ⓘ ⋅ Domain Authority 20ⓘ

Tampa, FL About Blog John Bales Attorneys are there for you when you need an experienced personal injury attorney or auto accident attorney. If you are hurt in an accident, you should be focused on getting better, not on financial troubles. With over 150 years of combined experience as injury attorneys we are here to help you get your life back.
Blog johnbales.com/blog
Facebook fans 5.7K ⋅ Twitter followers 477 ⋅ Domain Authority 31ⓘ

Fort Worth, TX About Blog Patterson Law Group is a group of attorneys & legal professionals specializing in personal injury in Texas. We provide justice to those hurting.
Frequency 3 posts / month
Blog pattersonpersonalinjury.com/..
Facebook fans 2.1K ⋅ Twitter followers 361 ⋅ Social Engagement 8ⓘ ⋅ Domain Authority 29ⓘ

Toronto, ON About Blog We are Personal Injury Lawyers that keep you informed about your rights.
Frequency 6 posts / month
Blog grillo.ca/blog
Facebook fans 1.2K ⋅ Twitter followers 690 ⋅ Social Engagement 7ⓘ ⋅ Domain Authority 25ⓘ

About Blog Palermo Law's Long Island Personal Injury Attorneys/Suffolk County Car Accident Lawyers have recovered millions for clients. Follow this blog to know more about Palermo Law, PLLC.
Frequency 6 posts / quarter
Since Feb 2014
Blog thesuffolkpersonalinjurylawy..
Facebook fans 1.6K ⋅ Twitter followers 1.8K ⋅ Domain Authority 23ⓘ

About Blog This law blog provides news & commentary on personal injury legal developments. Topics include motor vehicle accidents, product liability and workers compensation issues.
Frequency 1 post / week
Since Nov 2010
Blog personalinjurylawjournal.com
Facebook fans 2.4K ⋅ Twitter followers 1.2K ⋅ Social Engagement 7ⓘ ⋅ Domain Authority 24ⓘ

About Blog The Jacob Fuchsberg Law Firm blog shares Medical Malpractice stories and opinions relevant to New York, New York residents.
Since Mar 2014
Blog fuchsberg.com/blog
Facebook fans 709 ⋅ Twitter followers 9 ⋅ Domain Authority 23ⓘ

Kansas City, MO, US, 64105 About Blog Kansas City personal injury law firm is dedicated to helping our clients achieve a maximum recovery. It can help you recover money for medical bills & lost wages.
Frequency 3 posts / month
Also in Kansas City Blogs
Blog kevinmcmanuslaw.com/blog
Facebook fans 172 ⋅ Twitter followers 2.2K ⋅ Domain Authority 16ⓘ

Covington,LA About Blog Douglas McGinity is a personal injury lawyer in Covington. Take a look at his blog to stay up to date with the latest legal issues in Louisiana.
Frequency 9 posts / year
Blog mcginitylawfirm.com/blog
Facebook fans 1.8K ⋅ Twitter followers 397 ⋅ Domain Authority 18ⓘ

About Blog We are a dynamic law firm with a very successful track record of helping people injured in car accidents and other incidents. How you got injured - from a vicious dog, a faulty piece of equipment, or a reckless driver is not what matters. What matters is that you get good medical treatment and the resources you need to heal and, that whomever was responsible for your accident is held accountable.
Frequency 1 post / month
Blog yourinjuryfirm.com/peronsal-..
Facebook fans 717 ⋅ Social Engagement 5ⓘ ⋅ Domain Authority 18ⓘ

Ohio About Blog This is a legal blog by a personal injury lawyer in Columbus, Ohio. We provide personal injury resources to help you to better understand the issues
Frequency 2 posts / month
Blog heitlawllc.com/blog
Facebook fans 449 ⋅ Social Engagement 2ⓘ ⋅ Domain Authority 24ⓘ

About Blog Learn interesting facts and insights about personal injury law in Alberta with our news blog to help you understand how it can affect your claim.
Frequency 1 post / month
Blog moustarah.com/news
Social Engagement 30ⓘ ⋅ Domain Authority 15ⓘ

About Blog This blog by Green, Waters Ogle and McCarter is geared toward Sevierville, Tennessee residents interested in news and information on the topic of Law. We hope you'll join the conversation.
Frequency 16 posts / year
Blog gwofirm.com/blog
Instagram Followers 234 ⋅ Social Engagement 40ⓘ ⋅ Domain Authority 18ⓘ

Brampton, Ontario About Blog Singh Barristers personal injury lawyers in brampton can assist you to deal with the complex legal, medical and insurance issues that crop up when you make your claim for compensation. Our car accident injury lawyers have been regularly handling personal injury cases in and around brampton for clients injured in many kinds of accidents, including slip and fall accident and car accident.
Frequency 21 posts / year
Blog singhbarristers.com/blog
Facebook fans 1.5K ⋅ Twitter followers 86 ⋅ Domain Authority 22ⓘ

Fort Lauderdale, Florida About Blog Personal Injury Lawyer Jarrett Blakeley helps victims and their families receive compensation for their injuries in car accident and wrongful death cases.
Frequency 8 posts / year
Blog floridainjuryadvocate.com
Facebook fans 556 ⋅ Twitter followers 19 ⋅ Domain Authority 18ⓘ

About Blog Subscribe us to keep up with relevant news and information about personal injury lawsuits and claims.
Since May 2012
Blog monteelawfirm.com/Personal-I..
Social Engagement 2ⓘ ⋅ Domain Authority 21ⓘ

Aventura, FL About Blog NKP lawyers only represent the injured in car accidents, slip and falls and other personal injury claims. This blog contains information about the same.
Frequency 11 posts / year
Since Jan 2015
Blog neufeldlawfirm.com/blog
Twitter followers 177 ⋅ Social Engagement 1ⓘ ⋅ Domain Authority 28ⓘ

About Blog This Personal Injury Law blog by Young Ricchiuti Caldwell & Heller, discusses significant legal issues for residents of Philadelphia, Pennsylvania.
Blog yrchlaw.com/blog
Domain Authority 20ⓘ

Canada About Blog Diamond and Diamond is an award-winning law firm with offices across Ontario, providing services in - personal injury, real estate, family law and more.
Since Jan 2013
Also in Canada Law Blogs
Blog diamondlaw.ca/blog
Facebook fans 4K ⋅ Twitter followers 438 ⋅ Domain Authority 32ⓘ
Tags: personal injury law rss feeds,personal injury law blogs uk