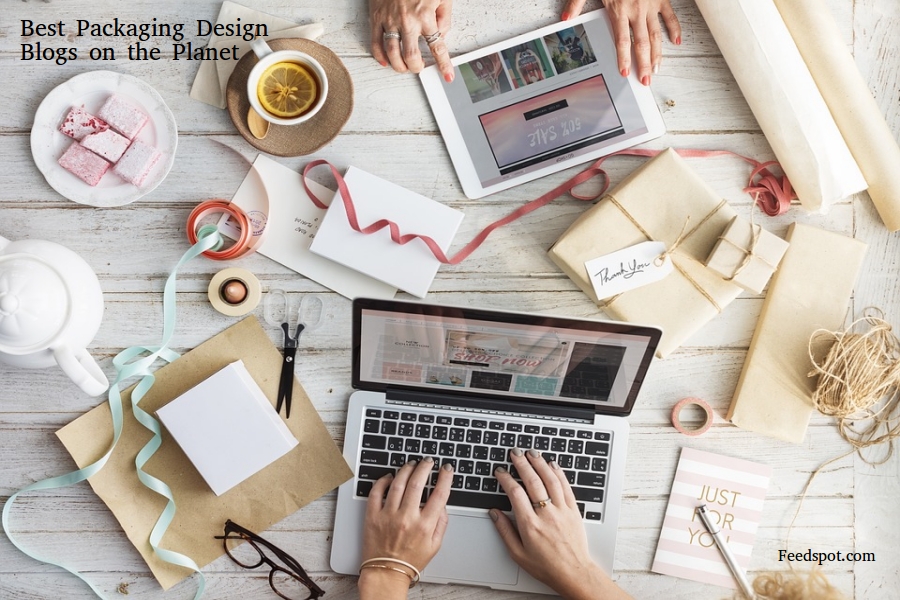 Packaging Design Blogs List.
The Best Packaging Design blogs from thousands of top Packaging Design blogs in our index using search and social metrics. Data will be refreshed once a week.
If your blog is selected in this list, you have the honour of displaying this Badge (Award) on your blog.
Top Packaging Design Blogs
Rank

Blog Name

Facebook Fans

Twitter Followers

Alexa Rank

1

Worldwide

About Blog - Packaging of the World is a package design archive showcasing the best, most interesting and creative work worldwide. Packaging of the World aims to inspire designers from all around the world by publishing some of the most interesting and creative projects from large global agencies to students.
Frequency - about 58 posts per week

389,466
17,946
80,816
2

About Blog - The Dieline is the industry's source for daily package design & branding inspiration, resources, news, conferences, events, and awards. Featuring the best packaging design from around the world.
Frequency - about 39 posts per week

163,913
63,377
63,843
3

About Blog - Logo, brand identity, packaging and graphic design blog, daily design inspiration, reviews, news and opinion from Richard Baird.
Frequency - about 3 posts per week

21,618
10,519
87,039
4

Chicago, IL

About Blog - Packaging World is the most trusted source of packaging information in the world. Covering the business of packaging through applications, news, trends & more! Find the latest packaging news, trends and innovations. Packaging World Magazine covers packaging designs, machinery & suppliers. Learn about the latest news in the packaging industry. Extensive video library on machinery & package design.
Frequency - about 25 posts per week

3,521
27,680
160,250
5

Lithuania

About Blog - We are young team which works to inspire packaging designers every day! Our team select the best packaging of today and shares with you. We believe that PackageInspiration will be the best and largest community of packaging designers in future!
Frequency - about 15 posts per week

3,565
265
481,775
6

Worldwide

About Blog - The Esko blog brings packaging inspiration from all over the globe. We focus on creative design, packaging innovations, new trends, eye catching signage.
Frequency - about 2 posts per week

5,451
4,702
1,137,697
7

New York based.

About Blog - The Packaging Insider is your #1 source for manufacturing, design and technology trends in the consumer goods industry. Mission to provide the packaging and design community with the latest industry trends and talents.
Frequency - about 1 posts per week

649
2,804
1,299,277
8

India

About Blog - Learn important insights, tips and strategy to build successful brand for scratch and how to sustain them in competitive world for long term from experienced experts of Aayam.

447
162
1,730,154
9

Malmö, Sweden

About Blog - Check out Ambalaj Packaging Design Blog for some fascinating new eco-friendly technologies for packaging, as well as highlights on hot new brand packaging concepts.
Frequency - about 2 posts per week

2,183
455
2,000,903
10

Delta, BC

About Blog - ibox Packaging manufactures stock and custom packaging solutions. From cardboard boxes, POP displays, shipping supplies, and retail packaging Vancouver. We manufacture custom corrugated packaging - from jumbo totes to small quantity custom cardboard boxes, intricate die cut boxes to stunning retail packaging.
Frequency - about 1 post per month

193
463
4,834,812
11

About Blog - Well designed and organized, Trending Packaging has in-depth articles covering not only the latest in current packaging trends, but tutorials and events as well.
Frequency - about 1 post per week

27,034
2,858
3,109,118
12

London

About Blog - Get all the latest packaging design news from Packaging News. Industry updates on food, pharmaceutical & domestic branding design and innovation.
Frequency - about 9 posts per week

609
10,863
465,630
13

New York City, Cincinnati

About Blog - The experts at PrintMag uncover the best product design tips, blogs, templates & experts. Learn the secrets of product, branding & packaging design.

106,793
892,236
97,284
14

retaildesignblog.net/categor..

About Blog - Packaging design resource Retail design blog has a huge archive of packaging design projects to inspire you. Here you'll find everything from sophisticated alcohol branding to luxury chocolate packaging.
Frequency - about 5 posts per week

75,384
7,747
53,809
15

Cleveland, Ohio

About Blog - StandUpPouches.net began in 2007 with the goal of helping small businesses succeed through exceptional packaging. Our packaging leads the industry in function, design, and style. With us, you never sacrifice quality for quantity. Stay up to date with the latest trends in the world of Stand Up Packaging and how to profitably work with overseas suppliers.
Frequency - about 1 posts per week

2,177
577
557,595
16

Troy, MI

About Blog - Brand Packaging is the leading source of inspiration for package innovation and design for consumer packaged goods marketers. We are dedicated to helping our industry succeed through our coverage on the role of packaging, strategy, development and trends.
Frequency - about 8 posts per week

2,749
13,103
834,940
17

Scottsdale, AZ

About Blog - Design Packaging Inc - international luxury retail packaging design firm, creating, producing, and delivering award-winning custom retail packaging since 1985.
Frequency - about 1 post per month

n/a
12,615
886,726
18

gritsandgrids.com/category/c..

Atlanta, Georgia

About Blog - Be inspired by the world's best in restaurant branding, beverage branding, packaging design and more!

1,082
928
996,184
19

Shanghai, China

About Blog - DE, a leading professional custom printed paper/cardboard/corrugated box Manufacturer from Shanghai of China. Our factory supplies all kinds of custom printed paper bags, paper boxes, cardboard boxes, corrugated boxes.Shanghai DE Printed Box. A China leading custom printed paper box manufacturer and supplier.

38
15
1,105,155
20

Leeds | UK

About Blog - Robot-food, an effective, independent, branding agency with strengths in product packaging, food branding, food package design and new product development. We love ideas, create compelling brands and tell good stories.
Frequency - about 1 post per month

2,392
1,790
1,286,209
21

Eden Utah

About Blog - We're a world-class branding and packaging design firm, founded by partners who have owned successful retail brands. We're a small, flexible, fast-moving design team with big ideas.
Frequency - about 1 post per month

5,844
135
1,312,909
22

Minneapolis, MN

About Blog - An independent, multidisciplinary design agency specializing in branding and packaging design. Studio MPLS has been a tremendous creative partner in the redesign of Jack Daniel's Single Barrel packaging. Through their unique design approach, they have evolved the package to reflect a more premium look-& feel, elevating every detail in order to reflect the quality & craftsmanship brand.

2,348
4,425
1,592,880
23

Chicago | New York | U.K.

About Blog - Kaleidoscope is a brand consultancy that integrates brand strategy, innovation, packaging design and realization to deliver holistic design solutions. Take a look at the world through our lens. Our holistic teams share the latest brand strategy, innovation, packaging design and industrial design trends.

1,588
975
1,683,948
24

Chicago, Illinois

About Blog - Design Womb is a full-service branding and packaging design studio serving the globe. We specialize in food packaging design and branding consumer goods for restaurants, beauty, health, fitness, people, and technology. We believe in getting your products on the shelf with beautiful, yet utilitarian design that delivers results and engages customers.

1,031
515
1,916,513
25

About Blog - Start your package design with Packaging Design On, a branding and packaging design agency specializes in product and retail packaging designs

74
90
2,390,007
26

LE67 1PE

About Blog - Graphic Packaging International are one of the World's leading printed carton suppliers, producing packaging product for both the food and beverage sectors.
Frequency - about 1 post per month

n/a
1,265
2,820,738
27

Stockholm, Sweden

About Blog - SWEDBRAND's innovative packaging solutions integrate contemporary design with the highest quality production and strategic global logistics‭. We build brands by delivering unique, flexible and cost-effective packaging solutions.
Frequency - about 3 posts per week

478
668
2,888,314
28

Worldwide

About Blog - Interact is a Food Product Packaging Design & Branding Agency That Helps Grocery Brands Get To Shelf Faster. We specialize in branding and packaging design – crafting insights from consumer behavior,
industry innovation and company culture.
Frequency - about 1 post per week

148
176
2,922,030
29

Chicago, IL

About Blog - PKG is a branding and packaging design agency that creates engaging packaging. We're a team who love to solve business problems by engaging with your consumers.
Frequency - about 2 posts per week

218
263
4,855,592
30

About Blog - Jam & Co, the best packaging design agency, brand strategy & branding agency provides packaging design in Sydney, Melbourne over 20 yrs of experience. We help clients achieve brand growth using our proven range of strategy & design services that we've perfected over 20 years working on major brands.
Frequency - about 1 posts per week

102
n/a
5,517,931
31

Brighton, UK

About Blog - We are an independent Branding, Packaging and Web design agency whos purpose is to transform, seduce and create impact through design.

2
154
5,551,211
32

About Blog - LAM is a full service CPG branding, packaging design and brand activation agency, serving clients for over 50 years. From award-winning, creative packaging and effective promotions to industry trends, LAM brings you news that you can use.

89
n/a
5,390,496
33

brotherdesign.co.nz/latest-news

Auckland, New Zealand

About Blog - We offer brand design, specialist packaging design, and the communications your brand needs to win in a competitive market. Our approach is based in the real world your brand lives in. It's the combination of consumer & market insights, aligned with creative excellence and a pragmatic approach to cost effective & speedy execution that sets us apart.

601
87
6,054,798
34

About Blog - We build a fresh, custom, package design model for your product. An attractive packaging design will speak volumes about your top standards & quality. Keep up to date with latest, upcoming Packaging Design Tutorials, Inspirations and Latest Trends.
Frequency - about 3 posts per week

n/a
n/a
6,154,197
35

wearedepot.com.au/packaging-..

Sydney, New South Wales

About Blog - Depot designs packaging that builds brands. We're an award-winning design agency based in Sydney specialising in food, drinks, and skin care brands. Packaging design tips to help you win hearts and build covetable brands by Depot's award-winning design experts.
Frequency - about 1 post per month

n/a
73
6,200,462
36

Portland, OR

About Blog - We are a group of down-to-earth people who specialize in Brand Management, Identity Design, and Website Design.
Frequency - about 1 post per month

223
326
6,217,679
37

Bath, UK

About Blog - A strategic brand and packaging design agency in Bath. We design the visual triggers that people use to recognise and buy brands. Our blog is about how brands fight to get consumers' attention in the crowded and busy places where we go shopping.

147
453
6,282,827
38

creativepassion.com.au/categ..

Brisbane, Australia

About Blog - Creative Passion helps business to grow through creative & strategic graphic design, packaging design & web design. Specific services include: graphic design, website design, logo design, packaging design, corporate identity, branding, stationery design, newsletter design, advert design, brochure design, signage design and trade mark design.
Frequency - about 1 post per month

169
134
6,590,005
39

South Norwalk, CT

About Blog - Hughes Design Group is a strategic brand design firm specializing in packaging design and brand identity. We build strategic partnerships with our clients to create fully leveraged branding solutions. Working from a consumer driven point-of-view, we deliver smart, targeted solutions that build consumer awareness and loyalty, and increase sales and market share.
Frequency - about 1 posts per week

40
46
6,692,335
40

About Blog - The european packaging design association is the leading European network uniting internationally minded designers and agencies who value contact and interaction with peers.

1,186
5
7,280,444
41

Cornwall

About Blog - An award-winning creative agency, developing distinctive food & drink brands and product packaging. Alongside a real passion for food and drink, our ambitious and innovative creative process is driven by commercial success and design that stands the test of time.
Frequency - about 1 post per month

516
1,201
7,456,688
42

point6.co.uk/category/packaging

London

About Blog - Experts in branding, creative development, marcom and packaging design for award-winning global brands.

n/a
184
7,505,149
43

jaypack.com/packaging-design..

About Blog - A leading packaging supplier that provides visual packaging and printing innovations of the highest quality to help customers expand their presence in the marketplace. Check out our Packaging Design Blog where you can find industry insights and news and also samples of our innovative packaging design work.

88
n/a
8,384,113
44

Oakland, CA

About Blog - Double Six Design is your design agency for global brand strategy and package design. We bring to life the story your customers need to see and hear. Our mission is to help our clients tell their story through beautiful and concise visual communications

137
20
9,507,857
45

Chiswick, London

About Blog - Award-winning, marketing led design agency specialising in wine label design, food packaging design & brand creation and development, based in West London.
Frequency - about 1 post per month

n/a
701
10,662,133
46

About Blog - We are a creative design agency specialising in branding, packaging design, translations and food labelling. Whether you require our creative services, management services or are looking to export your product, we have created a full range of packaging design services to assist you every step of the way.
Frequency - about 1 post per week

70
n/a
12,605,096
47

United Kingdom

About Blog - Are you a small business or brand owner looking to take your product packaging to the next level? With this focus, our aim is to help brand owners and agencies turn a great idea into something tangible by providing constructional design, graphics and technical support along with production ready prototypes to ensure that the initial idea can be delivered in reality.
Frequency - about 1 post per month

514
664
17,469,768
48

Mathura uttalr Pradesh

About Blog - World of Sweet Box packaging designs and devotion for packaging concept.
Frequency - about 1 post per month

n/a
72
18,934,547
49

groceronamission.wordpress.c..

About Blog - A blog about supermarkets, product packaging and virtual reality. Posts about New Packaging Design written by Grocer on a Mission.
Frequency - about 1 post per week

n/a
n/a
20,533,453
50

Pockets Worldwide

About Blog - DUDE Packaging Design is a Swedish packaging brand. DUDE is The rebel of packaging design. We go against the grain. We challenge traditions and old habits.

158
2,345
n/a
51

About Blog - Packaging Arts is one of the leading label design and packaging company for wine and other beverages in Bay Area & San Francisco.
Frequency - about 1 post per month

225
10
n/a
52

About Blog - Welcome! My name is Jamie. I am a graphic designer and illustrator living in Philadelphia. Scroll through some of my work, inspiration, or creative tips on packaging designs.
Frequency - about 1 post per week

n/a
n/a
n/a
53

n/a
n/a
n/a
54

About Blog - Selection of the world's best, most creative and interesting package design finds!

n/a
n/a
n/a
55

About Blog - For people who love packaging and for people who want inspiration.
Frequency - about 12 posts per week

n/a
n/a
n/a
These blogs are ranked based on following criteria
Google reputation and Google search ranking
Influence and popularity on Facebook, twitter and other social media sites

Quality and consistency of posts.

Feedspot's editorial team and expert review
Top 50 Packaging Design Blogs Winners
CONGRATULATIONS to every blogger that has made this Top Packaging Design Blogs list! This is the most comprehensive list of best Packaging Design blogs on the internet and I'm honoured to have you as part of this! I personally give you a high-five and want to thank you for your contribution to this world.
If your blog is one of the Top 50 Packaging Design blogs, you have the honour of displaying the following badge on your site. Use the below code to display this badge proudly on your blog. You deserve it!:
<a href="https://blog.feedspot.com/packaging_design_blogs/" title="Packaging Design blogs"><img src="https://blog-cdn.feedspot.com/wp-content/uploads/2017/05/Packaging-Design-transparent_216px.png" ></img></a>