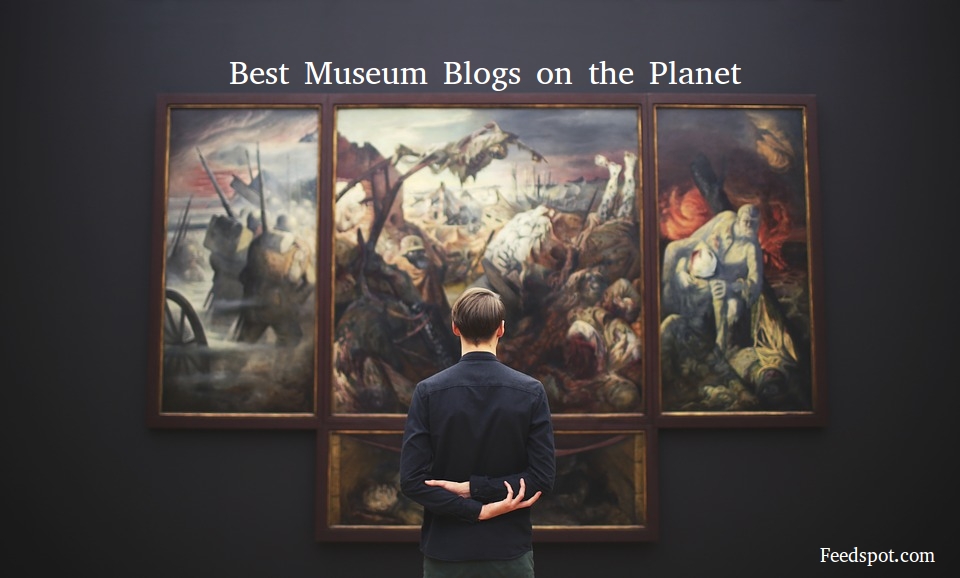 Museum Blogs List.
The Best Museum blogs from thousands of top Museum blogs in our index using search and social metrics. Data will be refreshed once a week. Also check out Top Museum Youtube Channels list for Top videos on Museum.
If your blog is selected in this list, you have the honour of displaying this Badge (Award) on your blog.
Museum Blogs

San Francisco, CA About Blog The Reddit Museum of art galleries, collections and artifacts for art enthusiasts.
Frequency about 19 posts per week.
Blog reddit.com/r/museum
Facebook fans 1,193,339. Twitter followers 563,536.

London About Blog The V&A is the museum of art and design, housing a permanent collection of over 2.3 million objects that span over 5,000 years of human creativity. The Museum holds many of the UK's national collections and houses some of the greatest resources for the study of architecture, furniture, fashion, textiles, photography, sculpture, painting, jewellery, glass, ceramics, book art, Asian art and design.
Frequency about 4 posts per week.
Also in UK Museum Blogs
Blog vam.ac.uk/blog
Facebook fans 631,356. Twitter followers 1,369,343.

Smithsonian, Washington, D.C. About Blog The National Museum of American History collects, preserves and displays American heritage in the areas of social, political, cultural, scientific and military history. Through incomparable collections, rigorous research, and dynamic public outreach, we explore the infinite richness and complexity of American history.
Frequency about 1 post per week.
Also in American History Blogs
Blog americanhistory.si.edu/blog
Facebook fans 232,726. Twitter followers 213,882.

Mountain View, CA About Blog Comprehensive up-to-date coverage for museum, aggregated from news sources all over the world by Google News.
Frequency about 168 posts per week.
Blog news.google.com/news/section..
Facebook fans 21,737,035. Twitter followers 212,721.

Exhibition Road, London About Blog This blog will take you behind the scenes at the Science Museum, exploring the incredible objects in our collection, upcoming exhibitions and the scientific achievements making headlines today.
Frequency about 3 posts per week.
Since Aug 2009
Also in UK Science Blogs
Blog blog.sciencemuseum.org.uk
Facebook fans 198,627. Twitter followers 674,992.

Newport News, VA About Blog The Mariners' Museum, is one of the largest and most prestigious maritime museums in the world and has been designated by Congress as America's National Maritime Museum. Its collection of over 35,000 artifacts include miniature ship models, scrimshaw, maritime paintings, decorative arts, carved figureheads, working steam engines and much more.
Frequency about 1 post per week.
Blog marinersmuseum.org/blog
Facebook fans 12,099. Twitter followers 4,523.

Gatineau, Ottawa About Blog The Canadian Museum of History is the centre for research and public information on the human history of the country.
Frequency about 1 post per week.
Blog historymuseum.ca/blog
Facebook fans 22,286. Twitter followers 72,470.

Liverpool About Blog National Museums Liverpool is a group of museums and galleries. Our collections are among the most important and varied in Europe and contain everything from Impressionist paintings and rare beetles to a lifejacket from the Titanic.
Frequency about 2 posts per week.
Since Mar 2006
Blog blog.liverpoolmuseums.org.uk
Facebook fans 17,029. Twitter followers 5,456.

New York City About Blog Cooper Hewitt, SmithsonianDesign Museum is the only museum in the nation devoted exclusively to historic and contemporary design with exhibitions featuring a rich mix of historic and contemporary design objects from our permanent collection, unique temporary installations, and dynamic interactive experiences.
Frequency about 5 posts per week.
Also in New York Blogs
Blog cooperhewitt.org/blog
Facebook fans 48,337. Twitter followers 87,646.

Denver, CO About Blog The Denver Art Museum's collection includes more than 70,000 works of art. .Its mission is to enrich the lives of present and future generations through the acquisition, presentation, and preservation of works of art, supported by exemplary scholarship and public programs related to both its permanent collections and to temporary exhibitions presented by the museum.
Frequency about 2 posts per week.
Blog denverartmuseum.org/blogs
Facebook fans 87,299. Twitter followers 68,716.

Gelderland, Netherlands About Blog Your connection to the voices of Seattle Art Museum. Learn more about our global collection, local community, and renowned exhibitions from anywhere in the world.
Frequency about 3 posts per week.
Since Oct 2009
Also in Seattle Blogs
Blog samblog.seattleartmuseum.org
Facebook fans 113,976. Twitter followers 84,683.

Houston, TX About Blog Explore the far reaches of outer space, roam with the dinosaurs, wander through Africa's Serengeti, and marvel at the world's rarest and most beautiful minerals. Discover all this and much more at the Houston Museum of Natural Science, one of the nation's most heavily attended museums.
Frequency about 2 posts per week.
Also in Houston Blogs
Blog blog.hmns.org
Facebook fans 127,167. Twitter followers 19,376.

Edinburgh, Scotland About Blog Discover the diversity of their collections, from art and design treasures to ground breaking scientific inventions, archaeological finds and iconic Scottish objects, wonders of the natural world and artifacts from around the world.
Frequency about 2 posts per week.
Since Nov 2016
Also in Scotland Blogs
Blog blog.nms.ac.uk
Facebook fans 80,938. Twitter followers 61,187.

Las Vegas - Downtown About Blog The Mob Museum presents an exciting, detailed view of the Mob's impact across America, in Las Vegas and other parts of the world. It also showcases the heroic achievements of law enforcement to bring down the Mob.
Frequency about 4 posts per month.
Blog themobmuseum.org
Facebook fans 71,322. Twitter followers 12,074.

Sydney, London + Amsterdam About Blog MuseumNext started in 2009 with a simple question, what's next for museums? Since then we've held conferences in cultural capitals around the world and our community have helped to define the future of museums. MuseumNext exists to inspire, empower & connect those shaping the future of museums.
Frequency about 5 posts per week.
Blog museumnext.com/news
Facebook fans 20,049. Twitter followers 50,995.

3260 South Street Philadelphia About Blog Beyond the gallery walls exploring amazing art and artifacts from ancient Egypt, Greece and Italy, Mesopotamia, Asia, Africa, and the Americas and more at this world renowned museum.
Frequency about 3 posts per month.
Blog penn.museum/blog
Facebook fans 22,571. Twitter followers 13,753.

New York About Blog The Rubin Museum of Art is a dynamic environment that stimulates learning, promotes understanding, and inspires personal connections to the ideas, cultures, and art of Himalayan Asia.
Frequency about 2 posts per month.
Since Aug 2014
Also in New York Art Blogs
Blog rubinmuseum.org/blog
Facebook fans 76,947. Twitter followers 151,404.

Bentonville, AR About Blog Crystal Bridges Museum of American Art welcomes all to celebrate the American spirit in a setting that unites the power of art with the beauty of nature. It explores the unfolding story of America by actively collecting, exhibiting, interpreting, and preserving outstanding works that illuminate our heritage and artistic possibilities
Frequency about 1 post per month.
Blog crystalbridges.org/blog
Facebook fans 65,730. Twitter followers 20,659.

Milwaukee, WI About Blog The Milwaukee Art Museum collects and preserves art, presenting it to the community as a vital source of inspiration and education. This blog was created to share additional content about the Museum's art collection, offer sneak peeks and unique perspectives on individual objects and art as a whole, and to offer a behind-the-scenes view into what goes on under the wings of the famous Calatrava-designed Quadracci Pavilion.
Frequency about 1 post per month.
Since Mar 2010
Also in Milwaukee Blogs
Blog blog.mam.org
Facebook fans 77,730. Twitter followers 55,198.

About Blog The Illinois Railway Museum, America's Largest Railway Museum, a guide to the current operating schedules and fares, directions to the museum, and a complete roster of equipment. And much more info on the history, latest news, and work
Frequency about 2 posts per month.
Blog www2.irm.org/blogs
Facebook fans 11,056. Twitter followers n/a.

Bradford, West Yorkshire, UK About Blog The National Science and Media Museum explores the science and culture of image and sound technologies and their impact on our lives.
Frequency about 1 post per week.
Since Jul 2016
Blog blog.nationalmediamuseum.org.uk
Facebook fans n/a. Twitter followers 44,457.

Zurich, Switzerland About Blog The FIFA World Football Museum tells the story of how world football's governing body has developed association football globally and made it the undisputed number one sport in the world, uniting nations and bringing continents together. Pride of place in the FIFA World Football Museum is the FIFA World Cup Gallery.
Frequency about 2 posts per month.
Also in FIFA World Cup Blogs
Blog fifamuseum.com/stories/blog
Facebook fans 95,670. Twitter followers 9,583.

Los Angeles, CA About Blog The Architecture and Design Museum's mission is to celebrate and promote an awareness of progressive architecture and design through exhibits, educational programs and public outreach.
Frequency about 1 post per month.
Blog aplusd.org/blog
Facebook fans 75,090. Twitter followers 2,401.

Chicago IL About Blog This blog features posts from various members of the Museum's staff who share their professional expertise and insight on Chicago history as well as our exhibitions and programs. The Chicago History Museum is a place of learning, discovery, creativity, and, well, history.
Frequency about 1 post per month.
Blog blog.chicagohistory.org
Facebook fans 36,209. Twitter followers 17,205.

Sausalito, CA About Blog BADM's blog is a resource for parents to learn about creative problem solving, creativity, and STEM, all critical 21st century skills for young children.
Frequency about 1 post per month.
Also in Kids Activities Blogs
Blog bayareadiscoverymuseum.org/blog
Facebook fans 36,343. Twitter followers 7,657.

About Blog Cecile Shellman is a full-time consultant in diversity, equity, accessibility and inclusion for museums. She recently worked in a leadership capacity for Carnegie Museums of Pittsburgh, heading initiatives at Carnegie Museum of Art, Carnegie Museum of Natural History, Carnegie Science Center, and The Andy Warhol Museum.
Frequency about 4 posts per week.
Blog cecileshellmanconsulting.com..
Facebook fans n/a. Twitter followers n/a.

Tacoma, Washington About Blog America's Car Museum (ACM), an entity of America's Automotive Trust, is an international destination for families and auto enthusiasts to celebrate America's love affair with the automobile and learn how it shaped our society. Based in Tacoma, Wash., the stunning 165,000-sq.-ft. facility has been recognized as one of MSN's 10 Best Automotive Museums worldwide
Frequency about 3 posts per month.
Blog americascarmuseum.org/blog
Facebook fans 19,996. Twitter followers 2,928.

Miami, FL About Blog Patricia and Phillip Frost Museum of Science. Frost Science will continue to inspire visitors in a new state-of-the-art facility designed by Grimshaw Architects .
Frequency about 4 posts per month.
Blog frostscience.org/blog
Facebook fans 18,298. Twitter followers 12,899.

Vancouver About Blog Its Mission is to inspire a deeper understanding of Vancouver through stories, objects and shared experiences. The Museum of Vancouver connects Vancouverites to each other and connects Vancouver to the world. The museum's programs, exhibitions, and collections bring people together and foster conversation about the future.
Frequency about 2 posts per week.
Blog museumofvancouver.ca/blog
Facebook fans 9,780. Twitter followers 23,498.

About Blog Everything from Hollywood celebrity sightings, insider spoonfuls of sugar on all-things Hollywood, gulps of entertainment tips and more!
Frequency about 1 post per month.
Blog hollywoodwaxmuseum.com/blog
Facebook fans 11,997. Twitter followers n/a.

St. Louis About Blog The Missouri Historical Society seeks to deepen the understanding of past choices, present circumstances, and future possibilities; strengthen the bonds of the community; and facilitate solutions to common problems.
Frequency about 2 posts per week.
Blog historyhappenshere.org
Facebook fans 38,598. Twitter followers 19,869.

Tyne and Wear About Blog Regional museum, art gallery and archives service managing nine venues across Tyneside and the Archives for Tyne and Wear.
Frequency about 2 posts per month.
Since Jul 2010
Blog blog.twmuseums.org.uk
Facebook fans 2,486. Twitter followers 3,944.

Pacific Grove About Blog The Pacific Grove Museum is your living personal field guide to the California Central Coast. Explore the birds and wildlife, plants, geology and cultural richness that make this region unique in the world. Its mission is to inspire discover, wonder, and stewardship of our natural world.
Frequency about 1 post per month.
Blog pgmuseum.org/blog
Facebook fans 7,456. Twitter followers 1,226.

Kansas City, MO About Blog The National Museum of Toys and Miniatures preserves and exhibits one of the nation's largest collection of antique toys and the world's largest collection of contemporary, fine-scale miniatures.
Frequency about 2 posts per month.
Blog toyandminiaturemuseum.org/blog
Facebook fans 4,335. Twitter followers n/a.

London About Blog A museum of the world, for the world. Discover over two million years of human history and culture. The collections from Africa, Asia, Europe, the Americas and the ancient world include world-famous objects such as the Rosetta Stone, the Parthenon sculptures, and Egyptian mummies.
Frequency about 2 posts per week.
Blog british.museumblog.org
Facebook fans 1,277,175. Twitter followers 1,035,877.

Green Bay, WI About Blog The Neville Public Museum of Brown County is an accredited cultural institution that champions history, science and art.
Frequency about 2 posts per month.
Blog nevillepublicmuseum.org/the-..
Facebook fans 4,824. Twitter followers 1,695.

Peterborough, ON Canada About Blog The Canadian Canoe Museum is North America's largest canoe museum, with a collection of nearly 600 canoes and kayaks and 1,000 related artifacts. Exhibits explore how the canoe defines the Canadian character and spirit. Experience a dramatic waterfall upon entering or hear creation stories inside a traditional Mi'kmaq wigwam.
Frequency about 2 posts per month.
Blog canoemuseum.ca/blog
Facebook fans 5,124. Twitter followers 4,814.

Treadwell NY About Blog A random uncataloged collection of thoughts about the work and meaning of museums. A place to think, talk, debate, dream and wonder about museums and heritage in the world, by Linda Norris
Frequency about 1 post per month.
Blog uncatalogedmuseum.blogspot.com
Facebook fans 1,420. Twitter followers 2,489.

Whistler, BC About Blog The Whistler Museum strives to collect, preserve, document, and interpret the natural and human history of mountain life – with an emphasis on Whistler and to present an innovative range of exhibitions and educational programs
Frequency about 2 posts per week.
Blog blog.whistlermuseum.org
Facebook fans 1,252. Twitter followers 2,546.

San Francisco, CA About Blog The American Bookbinders Museum explores and celebrates the craft, culture, and tools of bookbinding from its earliest forms to the innovations of the Industrial Revolution.
Frequency about 1 post per month.
Blog bookbindersmuseum.org/blog
Facebook fans 1,178. Twitter followers 691.

Grand Junction, Colorado About Blog With 3 museums, a research library & 3 paleontology sites, the Museums of Western Colorado is the largest museum complex between Salt Lake City & Denver. Its collections are extensive, the Museums of Western Colorado has exhibits to educate and entertain!
Frequency about 3 posts per month.
Blog museumofwesternco.com/blog
Facebook fans 2,114. Twitter followers 783.

Rome About Blog The Museum System of Rome Capital consists of an extremely diverse group of museum spaces and archaeological sites of great artistic and historical value.
Frequency about 1 post per month.
Blog museiincomuneroma.wordpress.com
Facebook fans 28,797. Twitter followers n/a.

Norfolk, Virginia About Blog The artifact, history, and event blog for the United States Navy's Hampton Roads Naval Museum. Located in Norfolk, Virginia.
Frequency about 1 post per week.
Blog hamptonroadsnavalmuseum.blog..
Facebook fans 6,148. Twitter followers 4,569.

County Durham About Blog Collections of Fine & Decorative Art & World Class Exhibitions. Experience wonderful new galleries, interactives and fascinating exhibitions.
Frequency about 2 posts per month.
Blog thebowesmuseum.wordpress.com
Facebook fans 11,500. Twitter followers 12,803.

Columbus, OH About Blog The Billy Ireland Cartoon Library & Museum's primary mission is to develop a comprehensive research collection documenting American printed cartoon art, to organize the materials, and to provide access to these resources.
Frequency about 2 posts per month.
Blog library.osu.edu/blogs/cartoons
Facebook fans 850. Twitter followers 2,651.

New York, NY About Blog The Jewish Museum blog, dedicated to giving you an insider's look at The Jewish Museum, the preeminent museum in the United States devoted exclusively to 4,000 years of art and Jewish culture.
Frequency about 1 post per month.
Blog blog.thejewishmuseum.org/cat..
Facebook fans 43,906. Twitter followers 175,436.

About Blog The mission of Girl Museum to explore and document the unique experience of growing up female through historic and contemporary images, stories and material culture.
Frequency about 3 posts per week.
Blog girlmuseum.org/category/blog
Facebook fans 1,331. Twitter followers 1,205.

Washington, DC About Blog The Center for the Future of Museums (CFM) helps museums shape a better tomorrow by exploring cultural, political and economic challenges. It monitors cultural, technological, political and economic trends of importance to museums
Frequency about 2 posts per week.
Blog futureofmuseum.sblogspot.com
Facebook fans 4,568. Twitter followers 52,604.

South Kensington, London About Blog Get the inside stories about the Museum's galleries, collections and research from the volunteers, curators and scientists from Natural History Museum.
Frequency about 1 post per week.
Blog blog.nhm.ac.uk
Facebook fans 469,804. Twitter followers 2,311,855.

Street Wakefield About Blog The Wakefield Museums' blog where you can keep up to date with all the news and discover how you can get involved with the museums' projects and events here. Discover Wakefield's fascinating history: be transported to the rainforest ; step into a Victorian kitchen; peep into a prison cell; let the children play in teh 'front room'; ride the rhubarb expres
Frequency about 1 post per month.
Blog wakefieldmuseumsandlibraries..
Facebook fans 797. Twitter followers n/a.

Indianapolis, IN, USA About Blog Since it was first established in 1925, The Children's Museum of Indianapolis has expanded to become one of the top-ranked, most-respected children's museums in the nation, providing one-of-a-kind experiences that range from our immersive Dinosphere© to the exquisite, five-story Fireworks of Glass sculpture by renowned artist Dale Chihuly. The Children's Museum is at the forefront of creating lear
Frequency about 1 post per month.
Blog childrensmuseum.org/blog/col..
Facebook fans 140,842. Twitter followers 28,071.

Palmer, Alaska About Blog Cultivating Culture in Palmer
Frequency about 1 post per month.
Blog palmermuseum.org/blog
Facebook fans 1,002. Twitter followers n/a.

Singapore About Blog NUS Museum's mission is to actively contribute to the academic life and intellectual pursuit of the NUS community. Focused on regional art and culture, the Museum contributes to and facilitates the production, reception and preservation of knowledge through acquisition and exhibitionary practices, and developing partnerships within NUS and the global knowledge community.
Frequency about 2 posts per month.
Blog nusmuseum.blogspot.com
Facebook fans 2,283. Twitter followers 652.
These blogs are ranked based on following criteria
Google reputation and Google search ranking
Influence and popularity on Facebook, twitter and other social media sites

Quality and consistency of posts.

Feedspot's editorial team and expert review
Top 50 Museum Blogs Winners
CONGRATULATIONS to every blogger that has made this Top Museum blogs list! This is the most comprehensive list of best Museum blogs on the internet and I'm honoured to have you as part of this! I personally give you a high-five and want to thank you for your contribution to this world.
If your blog is one of the Top 50 Museum blogs, you have the honour of displaying the following badge on your site. Use the below code to display this badge proudly on your blog. You deserve it!:
<a href="https://blog.feedspot.com/museum_blogs/" title="Museum Blogs"><img src="https://blog-cdn.feedspot.com/wp-content/uploads/2017/01/museum-50-transparent_216px.png" ></img></a>
Tags: museum rss feeds, museum blogs uk