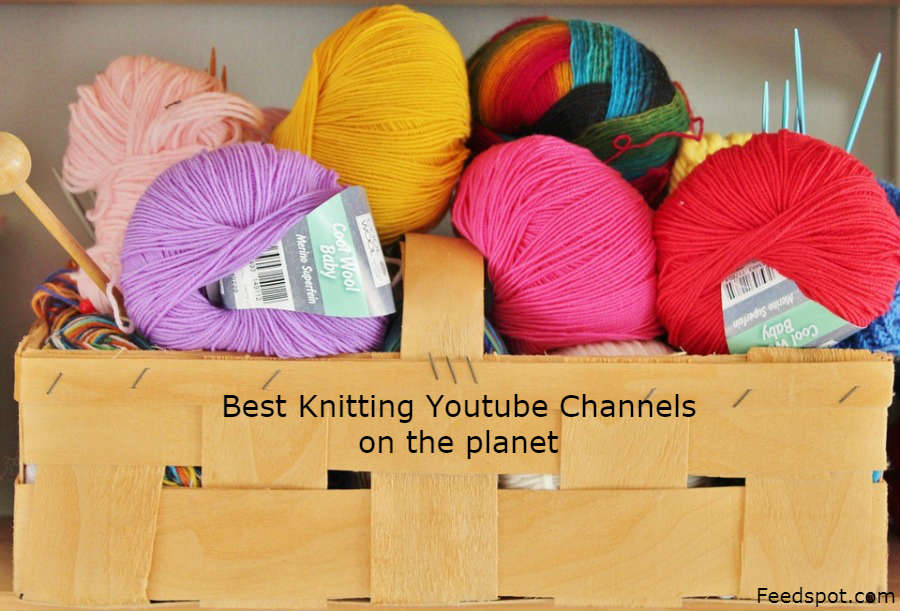 Knitting Youtube Channels List
The Best knitting Youtube Channels selected from thousands of channels on youtube and ranked based on youtube channel subscribers and popularity. Data will be refreshed once a week.
These Youtube channels are ranked based on following criteria
Total youtube channels subscribers, video views, and video uploads
Quality and consistency of videos

Youtube search ranking

Feedspot editorial team' objective and subjective review
Top 75 Knitting Youtube Channels Winners
CONGRATULATIONS to every user that has made this Top Knitting Youtube Channels list! This is the most comprehensive list of best Knitting Youtube Channels on the internet and I'm honoured to have you as part of this! I personally give you a high-five and want to thank you for your contribution to this world.
If your Youtube Channel is one of the Top 75 Knitting Youtube Channels, you have the honour of displaying the following badge on your site. Use the below code to display this badge proudly on your blog. You deserve it!:
<a href="http://blog.feedspot.com/knitting_youtube_channels/" title="Knitting Youtube Channels"><img src="https://blog-cdn.feedspot.com/wp-content/uploads/2017/08/Knitting-Youtube-Channel-transparent_216px.png" ></img></a>
Top Knitting Youtube Channels
Rank

Channel Name

Youtube Followers

Views Count

Video Count

1

youtube.com/user/naztazia/vi..

Scranton, PA

About Channel - Creative self-sufficient living. Tutorials related to crocheting, knitting, gardening, beading, sewing and other arts/crafts.
Frequency - about 4 videos per month

434,835

56,307,525

126

2

youtube.com/user/verypinkkni..

Austin, TX

About Channel - I am a knitwear designer and knitting teacher. I combine these skills to create patterns with video tutorials that ease knitters into advanced techniques, such as socks, sweaters, cables, and colorwork knitting. I've been knitting for over 35 years. It's my passion. My business has been mentioned in both the New York Times, and Official Google Blog.
Frequency - about 4 videos per month

227,164

36,263,128

507

3

youtube.com/user/GoodKnitKis..

Texas

About Channel - How to Videos -Needle & Loom Knitting, Crochet, Crafts & product reviews.
Frequency - about 1 video per week

166,025

25,499,076

385

4

Canada

About Channel - Basic Crochet & Knitting Techniques for Beginners and Experienced Crafters alike! Learn How to Crochet a Granny Square, Blankets, Hats, Amigurumi Stuffed Toys, Clothing, Slippers, Hair Accessories, Fingerless Gloves, Flowers, Kawaii, Appliques, Home Decor and so much more! Learn how to crochet a whole Blanket! Fun, Free and Easy Patterns that make great Gifts for your Friends and Family!
Frequency - about 2 videos per week

130,739

11,318,104

264

5

youtube.com/user/oanaoroscro..

Italy

About Channel - I love to crochet and knit I also have my own designs and projects and this is the place where I share my creations with you, I also like to find new stitchs or crochet/knit techniques and to share them with you so if you are a crocheter this is the right place for you.
Frequency - about 2 videos per week

122,262

14,246,227

451

6

youtube.com/user/iknitwithca..

United States

About Channel - Learn how to knit - from cast on to bind off, along with more advanced and special knitting techniques. You will also learn how to knit many different stitches, including lace and cable stitches.
Frequency - about 1 video per month

113,894

37,202,640

488

7

About Channel - I am Laura Cepeda, professional designer of fabric fashion (and many know me and know my career). In this channel I show you how to knit my garments.
Frequency - about 2 videos per week

546,624

120,730,068

478

8

youtube.com/user/knittingsti..

About Channel - I am interested in knitting and ready to spend every free minute of knitting. I have accumulated enough patterns, which I can share with you. There are very simple knitting patterns for beginners, and there are more complex patterns. I wish you many hours of very happy knitting!
Frequency - about 2 videos per month

93,654

18,714,539

139

9

About Channel - This is my collection of patterns that I think are so fun to wear and make! I create videos on how to make different knitting and crochet patterns, and also showcase patterns that I LOVE! If you have a stylish pattern you want to make but don't know how, send it to me, and I'll make a video or explain it for ya!
Frequency - about 1 videos per week

150,010

18,491,617

120

10

youtube.com/user/ExpressionF..

About Channel - Bringing joy to the world one colorful skein of yarn at a time!
The place to learn knitting, crocheting, spinning and other fibery goodness! I'll also be sharing shop updates, sales and more!

Frequency - about 1 video per month

158,902

14,406,250

48

11

United Kingdom

About Channel - Ever wanted to learn how to knit? Want to jump on the crochet trend? WATG are here to offer you the latest tutorials for on trend styles and techniques. From beginner's how to's to expert knitting techniques, we're here to help you become part of the gang. Wool And The Gang is a do it yourself and ready to wear fashion brand for women, men, kids and babies.

Frequency - about 2 videos per month

94,085

10,730,416

232

12

youtube.com/user/JoannesWeb/..

San Antonio, TX

About Channel - Joanne's Web is a place to lear to knit, crochet and more. There are video tutorials, blogs posts and many ways to communicate among each other to learn the beautiful craft of knitting. Join our growing knitting and crochet community.
Frequency - about 2 videos per week

89,143

14,248,600

269

13

youtube.com/user/studioknit/..

United States

About Channel - This is the place where you learn how to KNIT and totally fall in love with it. My channel features easy-to-follow instructions, quick knit projects, and some fun crafty ideas everyone can make!
Frequency - about 3 videos per month

88,029

7,496,933

231

14

youtube.com/user/knitpicks/v..

Vancouver, WA

About Channel - Our videos include tutorials on all levels of techniques, plus the occasional fun video. We're an online knit shop passionately committed to affordable luxury knitting, crochet and fiber crafts. Check out our Options interchangeable knitting needles, high quality yarns, $1.99 patterns, kits, and selection of knitting, spinning, weaving, and crochet books.
Frequency - about 2 videos per month

82,277

22,690,214

621

15

India

About Channel - #1 Knitting Channel In India.
Frequency - about 4 videos per month

79,417

17,143,627

169

16

youtube.com/user/MarlyBird/v..

United Kingdom

About Channel - Proud Spokesperson for Red Heart Yarns, Crochet and Knitwear Designer Marly Bird offers her vast knowledge about Crochet and Knitting on the Marly Bird YouTube channel. Watch videos focused on basic and advanced techniques, tips and tricks, and step-by-step projects. The focus of this channel is to build the skills of both the complete beginner crocheter/knitter and the more experienced crocheter.
Frequency - about 2 videos per week

51,882

2,587,250

213

17

India

About Channel - In this channel, I will show knitting designs such as crochet and various attractive designs... So, Stay tuned..
Frequency - about 2 videos per week

60,290

14,206,797

129

18

youtube.com/user/knittinghel..

Western MA

About Channel - The premier knitting video tutorial web site, featuring over 170 free knitting videos.
Frequency - about 1 video per month

45,151

11,921,065

118

19

youtube.com/user/sheepandsti..

Hong Kong

About Channel - Warm knitted goodness made by you! Learn how to knit beautiful patterns through step-by-step tutorials.
Frequency - about 1 video per month

43,315

3,016,908

28

20

India

About Channel - Learn Knitting, Crochet and several design.
Frequency - about 2 videos per week

24,763

5,407,536

199

21

India

About Channel - In this channel I will teach you about various attractive knitting designs and patterns. I have many knitting patterns to share with you all.
Frequency - about 2 videos per month

21,664

4,329,273

65

22

About Channel - Here you will find step by step knitting and crocheting tutorials..easy patterns also for beginners.
Frequency - about 3 videos per month

19,302

2,979,782

166

23

India

About Channel - Easy Knitting Patterns and Items.
Frequency - about 1 videos per week

19,677

4,403,047

160

24

youtube.com/user/watchknitti..

About Channel - Exclusive source of free knitting patterns, Knitting Tutorials for beginners and skilled knitter, , knitting instruction, techniques, and Knitting Basics.
Frequency - about 2 videos per month

39,471

9,004,409

51

25

youtube.com/user/GillysCraft..

About Channel - I can help you in your crochet and knitting endevour.
I love crocheting, knitting and sewing. I am also an artist and love painting in oil and in watercolor. I will be showing you how to crochet and knit but will stick to crochet work initially.
Frequency - about 3 videos per month

37,543

5,003,922

163

26

India

About Channel - This channel is all about knitting, crochet, stitching & embroidery....
We all learn and create new easy things together to create happy life...
Its just beginning....Life is too short.. live it full...
Frequency - about 3 videos per month

36,084

7,823,289

89

27

youtube.com/user/KristinOmda..

Bonita Springs, Florida

About Channel - Kristin Omdahl is a creative entrepreneur that believes in creating, sharing and inspiring others to do the same! Join her for ideas, inspiration and tutorials on crocheting, knitting, sewing, crafting, and healthy budget-friendly recipes.
Frequency - about 4 videos per week

27,830

2,124,814

538

28

Canada

About Channel - This is a knitting podcast hosted by Jodi & Tracie. A couple of knitting obsessed sisters that love to talk about all things YARN!
Frequency - about 2 videos per month

16,904

941,950

48

29

United States

About Channel - I started knitting in March 2014 while living in Dubai with my Husband and two cats as a way to keep me occupied while my Husband was away during the week for work, and I've barely put the needles down ever since.
Frequency - about 3 videos per month

15,743

1,095,725

149

30

About Channel - This is where I share everything I have been knitting or sewing and anything else I find and love along the way. I hope you enjoy your visit and your glimpse into my creative life.
Frequency - about 1 videos per week

13,142

1,255,370

211

31

Offenbach am Main, Germany

About Channel - Fruity Knitting presents a regular knitting podcast, introducing you to new projects and techniques, and features interviews with designers, knitters and other personalities from the knitting world. The Fruity Knitting Project Tutorials take you step by step through a complete project, covering all techniques required to make your creation a success.
Frequency - about 2 videos per month

11,920

628,589

70

32

Serbia

About Channel - My channel has DIY Tutorial videos on crochet and knitting.
People of all ages can learn how to knit and crochet because it's easy, fun and relaxing. Check out our various tutorials and you will be creating your very own high quality knitting and crocheting projects in no time. Please hit like and subscribe to our channel for every-day knit and crochet video lessons, amazing free patterns, tips.
Frequency - about 3 videos per month

10,901

2,038,169

164

33

Hardoi, India

About Channel - My hobby to purl yarn in a way that design a beautiful pattern ,In this page i m gonna do effort and teach you all about knitting desire .
Frequency - about 3 videos per week

9,568

2,081,136

76

34

About Channel - LegacyKnitz Podcast teaches knitting lessons from the beginning.
Frequency - about 2 videos per month

7,742

431,084

55

35

United States

About Channel - Prolific Fiber Artist, Kristy Glass will loop you in on how to knit, on-trend projects, yarn bombing, fiber events and whats on her needles. Check in here every Friday for a new video about all things Fiber Arts.
Frequency - about 6 videos per week

6,511

513,194

282

36

youtube.com/user/amyflorence..

United Kingdom

About Channel - The Stranded youtube channel - home of the Stranded Podcast - a weekly knitting, spinning (sometimes!) and hand dyeing podcast from the south coast of England. Here you will also find the occasional vlog - where you can join me, out and about on adventures.
Frequency - about 1 videos per week

6,057

242,178

67

37

About Channel - Knitting , women , handmade, crochet
Frequency - about 3 videos per month

4,616

896,676

194

38

About Channel - Kammeborniapodcast, a podcast about life in general and knitting.
Frequency - about 1 video per month

4,122

168,783

18

39

United States

About Channel - Knitting is never old-fashioned. Not only that you will have a unique customized suit for yourself, your kids, or anyone that you love. But it also a relaxing interest. It's true that some of my friends, who're facing stress in work, luckily find peace in knitting. This channel was created to share that relaxing interest and ideas to those who love knitting.
Frequency - about 1 video per month

3,498

662,569

135

40

About Channel - I am a Norwegian living and knitting in London, while doing a PhD. My aim with this podcast is to get the hang of and appreciate some of the big knitting trends in the online knitting community, while simultaneously conveying my own old fashioned knitting preferences. There are some older booktube videos on this channel as well.
Frequency - about 3 videos per month

3,603

124,126

57

41

About Channel - Host of the Knitting Broomstick video podcast!
Frequency - about 1 video per month

3,328

113,955

56

42

United States

About Channel - I'm Dr. Kelly, a knitter, spinner, seamstress, paper crafter, snail mail fan, and professor of experimental psychology. This is the Ewe University channel where I post weekly videos with the goal of linking education and the fiber arts.
Frequency - about 3 videos per month

3,874

100,343

53

43

youtube.com/user/nobleknits/..

About Channel - NobleKnits features videos on new yarns, knitting ideas, free patterns, and knitting help videos. You'll learn new knitting techniques and tips in a fun and approachable knitting community.
Frequency - about 1 video per month

2,397

413,038

145

44

youtube.com/user/thecanadian..

About Channel - Canadian Knitter Podcast designs various knitting patterns and design.
Frequency - about 4 videos per month

2,123

116,323

114

45

About Channel - A mother and a daughter knitting podcast about all things yarn and all the amazing people who make it happen!
Frequency - about 2 videos per month

2,576

55,667

23

46

Dallas, TX

About Channel - A personal blog focusing on my adventures in knitting, crocheting, crafts, food, my kids, and living in Dallas.
Frequency - about 1 videos per week

2,252

247,330

82

47

Norway

About Channel - I'm a Knitwear Pattern Designer based in Arctic Norway.
My designs are inspired by nature and old Scandinavian nostalgia and living.
This channel is all about knitting and general crafty living. I also show off places I go to, video's of my inspiration sources and so on. In the Nordic Stitches Ravelry group, you can join in on KALs, chatter, making friends and more.
Frequency - about 5 videos per week

1,365

64,099

96

48

Norway

About Channel - A weekly podcast about knitting and other crafty things.
Frequency - about 3 videos per month

1,824

55,103

54

49

youtube.com/user/GeekyGirlsK..

Edinburgh, Scotland

About Channel - The Mamma/Daughter video podcast for fans of all things knitting & geeky.
Frequency - about 1 videos per week

1,967

107,607

286

50

Atlanta, GA

About Channel - An independent knitwear designer talks about knitting, yarn, tools, techniques and more!
Frequency - about 2 videos per week

1,737

91,036

179

51

youtube.com/user/MakeUpCitie..

About Channel - Our You Tube channel is where we will upload our video tutorials to learn how to knit 1 New Point every week.
Take your balls and your needles and start to weave your way.
Frequency - about 1 video per month

984

128,819

36

52

youtube.com/user/Pattymac100..

Unites States

About Channel - I share a fun knitting podcast about knitting and crafting as well as stitch tutorials and short features showing off my different knitted creations.
Frequency - about 1 videos per week

262

25,411

69