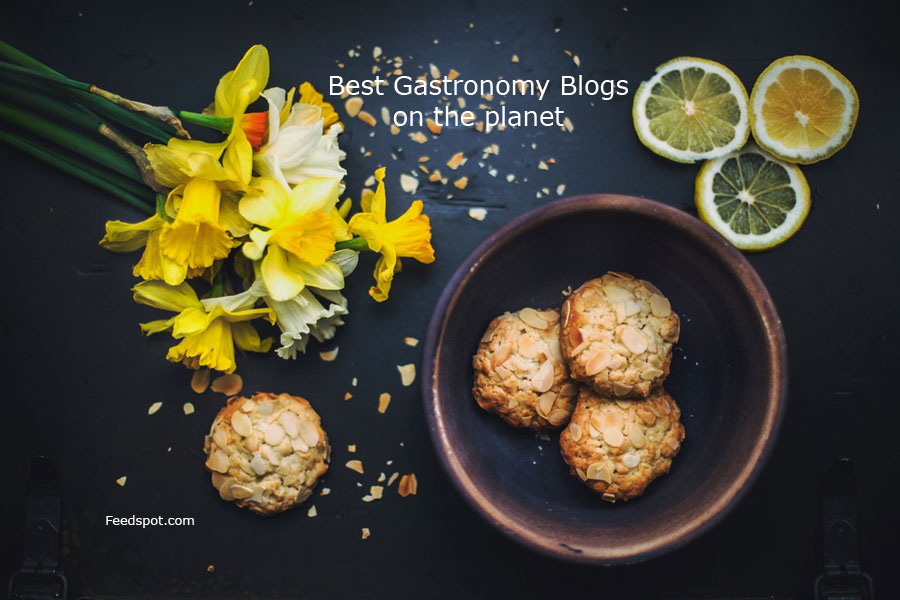 Gastronomy Blogs List.
The Best Gastronomy blogs selected from thousands of Food blogs, Culture blogs and Food Science blogs in our index using search and social metrics. We've carefully selected these websites because they are actively working to educate, inspire, and empower their readers with frequent updates and high-quality information.
If your blog is selected in this list, you have the honour of displaying this Badge (Award) on your blog.
Gastronomy Blogs

About Blog I'm passionate about good food and gourmet cuisine, and love travelling in quest of the world's best restaurants and gastronomic trends. In my view, gastronomy is both an art form and a reflection of our civilization and cultural backgrounds. I have discovered that behind every ingredient, every dish, every restaurant, there is always a fascinating story, an exciting personal quest.
Frequency about 2 posts per month.
Also in Food Blogs
Website luxeat.com
Facebook fans 10,157. Twitter followers 144.

Los Angeles, California About Blog My name is Cathy Chaplin. I was born in La Mesa, California, educated in Swarthmore, Pennsylvania, and cultured in Saigon, Vietnam. Now based in Los Angeles, I document all things delicious on this site which was launched in 2006. My writing and photography have appeared in numerous publications including Saveur, Los Angeles Times, Bon Appétit, and Condé Nast Traveler.
Frequency about 1 post per week.
Since Sep 2006
Also in LA Food Blogs
Website gastronomyblog.com
Facebook fans 2,650. Twitter followers 7,577.

Sydney, Australia About Blog Grab Your Fork is Helen's gastronomic journey through the streets of Sydney and around the world. She is a freelance food writer with a love of cheap eats, offal and fried chicken. Her work has been published in Good Food and Time Out Sydney.
Frequency about 4 posts per month.
Also in Australian Food Blogs
Website grabyourfork.blogspot.com
Facebook fans 4,484. Twitter followers 7,878.

Malaysia About Blog PureGlutton is gastronomy, culinary, travel and all the finer things in life – gluttony at its best by a Malaysian Food Blogger.
Frequency about 2 posts per week.
Also in Malaysia Food Blogs
Website pureglutton.com
Facebook fans 1,708. Twitter followers 342.

Penang About Blog Born and bred in Penang, Ken Hunts Food is a Penang food blog written by a true Penangite. The blog records Ken's gastronomic journey in search of Penang's greatest street food and finest eats. Join him in his food adventures!
Frequency about 4 posts per week.
Also in Asian Food Blogs
Website kenhuntfood.com
Facebook fans 23,033. Twitter followers 203.

Hong Kong About Blog Crave is Hong Kong's modern breed of premium, gastronomic magazine. Inspired by the idea of a foodie's journal, Crave features what's hip, hot and delicious in the world of gastronomy.
Frequency about 3 posts per week.
Also in Hong Kong Food Blogs, Hong Kong Blogs
Website cravemag.com
Facebook fans 19,361. Twitter followers 525.

West Vancouver,Bc,Canada About Blog Welcome! Seasaltwithfood offer 800 recipes & 100 videos guides, ranging from appetizers, snacks, entrees to desserts. Here you can learn how to make delicious Malaysian, Thai, Japanese, Indonesian and other country cuisine at home. A journey beyond delicious Asian gastronomic delights!
Frequency about 2 posts per month.
Website seasaltwithfood.com
Facebook fans 17,125. Twitter followers 2,020.

Salt Lake City About Blog Gastronomic Salt Lake City is Utah's longest running blog covering the restaurant scene in Salt Lake City and surrounding areas. Bringing reviews, news, info and giveaways since 2009, if its worth eating, drinking or knowing about we'll let you know.
Frequency about 4 posts per month.
Website gastronomicslc.com/category/..
Facebook fans 3,646. Twitter followers 4,178.

Athens, Greece About Blog The Greek Gastronomy Guide highlights the values ​​and commons of the gastronomic culture of Greece. It aims to inform its visitors about all the values ​​and goods of our gastronomic culture. Places, products and people, history and tradition, events and rituals, shopping, flavors, recipes and local cuisines unfold in front of you in such a way that each place is set up as a gourmet destination.
Frequency about 2 posts per week.
Also in Greek Food Blogs
Website greekgastronomyguide.gr/blog
Facebook fans 13,279. Twitter followers 67.

Berlin About Blog The food scene is on the rise and part of what has made Berlin approachable for tourists and visitors from all over the world. How is the gastronomic culture developing, and where is it going to lead us in the future? We will aim to provide restaurant reviews or simply share our opinion on the newest gastronomic projects that we have discovered.
Frequency about 1 post per month.
Also in Berlin Food Blogs
Website findingberlin.com/category/f..
Facebook fans 20,102. Twitter followers 8,277.

Harare About Blog Gastrotravelogue is about great food and destination guides that are useful for when you are not tucking into some delectable treat. I believe that travel is a great way of connecting people, of all cultures, from around the world. Food also has the same way of uniting people and that's what this blog is about.
Frequency about 4 posts per month.
Website gastrotravelogue.com
Facebook fans 2,616. Twitter followers 6,268.

About Blog A Singapore food, travel and lifestyle blog. Off the beaten path, hidden finds and gastronomic experiences from a skinnyfat girl's perspective.
Frequency about 1 post per week.
Also in Singapore Food Blogs
Website ms-skinnyfat.com
Facebook fans 1,327. Twitter followers 595.

About Blog Esporão is one of Portugal's leading wine and olive oil producers in Alentejo and Douro. For more than 40 years making the best products from what nature provides, in a responsible and inspiring way. Esporão produces distinctive wines from Alentejo that represent great values.
Frequency about 3 posts per month.
Website esporao.com/en/magazine-en/g..
Facebook fans 217,108. Twitter followers 2,800.

Rio Rancho, New Mexico About Blog I'm Gil Garduño. I chose the site vanity "nmgastronome" because it truly reflects my passion for the cuisine of the Land of Enchantment–and hopefully describes the level to which my palate has evolved after having visited and evaluated more than 1,000 restaurants in the past ten years or so. I'm merely a gastronome, someone who loves and appreciates good food. Follow the Culinary Ruminations of New Mexico's Sesquipedalian Sybarite.
Frequency about 2 posts per week.
Since Sep 2000
Also in New Mexico Blogs
Website nmgastronome.com
Facebook fans n/a. Twitter followers 87.

Berlin About Blog Nomyblog is the online magazine for gastronomy and enjoyment. It reports on topics, trends and tips from the industry: food, drink, going out, enjoyment, new products and good ideas. The publisher is Jan-Peter Wulf . He also writes for gastronomy journals, music and pop culture magazines, and co-founder of the digital magazine DAS FILTER and the content agency more than words.
Frequency about 3 posts per week.
Website nomyblog.de/category/nomyblo..
Facebook fans n/a. Twitter followers 1,349.

Paris, France About Blog A Paris dining diary memories cum guidebook to the best restaurants in Paris, and a gastronomic tour to France with gorgeous photographs and terrific recipes.
Frequency about 2 posts per month.
Also in Paris Blogs, Paris Food Blogs, French Food Blogs
Website alexanderlobrano.com
Facebook fans 1,215. Twitter followers 3,647.

TJ - Los Angeles - THE WORLD About Blog La Cooquette is YOUR destination if you LOVE THE FOOD! I am Maria and I love to eat and cook recipes that are easy and fun! I also do videos of gastronomic trips to discover flavors, cultures and wonderful places.
Frequency about 1 post per week.
Also in Food Youtube Channels
Website youtube.com/user/lacooquette..
Facebook fans 15,285. Twitter followers 1,791.

About Blog My name is Melissa. This blog documents my gastronomic experiences because I am very particular about food and eating is my greatest hobby. I also love traveling with the objective of tasting the best food the world has to offer.
Frequency about 3 posts per month.
Website hungrybird.sg
Facebook fans 253. Twitter followers n/a.

Korea About Blog Veronica graduated Switzerland's Institut Hôtelier César Ritz and holds a Master's of Tourism degree from Korea. She has over 20 years experience in public relations and marketing for deluxe hotels and the Food & Beverage industries in Korea. Veronica has been conducting Korean Food Tours since 2012 after gaining inspiration from her gastronomy focused travel all around the world.
Frequency about 1 post per month.
Also in Korean Food Blogs
Website gastrotourseoul.com/blog1
Facebook fans 941. Twitter followers 144.

Philippines About Blog I'm a tennis player who loves to travel and to eat. I have been traveling since I was a teenager and I always find hidden gems and popular gastronomic spots wherever I go. My gastronomic journey begins now and let me share it to you. Check out the latest food finds and reviews from the hidden gems around the metro. Run by Emmanuel Damian.
Frequency about 3 posts per week.
Also in Tennis Blogs, Filipino Food Blogs
Website thetennisfoodie.com/blog
Facebook fans 1,767. Twitter followers 1,321.

The Netherlands About Blog Greek foodtales was created based on the need we feel to promote the Greek food culture known for its richness in quality ,taste and nutritional value. Cooking is an integral part of our Greek mentality, lifestyle and culture and as people say "we are what we eat". Our goal is to explore and present this unique gastronomic treasure with a fresh and innovative approach.
Frequency about 1 post per month.
Website greekfoodtales.com/english/blog
Facebook fans 3,706. Twitter followers 317.

About Blog I'm Danielle. In my previous incarnation as a food blogger, I spent an inordinate amount of time fussing over the perfect dish, both aesthetically and gastronomically. As a result, I am now the proud owner of almost 1,000 images on WordPress, three Nikon lenses, and a bigger waistline. All of which are growing, slowly but surely, with every post.
Frequency about 1 post per month.
Website beyondtheplate.net
Facebook fans 1,647. Twitter followers n/a.

India About Blog A blog about the Gastronomical Journey by Rohit Dassani. He is an avid food blogger, photographer and traveler from Bangalore. He started blogging in the beginning of 2009 with the idea to share his personal experiences. Now in 2016 he is rated among the top food blogger in Bangalore who love's to write about restaurant/food reviews, travel escapade and day-today experiences.
Frequency about 4 posts per month.
Also in Indian Food Blogs
Website rohitdassani.com
Facebook fans 1,595. Twitter followers 175.

Portland, OR About Blog This blog is for traveling friends of Molly Blog for the Globetrotting Gastronomer. A world of flavors with Caribbean, African & Asian fusion - and Great Balls of Fire habanero fritters made famous by Man V Food's Adam Richman
Frequency about 2 posts per month.
Website salvadormollys.com/blog
Facebook fans 5,444. Twitter followers 926.

Atlanta About Blog AmateurGastronomer.com, an online wine, food, travel and entertainment magazine that features gastronomic adventures from around the world. It was launched September 2008 in Miami and expanded to Atlanta in May 2010.
Frequency about 2 posts per month.
Website amateurgastronomer.com/index
Facebook fans 279. Twitter followers 2,305.

Puerto Vallarta, Jalisco About Blog In 1995 Thierry Blouet and Heinz Reize came out with the idea of promoting & upgrading the culinary standards to competitive international levels by interacting with new methods & the creativity of highly qualified chefs. The purpose of this Fiesta is to strengthen the gastronomy of the region as an incomparable showcase to promote the destination through the excellence of its fine cuisine.
Frequency about 2 posts per month.
Website festivalgourmet.com/en/blog
Facebook fans 9,097. Twitter followers 2,319.

About Blog A Chronicle of Gastronomy is the record of my adventures involving food (usually of the restaurant variety) and my personal opinion on particular foods, dishes and restaurants at the time of the visit. Although this is a Melbourne-based food blog, I'll also include my food adventures both interstate and overseas
Frequency about 2 posts per week.
Website achronicleofgastronomy.com
Facebook fans 99. Twitter followers n/a.

About Blog A blog about gastronomy & places to stay on Majorca
Frequency about 1 post per week.
Website eatdrinksleepmallorca.com
Facebook fans n/a. Twitter followers 502.

About Blog I'm Geeta Bansal. A Chef/food and travel writer. My passion for food takes me on on some incredible journeys where I meet very talented, creative, passionate people pushing the boundaries of gastronomy. My gastro travels also take me into culinary outposts, local markets and visits with people
Frequency about 2 posts per month.
Website chefgeeta.wordpress.com
Facebook fans 443. Twitter followers 1,285.

Milan, Lombardy About Blog Gastronomer is a food and wine blog that is dedicated to the at home gourmand. The concept behind Gastonomer is a simple one, it is to explore food and drink sustainability while having fun. This blog combines Noel's passions, pleasures & motivations throughout her daily journeys in gastronomy.
Frequency about 3 posts per month.
Website gastronomer.co
Facebook fans 132. Twitter followers 87.

Helsinki, Finland About Blog DISCOVER HELSINKI is an augmented reality (AR) enabled English-language book publication (152 pages) in Finland directed at tourists and domestic travellers visiting Helsinki. The Discover Helsinki publication provides travellers interesting articles on the capital of Finland, the most popular tourist attractions and happenings.
Frequency about 3 posts per month.
Website discoverhelsinki.fi/blogs/ga..
Facebook fans 26,117. Twitter followers 235.

United States About Blog LOOK & LEARN Recipes, Food, Wine, and gastronomic discoveries.
Frequency about 3 posts per month.
Website youtube.com/channel/UCmQx..
Facebook fans 2,802. Twitter followers n/a.

About Blog For those who love spanish food the gastronomy of spain is so rich, each area the food is made in a different way. The aim is to show you how to cook very easy and healthy Spanish food. The gastronomy in Spain is so rich and with a lot of variety, in every home in every restaurant they have their own way to cook.
Frequency about 2 posts per month.
Also in Spanish Food Blogs
Website youtube.com/channel/UCq-7..
Facebook fans 170. Twitter followers 65.

Lebanon About Blog YummyLebanon is a fun, easy to read, yet serious guide into the world of Lebanese gastronomy, our mission is to increase awareness for lebanese consumers.
Frequency about 1 post per month.
Also in Lebanese Food Blogs
Website yummylebanon.com
Facebook fans 6,655. Twitter followers 287.

Boston About Blog Boston University's Gastronomy program is an interdisciplinary food studies master's program encompassing culinary arts, humanities, and social sciences. The Gastronomy at BU blog is intended to serve the community of current students and alumni of the Gastronomy students at the Metropolitan College of Boston University.
Frequency about 2 posts per week.
Website gastronomyatbu.com
Facebook fans 365. Twitter followers 2,025.

Birmingham, UK About Blog Hi! I'm Chloe, a Birmingham based food blogger, documenting everything edible from fine dining to street food vans, and a healthy dose of cocktails and craft beer. With restaurant reviews, cocktail classes, recipes and a sprinkling of my travel adventures.
Frequency about 3 posts per month.
Since Jun 2017
Also in Birmingham Blogs
Website gastronomicgorman.com
Facebook fans 239. Twitter followers 2,130.

About Blog All information on the best luxury destination, events, culture fun and activities in Los Cabos.
Frequency about 1 post per month.
Website loscabosmexicoblog.com/categ..
Facebook fans 1,607. Twitter followers 78.

Patterson, Putnam County, NY About Blog Gerry Dawes was awarded Spain's prestigious Premio Nacional de Gastronomía (National Gastronomy Award) in 2003. He writes and speaks frequently on Spanish wine and gastronomy and leads gastronomy, wine and cultural tours to Spain.
Frequency about 3 posts per month.
Website gerrydawesspain.com
Facebook fans n/a. Twitter followers 1,662.

Edinburgh About Blog Phil's Food World started as a way of encouraging people to cook, source produce responsibly and promote local producers. In January 2014, I began an MSc Gastronomy at Queen Margaret University, which has really allowed me to study food in greater depth, as well as visit many artisan food producers.
Frequency about 2 posts per month.
Website philsfoodworld.blogspot.com
Facebook fans 157. Twitter followers 1,262.

Columbia, South Carolina, United States About Blog I love food and everything about it. I read cookbooks like most people read magazines. I rarely serve my family the same thing twice. Restaurants are my idea of a really good time. So, I'm going to start writing it down.
Frequency about 1 post per month.
Website akreeats.blogspot.com
Facebook fans 134. Twitter followers n/a.

About Blog This is The Gastronomer's Diary. This diary contains narratives and images on the food expeditions the gastronomers have gone to. Although we are not official food experts, we are definitely food lovers.
Frequency about 2 posts per month.
Website thegastronomersdiary.blogspo..
Facebook fans 117. Twitter followers n/a.

Ghent, Belgium About Blog My name is Andreas Stavropoulos, I live in Belgium but I am from Greece and youvetsi is for me the link to my love for gastronomy but also a connection with the cooking of my mother and my culinary memories from sunny Greece.
Frequency about 1 post per month.
Website youvetsi.gr/en
Facebook fans 97. Twitter followers 2.

Lucknow, India About Blog Gastroutes is primarily a gastronomy tour company specialising in tours revolving around food from India. Be it the home cooked food, a fine dine experience, street food or historical food all of it excites us and we always wish to showcase these through our well-planned and curated tours through India.
Frequency about 2 posts per month.
Website gastroutes.com
Facebook fans 17. Twitter followers 13.

Singapore About Blog The main purpose for this blog (so far) will be my reviews and opinions of some of the best restaurants in the world that I've visited, in particular Michelin 2-star and 3-star establishments.
Frequency about 1 post per month.
Website zhangyuqisfoodjourneys.blogs..
Facebook fans n/a. Twitter followers n/a.
These blogs are ranked based on following criteria
Google reputation and Google search ranking
Influence and popularity on Facebook, twitter and other social media sites

Quality and consistency of posts.

Feedspot's editorial team and expert review
Top 50 Gastronomy Blogs Winners
CONGRATULATIONS to every blogger that has made this Top Gastronomy Blogs list! This is the most comprehensive list of best Gastronomy blogs on the internet and I'm honoured to have you as part of this! I personally give you a high-five and want to thank you for your contribution to this world.
If your blog is one of the Top 50 Gastronomy blogs, you have the honour of displaying the following badge on your site. Use the below code to display this badge proudly on your blog. You deserve it!:
<a href="https://blog.feedspot.com/gastronomy_blogs/" rel="nofollow" title="Gastronomy blogs"><img src="https://blog-cdn.feedspot.com/wp-content/uploads/2017/08/Gastronomy-transparent_216px.png" ></img></a>
Tags: gastronomy rss feeds