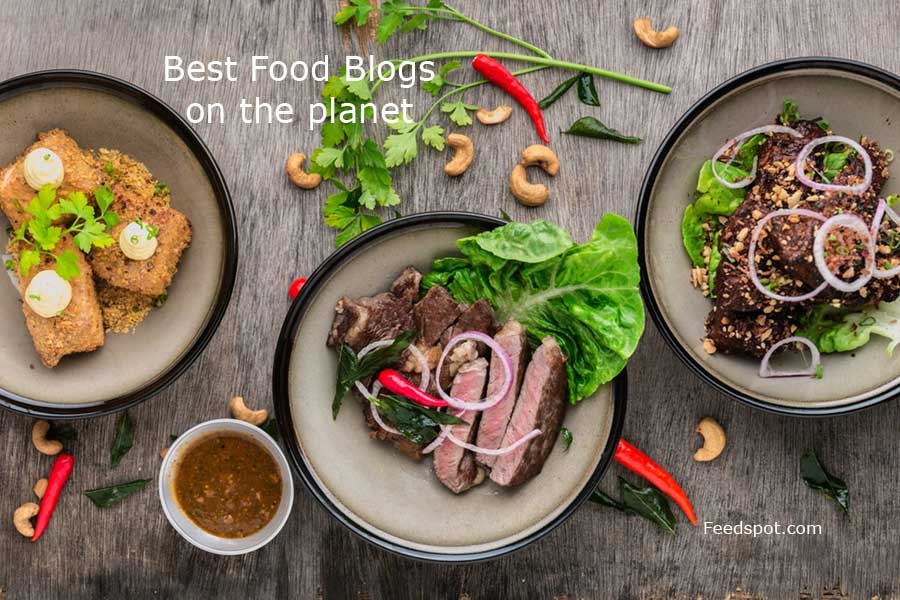 Food Blogs List.
The Best Food blogs from thousands of top Food blogs in our index using search and social metrics. Data will be refreshed once a week. Also check out Food Podcasts and Food Videos from Top 100 Food Youtube Channels.
If your blog is selected in this list, you have the honour of displaying this Badge (Award) on your blog.
Food Blogs

Raleigh, NC About Blog A delicious food blog with tried and true family tested and approved recipes. Browse hundreds of simple recipes to share with those you love from our table to yours.
Frequency about 6 posts per week.
Blog therecipecritic.com
Facebook fans 4,344,695. Twitter followers 4,093.

Oceanside, NY About Blog Skinnytaste features delicious, healthy, low fat, family-friendly recipes several times per week and Skinny Bits, where answer to cooking questions, health tips, reviews and giveaways are found.
Frequency about 4 posts per week.
Also in Healthy Eating Blogs
Blog skinnytaste.com
Facebook fans 4,518,415. Twitter followers 47,698.

About Blog Blog by Nikki. A great place to find easy, delicious and family friendly recipes.
Frequency about 4 posts per month.
Also in Chef Blogs
Blog chef-in-training.com
Facebook fans 2,257,691. Twitter followers 7,756.

New Jersey About Blog Cookies & Cups is a full dessert resource website. We specialize in simple recipes for all occasions perfect for the home cook.
Frequency about 3 posts per week.
Blog cookiesandcups.com
Facebook fans 2,542,728. Twitter followers 10,757.

About Blog The Sporkful is a James Beard Award-nominated food podcast where we obsess about food to learn more about people. We like to say it's not for foodies, it's for eaters. The Sporkful is created and hosted by Dan Pashman, who's also well known as host of Cooking Channel's 'You're Eating It Wrong.'
Frequency about 1 post per week.
Also in Food Podcasts
Blog sporkful.com
Facebook fans 16,288. Twitter followers 15,270.

About Blog Food & Wine goes way beyond mere eating and drinking. We're on a mission to find the most exciting places, new experiences, emerging trends and sensations. Get Recipes, Menus, Chefs, Wine, Cooking, Holidays.
Frequency about 17 posts per week.
Also in Food Magazines
Blog foodandwine.com
Facebook fans 2,343,636. Twitter followers 6,642,258.

Singapore About Blog Learn how to make South Indian recipes, North Indian recipes and eggless baking recipes with step by step pictures and videos!
Frequency about 1 post per week.
Also in Indian Food Blogs
Blog rakskitchen.net
Facebook fans 1,967,285. Twitter followers 2,764.

United States About Blog The Kitchn is a site for people who like to get their hands dirty while they cook. It is for those who care about the quality of their food, and how it affects the health of themselves and the planet. It is also for those who want to cook more, but are shy in the kitchen. Its a place to dive in deep, and embrace the joy of one of our basic needs: food.
Frequency about 84 posts per week.
Blog thekitchn.com
Facebook fans 1,864,265. Twitter followers 175,875.

San Diego, CA About Blog Manjula's Kitchen is your home for Indian Vegetarian Recipes and delicious Cooking Videos. Watch Manjula teach mouthwatering appetizers, curries, desserts and many more, easy to make for all ages.
Frequency about 1 post per month.
Blog manjulaskitchen.com
Facebook fans 1,717,761. Twitter followers 2,616.

North Carolina About Blog Food blog by Lisa Leake. Whether you're brand new to cutting out processed food or you're a real food veteran, I hope you'll find some value in the resources on this blog.
Frequency about 2 posts per week.
Blog 100daysofrealfood.com
Facebook fans 1,633,892. Twitter followers 24,681.

United States About Blog Eater is the source for people who care about dining and drinking in the nation's most important food cities. Published by Vox Media, Eater is a favorite of industry pros and amateurs alike, with an uncanny knack for finding out what's opening where, who's serving what, and how it's all going down.
Frequency about 34 posts per week.
Also in Food News Websites
Blog eater.com
Facebook fans 2,099,244. Twitter followers 518,732.

About Blog Founded as a personal food blog in 2006, Serious Eats has since grown into a destination for millions of passionate, discerning, curious, and hungry readers around the world. We work hard to provide definitive recipes, hard-core food science, trailblazing techniques, and innovative guides to essential food and drink anywhere and everywhere.
Frequency about 11 posts per week.
Blog seriouseats.com
Facebook fans 311,034. Twitter followers 809,091.

New York, NY About Blog At Food52, we help people become better, smarter, happier cooks. Started by Amanda Hesser and Merrill Stubbs, Food52 was named 2012 Publication of the Year by the James Beard Foundation and won Best Culinary Website at the 2013 & 2014 IACP awards.
Frequency about 28 posts per week.
Also in New York Blogs, New York Food Blogs
Blog food52.com
Facebook fans 1,113,525. Twitter followers 574,216.

San Francisco About Blog Chowhound allows food enthusiasts to discover the best recipes and resources for cooking, eating, growing and making food. Find tips, tricks, and support by connecting to a community of food contributors.
Frequency about 34 posts per week.
Also in San Francisco Blogs
Blog chowhound.com
Facebook fans 187,686. Twitter followers 259,661.

Carmichael and San Jose, CA About Blog A family cooking and food blog with hundreds of healthy, whole-food recipes for the home cook. Photographs, easy-to-follow instructions, and reader comments.
Frequency about 13 posts per week.
Blog simplyrecipes.com
Facebook fans 1,074,059. Twitter followers 80,450.

Portland, Oregon About Blog Minimalist Baker is all about food and it provides simple, delicious plant-based and mostly gluten-free recipes.
Frequency about 2 posts per week.
Since Jun 2012
Also in Gluten Free Blogs, Minimalist Blogs, Clean Eating Blogs, Portland Blogs
Blog minimalistbaker.com
Facebook fans 312,035. Twitter followers 34,276.

Kansas City, MO About Blog Cookie and Kate blog is all about celebrating good food-real, sustainable food that delights the senses and nourishes the body. Cookie Kate is a food blog dedicated to bringing real, whole foods back to the table.
Frequency about 2 posts per week.
Also in Baking Blogs, Whole Foods Blogs
Blog cookieandkate.com
Facebook fans 72,252. Twitter followers 14,848.

Los Angeles About Blog Quick/easy meals for the everyday home cook.
Frequency about 2 posts per week.
Blog damndelicious.net
Facebook fans 273,333. Twitter followers 14,322.

Australia About Blog You will find flavourful recipes pouring out of kitchen! Easy to make, fresh and simple meals and desserts, turning traditional recipes style by using important flavours for YOU to enjoy.
Frequency about 3 posts per week.
Blog cafedelites.com
Facebook fans 4,738,155. Twitter followers 1,741.

Sydney, Australia About Blog A food blog with fast, seriously tasty food by Nagi who share recipes and make great food with everyday ingredients.
Frequency about 1 post per week.
Also in Australian Food Blogs
Blog recipetineats.com
Facebook fans 1,985,125. Twitter followers 1,485.
Food Blogs USA
---
Alabama
What To Eat In Birmingham
About -Of course, as the name suggests, it does contain food reviews. However, it reads much more like a local travel blog. We were using food as a way to explore our new home, and the blog reflects that.
Birmingham Restaurant Raider
About - The Birmingham Restaurant Raider is an innovative website created from a pressing need to showcase original customer dining experiences at local Birmingham food spots.
Arizona
Arizona Foodie
About -Your one and only food guide for all things food related in Arizona. We've got all your favorite restaurants, news on openings, the best food events and so much more.
PhoenixBites
About - PhoenixBites is an award-winning online publication and a comprehensive local dining guide providing food lovers of all degrees with the latest news on the culinary scene in Arizona.
Arizona Food and Wine
About - We are a passionate group of people simply looking to share our experiences of finding great dishes around Arizona.
Arkansas
Rock City Eats
About - Here we hope to embrace, explore, and contribute to the food culture of Little Rock. We want to celebrate the achievements and improve on the faults. We want to build up amazing local food and tear down the chains.
The Mighty Rib
About - This blog really isn't about ribs, it's about a love for all foods. We'll look at food from just about every angle imaginable. we cover food from Seattle to Boston and everywhere in between.
Tie Dye Travels
About -Kat Robinson is a food and travel writer based in Little Rock. She travels Arkansas and the South searching for good stories, tall tales and the next great little restaurant.
California
This Tasty Life
About - This blog is a creative outlet for me and my need/desire to write. Alyssa and I started photographing all of the food we ate. I hope you enjoy reading about my adventures in San Diego!
Edible Silicon Valley
About -These are the local businesses and organizations that help bring Edible to life. They share in our same values of local, sustainable food sources and community.
Eater SF
About - The San Francisco Restaurant, Bar, and Nightlife Blog. Food news and dining guides for San Francisco.
Colorado
Colorado Springs Independent | Food
About - Your source for local news for dining,food and wine in Colorado Springs and the greater Pikes Peak Region.
Culinary Colorado
About - Culinary Colorado is my Colorado-oriented, but not Colorado-exclusive, blog about restaurants, bakeries, food and wine events and occasional menus and recipes.
5280 Denver's Mile High Magazine | Eat & Drink
About - 5280 is Denver's official city and regional magazine. The award-winning guide to dining, food and wine in the Mile High City.
Connecticut
CTBites
About - CT Bites is a web-based community built by and for people who love food in Connecticut. We'd like to be that friend of yours that always seems to know the right place to go, the right time to visit, and the right thing to order.
Connecticut Magazine | Food and Drink
About - For more than 45 years, Connecticut Magazine has coupled award-winning journalism with a monthly slice of Connecticut living in a magazine that reaches more than 380,000 adult print and online readers each month statewide.
Delaware
Delaware Today | Eat and Drink
About - Delaware Today Magazine is an award winning regional magazine whose mission is to help people get the most out of living by being the most valued community resource in print, on-line and in person.
Rehoboth Foodie
About - My goal is to promote Rehoboth Beach dining while remaining honest and impartial. With so many good places to eat around here, it just doesn't make sense to waste the calories - or the money - on anything less.
Florida
Food For Thought
About - I live in Miami, and so I focus my efforts mostly on where to find good things to eat in and around South Florida. Here, you'll find restaurant reviews for places throughout South Florida and wherever else I may wind up, as well as occasional blather about points more abstruse yet still somehow food-related.
Burger Beast
About - With an obvious focus on the glory of the bunned meat patty, the man posts about a deluge of local restaurants and they're awesome sandwiches. He also takes time to look at other local eats, even having a full blog page devoted to Food Trucks, and carries a list of burger and bar-food recipes (some his own, some he's received from different restaurants to post).
MiaBites
About - MIAbites is a food blog covering dining and restaurants in Miami and Miami Beach, Florida.
Tasty Chomps
About - TastyChomps.com is a food and restaurant blog dedicated to finding culinary adventures throughout Central Florida and around the world.
Watch-Me-Eat
About - A Blog about eating interesting food in central florida and beyond...
Georgia
Atlanta Eats
About - Find the best restaurants in Atlanta – Watch video reviews and use our restaurant finder to search for the best places to eat in Atlanta, GA
Atlanta Food Walks
About - We are food experts who believe in the power of storytelling. We create awesome experiences that are fun, informative, and delicious. We connect history, culture, and community with food. We support exceptional local restaurants and food vendors.
Eating With Erica
About - Whether you're in search of a good steak, a great place to celebrate, or a nice crowd, she has a knack for identifying unique restaurants that are sure to cater to any palette, occasion, and personality. So if you're ever in the Atlanta area, have a seat, and enjoy a meal while Eating with Erica.
Hawaii
Tasty Island Hawaii
About - A blog site of my experiences enjoying the wonderful food of Hawaii, with a focus on Honolulu on the island of Oahu. This includes recipes and reviews of eateries ranging from the neighborhood plate lunch stand to fine dining restaurants.
Frolic Hawaii
About - Frolic Hawaii's team of homegrown eaters, bloggers, photographers and editors covers Hawaii's food scene with passion and personality - seeking out what's delicious, new, exciting and hidden in Hawaii.
Idaho
Treasure Valley Food and Wine Blog
About - Food, Craft Beer, Nano Breweries, Wine, Idaho Wineries, Winery Bistros, Restaurants and Events, Boise Foodies in the Treasure Valley Idaho. Come see what we are up to and the variety of our eating and wine and craft beer experiences.
Illinois
Chicago Food Planet
About - Chicago Food Planet Food Tours offers unique food tasting and cultural walking tours through Chicago's most delicious and historic neighborhoods. We provide a non-touristy, local experience so you feel like a native Chicagoan.
Fab Food Chicago
About - Fab Soo Park. Fab Appetite. Living the Fab Food Life. Restaurant Reviews, Recipes, Chef Interviews, and more.
Eat The Burbs
About - Celebrating Local Food, Restaurants, Events and Small Businesses around the Chicago Suburbs and beyond.
Indiana
Indianapolis Restaurant Scene
About - I decided to take it upon myself to start this blog in which I can share with you my personal, honest, and unbiased take on the restaurant scene in Indy.
Visit Indy
About - As Visit Indy, it's our job to promote the city of Indianapolis. From local restaurants to acclaimed breweries, Indy is fit for foodies.
Iowa
Des Moines Foodster
About - Des Moines Foodster. A local food blog highlighting the food, restaurants, craft breweries, events that make Des Moines the greatest city in the world!
Travel Iowa | Food and Drink
About - Travel Iowa was created because we think there are a lot of smart and talented people out there who have some great Iowa Food experiences to distribute and share.
Louisiana
Da'Stylish Foodie
About - I love to try new and up and coming restaurants. In addition, I love cooking and throwing down in my kitchen. we travel often and we will share all of our Travel spots and Restaurant Finds.
Maine
Portland Food Map
About - PFM was launched in August 2007 as visual directory for Portland food information. Over time a number of other features have been added including a search engine, event calendar, lists of Sunday Brunch and Under Construction, and street maps.
Eating Portland
About - A no bs blog for those who like to eat, drink, and be merry at some of the finer and not-so-finer establishments in and around Portland, ME
Maryland
Baltimore Eats
About - Baltimore best restaurant guide. Get local dish from the people who live, breathe and eat in Baltimore.
Taste Frederick Food Tours
About - Our goal is to provide both a fun and filling experience for you and your taste buds as we walk – and eat – our way through some of Frederick's most historic and scenic areas.
Massachusetts
Boston Foodies
About - I'm Tiffany Lopinsky, and I started this blog in 2014 when I was a sophomore at Harvard to chronicle and share my dining adventures in the Boston-area! I cover everything from food trucks to fine dining in Boston and beyond.
Michigan
Michigan Cuisine
About - Written by myself since 2006 and completely searchable, this resource covers a large number of food subjects, recipes and Michigan food history.
The Bite Tonight
About - Welcome to my blog where you will find honest reviews of the hottest spots in metro Detroit. OK, some are local dives, but I promise, they are dishing out some killer eats.
Minnesota
The Heavy Table
About - Our goal is to document our gastronomic landscape without bias or favor, showing our readers precisely what we're seeing. We are interested in small, neighborhood restaurants; ethnic eateries with a story to tell.
Minnesota Monthly | Food and Drink
About - Minnesota Monthly is the essential guide to exploring and explaining the life and culture of the Twin Cities and the state of Minnesota.
The Minnesota Skinny
About - An exploration of the midwest for unforgettable food, drinks, and stories.
Mississippi
Visit Mississippi | Food and Drink
About - We're your trusted guide to the many things to see and do in our state. Stay up to date with all things food Mississippi.
Eat Drink Mississippi
About - eat.drink.MISSISSIPPI is a food magazine dedicated to sharing Mississippi's passion for food with the world. From local chefs making their culinary mark to the many, great restaurants this state has to offer, Mississippi's hospitality shines through in the pages of this magazine.
Sipp Jackson
About - Sipp Jackson is a unified collaborative effort from various contributors with a vested interest in capturing the best of Jackson, Mississippi as a culinary destination.
Missouri
Feast Magazine
About - Those looking for a taste of their hometowns or seeking new places to explore will get instant access to all of the region's best food and drink through Feast's digital outlets.
Out To Eat
About - Welcome to Out to Eat, the culinary chronicles of a hungry 20-nothing. If you're here looking for the most delicious and unique dishes in Kansas City (and beyond), you're in the right place.
Nebraska
The Gastronom Blog
About - We started The Gastronom in 2012 thinking that we would do restaurant reviews, but with having two small boys, we quickly realized that our idea wouldn't be feasible! We instead switched over to making recipes, quickly realizing that our cocktail and alcoholic recipes seemed to be doing the best, so we started focusing on those, which turned into the cocktail blog we have today.
Nevada
Edible Reno Tahoe
About - edible Reno-Tahoe is published six times a year, including quarterly issues for each season, and promotes and celebrates the abundance of local foods in the Northern Nevada and Lake Tahoe region.
Eating Las Vegas
About - John A. Curtas has been the voice of the Las Vegas food and restaurant scene since 1995. In addition to those duties, he is the restaurant critic for Las Vegas Weekly magazine and has served as the local correspondent for The James Beard Foundation.
New Hampshire
nhmagazine.com | Food-Drink
About - New Hampshire Magazine is the essential guide to living in the Granite State, each month joining readers in a quest for all the best the state has to offer. We present features on the most fascinating people, most entertaining places and most delicious cuisine.
New Jersey
Jersey Bites
About - Jersey Bites is a collaborative website of food writers in New Jersey. We write about restaurants, recipes, food news, food products, events, hunger relief programs, and anything else that tickles our taste buds.
Eating New Jersey
About -A blog focusing on restaurants and attractions in New Jersey, with a travel guide for out of state posts.
Boozy Burbs
About - Boozy Burbs is your not-so-secret ingredient to discovering the latest dining, drinking & nightlife news in Greater Bergen County. This includes bordering towns in Rockland, Hudson, Essex and Passaic counties.
NJ Monthly | Eat & Drink
About - We are the respected source for recommendations and information on what to see and do in New Jersey, from insightful dining reviews and our Top 25 Restaurants list, to shopping and style tips, Jersey travel ideas, the annual Shore Issue, and the state's most complete guide of upcoming events and performances.
New Mexico
Gil's Thrilling Blog
About - I'm Gil Garduño. I chose the site vanity "nmgastronome" because it truly reflects my passion for the cuisine of the Land of Enchantment–and hopefully describes the level to which my palate has evolved after having visited and evaluated more than 1,000 restaurants in the past ten years or so. I'm merely a gastronome, someone who loves and appreciates good food.
Santa Fe New Mexico Blog New Mexico True
About - New Mexico is a haven for the unexpected. A place for those who seek to follow their own path. Here, every true adventure feeds the soul.
New York
Eater New York
About - Food news and dining guides for New York City.
GrubStreet
About - Grub Street is a food blog by New York Magazine with restaurant reviews, chef interviews, restaurant-openings news, and food-trend coverage.
I Love NY
About - Explore all the state of New York has to offer including fun things to do, year round events and festivals, world class hotels and award-winning restaurants.
Eating NYC
About - Alexa Mehraban is a born and raised New Yorker with a serious passion for food and an even more serious hit list. She hopes to inspire people to try new restaurants and experiment new dishes, all while keeping her fans up to date on the latest food trends.
Serious Eats NY
About - It includes definitive recipes, hard-core food science, trailblazing techniques, and innovative guides to essential food and drink anywhere and everywhere.
North Carolina
Triad Foodies
About - Welcome to triadfoodies, a blog promoting and celebrating all things food related and local. We love local restaurants, farm stands, farmers, specialty shops and local craft beer. We hope triad foodies will inspire you to eat at many of the amazing locally owned restaurants in our beautiful area.
Off The Eaten Path
About - A blog about food, recipes, restaurants, travel, adventures and everything in between based in Charlotte, NC.
Charlotte Agenda | Food & Drink
About - Charlotte news stories that matter. Agenda covers careers, things to do, real estate, travel, startups, food drink, development and children.
Ohio
Ohio | Food
About - Includes Local Restaurant and Street Food Reviews, Menu, and all things Food.
CBUS Food Blogger
About - We're a community of Columbus food bloggers and social media gurus with one binding tie: a passion for great food. The goal of our group is to unite Columbus foodies and provide a platform for collaboration and connecting with local restaurants and food businesses.
Oklahoma
Oklahoma City Blog | Restaurants
About - Explore the diverse cuisine that Oklahoma City restaurants offer, from Lebanese food to Japanese and more. Don't forget to check out the Oklahoma City food truck scene for an exciting change when you're on the go.
Oregon
The Portland Mercury
About - Portland's Most Awesome Weekly Newspaper covering Portland news, politics, music, food & drink, comedy, cannabis, film, and arts; plus the most extensive movie times, club calendars, and blogs.
Portland Food and Drink
About - Your source for restaurant reviews, news and information for Portland Oregon.
Eating My Way Thru Portland
About - Hi, I'm Amy, I am a lover of food and all things Portland, and there is a lot to love about the Portland Food Scene. I want to help you find the perfect meal in Portland, whether it be breakfast, lunch or dinner or a sit down restaurant, food cart or special occasion. I want you to be satisfied and wanting to dive into more Portland food.
Pennsylvania
Good Food Pittsburgh
About - Good Food Pittsburgh is an online magazine that shares news and tells stories about the people, places and events that make up Pittsburgh's thriving food community. It provides information about what's happening in and around the city, from restaurant openings and event previews, to in-depth profiles on the chefs, restaurateurs and food producers in the area.
Berks County Eats
About - Berks County Eats is dedicated to spreading the word about the best restaurants and dining in Reading, Berks County and beyond. Every Sunday, Berks County Eats posts a review of an area restaurant.
Eater Philadelphia
About - The Philadelphia Restaurant, Bar, and Nightlife Blog. Food news and dining guides for Philadelphia.
Rhode Island
Eat Drink RI
About - Eat Drink RI is one of the top media, marketing and event production companies in the region for all things culinary. EatDrinkRI.com houses the most up-to-date local food & drink event calendar and culinary job listings, in addition to covering local food events, chefs & restaurants, the beverage industry, and locally produced artisanal products.
Rhode Island Red Food Tours
About - Our mission is to provide you with a genuine tour experience of Rhode Island's treasured food artisans. We want to bring joy to everyone by providing good honest culinary dishes without pretense to all.
South Carolina
The April Blake
About - I love to share my food, recipes, experiences in South Carolina and beyond because I realized one day that I wasn't doing what I loved most, which is writing. I believe in sharing triumphs and failures. I hope to keep a positive energy about living a locally-focused, ecologically-friendly lifestyle in my home state by sharing it here.
Eater Charleston
About - The Charleston Restaurant, Bar, and Nightlife Blog. Food news and dining guides for Charleston.
Tennessee
Eater Nashville
About - The Nashville Restaurant, Bar, and Nightlife Blog. Food news and dining guides for Nashville.
Nashville music city | Food
About - While Nashville has long been known for its expansive music scene, the talent and creativity of its culinary scene has recently put Nashville on the map.
Nashville Scene | Food & Drink
About - Covering the best restaurants and street food the city has to offer.
Texas
The Austinot | Food
About - The Austinot is a hyperlocal blog about the Food of Austin and the surrounding area.
Cravedfw
About - We created CraveDFW because we all Crave something delicious and each day we will explore these things, and hopefully something that you Crave as well.
Flicks and Food
About - San Antonio Restaurant reviewer, Movie Blogger, food reviewer, Food Critic, food blogger, wine reviewer, Product Reviewer, Travel Blogger.
My Table
About - Each print issue offered readers news on the restaurants, chefs, shops, bars, foods, nightlife, trends and personalities that make up Houston's lively culinary scene.
Utah
SLC Eats
About - I love featuring the best of the best of Salt Lake City. I live and work downtown, and love showcasing all of the amazing things SLC has to offer. Photos, opinions, news, and recipes.
Female Foodie
About - Hi there- I'm Brooke Eliason, a 20 something female foodie and native of Salt Lake City.I document and promote favorite foodie spots that, I felt, everyone should know about.
The Utah Foodie
About - Our podcast helps listeners discover and explore their local food scene by interviewing the chefs, restaurateurs, and culinary entrepreneurs behind Utah's favorite places to dine and drink.
Vermont
Dig In Vermont
About - Vermont is an exciting place to be for many reasons. Local food is one of those reasons. Some might say the best reason. There's a lot happening, and DigInVT began in 2011 to help visitors, travelers, our neighbors, and even ourselves, sort through it all to find great food and farm experiences.
Virginia
I Heart Food
About - Sharing our experiences eating out and what we cook at home--everything related to food and drink.
Washington
Been There Eaten That
About - Dining out is my passion, and often times the culmination of hours of research. This restaurant review blog reflects my journey as I try to keep up with my restaurant wish list for the DC area where I live, and in my travels.
Eater Washington DC
About - The Washington Restaurant, Bar, and Nightlife Blog. Food news and dining guides for Washington.
Wong Eats
About - A Blog on Good Food in Washington DC, Any Place, Any Price.
West Virginia
Candace Lately
About - Candace Lately is a blog about the local food culture in West Virginia. Its purpose is to speak to the community of foodies in town and provide a forum for discussion about local restaurants, food and people who embrace this Appalachian state's culture.
Wisconsin
Wisconsin Bites
About - Welcome to Wisconsin Bites…a food blog that's ultimately an explorer's club of Wisconsin foods and recipes. We're out to discover or re-discover Wisconsin's foods - whether raised, grown, produced or processed here.
Eat Drink Madison
About - This dining and nightlife guide will help you find Madison, WI restaurants, bars and drink specials.
Food Blogs Canada
---
Calgary
Hitting the Sauce
About - I enjoy going out to eat and I like writing about food. My food related experiences include writing for a Calgary food and wine magazine, Culinaire; the Simon Fraser University newspaper, The Peak; reviews for a Vancouver-based website; and a travel article for the Vancouver Sun.
Hungry in Calgary
About - I am a writer and food enthusiast looking to share my recipes and thoughts with hungry friends.
Edmonton
Eat With Sharon
About - eatwithshar0n is a blog that is dedicated to my love of food and well.. taking pictures of it. On this blog, you'll find snippets of my foodie adventures through first impression reviews, photos and more. I hope that I can inspire you with some good food related inspo.
Only Here For The Food
About - Plugging away at this blog, juggling restaurant reviews, staying afloat of local culinary news, and maintaining my kitchen experiments have almost become an unpaid part-time job. But I love it.
Lets Eat Yeg
About - Let's Eat YEG is a food blog that is based in Edmonton. All of my reviews are my own personal opinion, and they are heavily based on short experiences.
Avenue Edmonton | Restaurant & Food
About - Avenue Edmonton has developed an excellent reputation and strong following of loyal readers for its award-winning, intelligent and thought-provoking perspectives on the Food and Restaurants that define our city.
Halifax
Eat This Town
About - I am interested in regional foods, especially Nova Scotia and Canadian foods by province/region. I am a food tourist at heart, and I look forward to doing more travelling and eating.
Taste of Nova Scotia
About - Taste of Nova Scotia is a unique, province-wide, marketing program, whose members are committed to offering the most exceptional local culinary experiences our province has to offer.
Montreal
Eating Out Montreal
About - I LOVE trying new restaurants and that's what I want to share with you, any chance I'll get! You'll also find that I'm quite the critic, sometimes a tad harsh but hey, it's not show friends, it's show business!
Montreal Foo Foodie
About - An Epicurean, Foodie and now Blogger who is just crazy about food & the culinary arts in our great city of Montreal and its environs.
514eats | Montreal Restaurant Reviews
About - 514eats.com is a Montreal restaurant and bar review blog brought to you by two regular guys who like to eat, drink, go out and cook. We will go anywhere and we will say it like it is.
Ottawa
apt613 | Food and Drink
About - Apt613 is a volunteer-run not-for-profit organization. Our main activity is apt613.ca, an award winning blog dedicated to uncovering the best of Ottawa's food and arts.
Richmond
Visit Richmond, BC
About - Covering Asian Cuisine From All over Richmond, BC
Toronto
blogTO | Eat-Drink
About - Toronto's source for restaurant reviews, event listings, local food and the best of the city.
Toronto Food Blog
About - With so many places to choose from, so many different food cultures and such high turnover, the Toronto Food Blog is for the budget-conscious reader who wants to know what, where and when to eat in Toronto.
Toronto Food Trucks
About - We're all about the Toronto food truck scene. Find the latest food truck news, events, list of trucks and locations.
Good Food Toronto
About - Good Food Toronto is your best guide to eating in Toronto. Find Insider news and reviews for discovering Toronto's best restaurants, bars, and nightlife. Recipes, contests, and giveaways too.
Vancouver
Van Foodies
About - Joyce started VanFoodies.com in 2009 to write about one of her biggest interests: food. Since then, some of her friends have also come on board to share their food adventures as well. Whether they're famous fine dining restaurants, neighbourhood gems, or hearty home cooking, you can read about them here.
Birry Ram
About - Food Blogger based in Vancouver giving food reviews.
Penny and Drusty's Food Blog
About - If you like eating (or just looking at pictures of food), this is the blog for you! To be honest, it started out as a way to remember which restaurants were good bets to revisit in the future.
Sherman's Food Adventure
About - Who am I? Well, nothing more than a guy that loves food. From an early age, I have been exposed to many different cuisines by my parents. This probably led to my love for dining out. I am game to eat almost anything – from dives to fine dining. I take pictures and I blog about my meals, specifically in the great city of Vancouver, B.C.
Victoria
Victoria Buzz | Food
About - Covering local food and restaurant all around Victoria, BC.
Winnipeg
Dining With Donald
About - This blog is focused on Food. It will feature reviews of places to eat books, and the odd recipe. I also write about what it means to gather together around food.
These blogs are ranked based on following criteria
Google reputation and Google search ranking
Influence and popularity on Facebook, twitter and other social media sites

Quality and consistency of posts.

Feedspot's editorial team and expert review
Top 100 Food Blogs Winners
CONGRATULATIONS to every blogger that has made this Top Food blogs list! This is the most comprehensive list of best Food blogs on the internet and I'm honoured to have you as part of this! I personally give you a high-five and want to thank you for your contribution to this world.
If your blog is one of the Top 100 Food blogs, you have the honour of displaying the following badge on your site. Use the below code to display this badge proudly on your blog. You deserve it!:
Top 200 Food Blogs Winners
CONGRATULATIONS to every blogger that has made this Top Food blogs list! This is the most comprehensive list of best Food blogs on the internet and I'm honoured to have you as part of this! I personally give you a high-five and want to thank you for your contribution to this world.
If your blog is one of the Top 200 Food blogs, you have the honour of displaying the following badge on your site. Use the below code to display this badge proudly on your blog. You deserve it!:
Top 300 Food Blogs Winners
CONGRATULATIONS to every blogger that has made this Top Food blogs list! This is the most comprehensive list of best Food blogs on the internet and I'm honoured to have you as part of this! I personally give you a high-five and want to thank you for your contribution to this world.
If your blog is one of the Top 300 Food blogs, you have the honour of displaying the following badge on your site. Use the below code to display this badge proudly on your blog. You deserve it!:
Tags: food rss feeds, food blogs uk