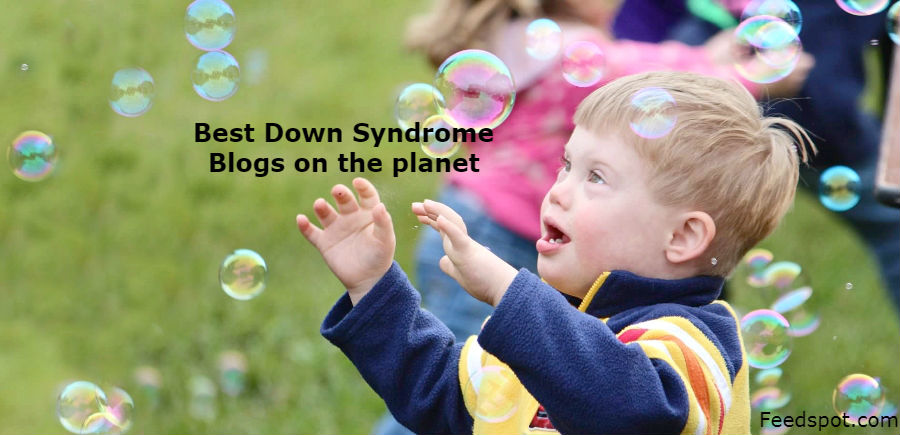 Down Syndrome Blogs List
The Best Down Syndrome blogs from thousands of top Down Syndrome blogs in our index using search and social metrics. Data will be refreshed once a week.
These blogs are ranked based on following criteria
Google reputation and Google search ranking
Influence and popularity on Facebook, twitter and other social media sites

Quality and consistency of posts.

Feedspot's editorial team and expert review
Top 100 Down Syndrome Blogs Winners
CONGRATULATIONS to every blogger that has made this Top Down Syndrome Blogs list! This is the most comprehensive list of best Down Syndrome blogs on the internet and I'm honoured to have you as part of this! I personally give you a high-five and want to thank you for your contribution to this world.
If your blog is one of the Top 100 Down Syndrome blogs, you have the honour of displaying the following badge on your site. Use the below code to display this badge proudly on your blog. You deserve it!:
<a href="http://blog.feedspot.com/down_syndrome_blogs/" title="Down Syndrome blogs"><img src="https://blog-cdn.feedspot.com/wp-content/uploads/2017/07/Down-Syndrome-transparent_216px.png" ></img></a>
Top Down Syndrome Blogs
Rank

Blog Name

Facebook Fans

Twitter Followers

Alexa Rank

1

About Blog - Cedar has Down Syndrome and for all my education and background (I was a social worker for 15 years) I knew very, very little about Down Syndrome. Immediately a passion was born to help spread information, awareness, and help to others who, like me, are gifted a child with Down Syndrome. So, pull up a chair, read along, and know that you are not alone.
Frequency - about 5 posts per week

332
n/a
6,431,785
2

globaldownsyndrome.org/categ..

Denver, CO

About Blog - Dedicated to significantly improving the lives of people with Down Syndrome through research, medical care, education and advocacy.
Frequency - about 1 post per month

137,584
16,707
1,037,604
3

London, UK

About Blog - Down's Syndrome Association - Supporting people with Down's syndrome to live full and rewarding lives.
Frequency - about 2 posts per week

216,513
12,378
1,198,776
4

Marlborough, MA

About Blog - Finding treatments to improve cognition including learning, memory and speech for people with Down syndrome.
Frequency - about 1 post per month

25,480
1,399
6,714,647
5

About Blog - Serving the Down Syndrome community since 1960. Our mission is to ensure that all persons with Down syndrome have the opportunity to achieve their potential in all aspects of community life. We offer information, support, and advocacy.
Frequency - about 1 post per month

4,419
139
2,486,347
6

downsyndromeprenataltesting...

Louisville, KY

About Blog - Down syndrome prenatal testing and discussion by bioethicist Mark Leach. Blog discusses NIPT, prenatal testing and its ethics, living with Down syndrome, and bioethics.
Frequency - about 1 post per month

n/a
917
1,838,911
7

About Blog - The mission of Down Syndrome Diagnosis Network (DSDN) is to connect, support and provide accurate information to families with a Down syndrome diagnosis.
Frequency - about 6 posts per week

15,573
923
n/a
8

cdss.ca/blog/category/cdss-blog

About Blog - The Canadian Down Syndrome Society (CDSS) is a non-profit organization promoting awareness, advocacy and support for those with Down syndrome in Canada.
Frequency - about 1 post per month

7,914
547
2,580,549
9

1,239,899
189,371
4,372
10

drugs.com/answers/support-gr..

Internet

About Blog - The latest news & information from the Down Syndrome support group brought to you by Drugs.com Answers.

628,387
42,850
1,541
11

community.babycenter.com/gro..

About Blog - This group is for sharing our children's triumphs (OK, shamelessly brag), challenges (OK, throw a pity party), ask questions, share advice, experiences and information with each other related to Down Syndrome.
Frequency - about 3 posts per week

2,280,292
672,003
1,713
12

kellehampton.com/category/do..

About Blog - Enjoying the Small Things is the award-winning blog where author Kelle Hampton weaves together photography and also about having a child with Down Syndrome.
Frequency - about 2 posts per week

57,139
12,259
369,177
13

San Francisco, CA

About Blog - A community for all things relating to Down syndrome. Let's keep this place positive. Hateful or disrespectful submissions or comments will be removed.
Frequency - about 2 posts per week

1,123,775
492,095
8
14

parents.com/health/down-synd..

New York City

About Blog - Down syndrome is a genetic condition caused by an extra chromosome. We share heartwarming stories, provide tips to help your child develop, and much more.
Frequency - about 1 post per month

1,635,481
4,499,255
8,492
15

Worldwide

About Blog - Showing the world Down syndrome is ok as we share the story of our son. We invite you to come along on our journey.

251,013
12,800
1,050,085
16

About Blog - The Blessing Of Verity in honour of their daughter Verity who was born with a hole in the heart and Down syndrome.
Frequency - about 1 post per week

n/a
n/a
3,527,834
17

confessionsofthechromosomall..

About Blog - A sister documents the sibling relationship with her adult sister with Down syndrome, who inspired the adoption of her daughter with Down syndrome. It's an honest perspective on adults with Down syndrome, as well as the developmental journey of a children with Down sydnrome. Follow these two "Divas of Down syndrome" as they grow, learn, teach, and inspire.
Frequency - about 1 post per month

n/a
n/a
7,579,463
18

About Blog - A dads blog about life with his six kids - one of which who is blessed with Down Syndrome and the ability of flight.

31,706
n/a
3,955,344
19

Michigan

About Blog - A blog about our busy family with two amazing kids, one of whom happens to have Down syndrome!
Frequency - about 1 post per month

n/a
n/a
n/a
20

About Blog - Colin was born in April of '09 with an extra chromosome that we weren't expecting. We have learned that the one thing we weren't expecting is the one thing we love the most... I love keeping up this blog as a way to share our experiences with others!
Frequency - about 1 post per month

n/a
n/a
n/a
21

Cornwall, UK

About Blog - Award-winning Down's syndrome blog.Gently changing perceptions of Down's Syndrome from within hearts. Down's Syndrome Support. Natty is a model with Down's Syndrome.

Gently Change Perceptions of Down's Syndrome from Within Hearts:
Inspire, Love, Change, Campaign, Educate, Lead, Support.
Frequency - about 4 posts per week

10,541
12,278
6,226,234
22

Canada

About Blog - Happy Soul Project is about trying to live with a grateful spirit and Happy Soul- all while balancing life as a new mum to two babies under two & one happens to have Down syndrome...Hopefully, it inspires you to look at life a wee bit differently...
Frequency - about 1 post per month

32,265
1,836
8,512,894
23

Chicago, IL

About Blog - Just another WordPress.com site, Nick is 23 years old and has Down syndrome and autism. This is his world, the rest of us are just trying to keep up!
Frequency - about 1 post per month

942
41
5,912,980
24

About Blog - A blog about raising two kids, and advocating acceptance and inclusion for all people with Down syndrome.

447
1,357
n/a
25

Galway

About Blog - Blogger Minis and Mum looks back on the first mainstream school year that her daughter who has Down Syndrome spent in their local school.

773
1,556
n/a
26

Minnesota

About Blog - Sharing our life parenting six kids with Down syndrome.
Frequency - about 1 posts per week

n/a
285
n/a
27

newsanchortohomemaker.com/do..

Tucson, AZ

About Blog - News Anchor to Homemaker is a Down syndrome blog that focuses on real-life inspiring special needs stories and parenting articles from a Christian faith perspective, written by Jillian Benfield.

6,546
1,577
5,346,953
28

mardrasikora.com/grown-ups-a..

Omaha, NE

About Blog - I didn't know how to raise a child with Down syndrome...We've learned many lessons that have been more special than the needs.
Frequency - about 1 post per month

2,354
2,358
5,588,620
29

Cincinnati, Ohio

About Blog - Talk-DS is written by Jennifer Bekins, MS, CCC-SLP a speech-language pathologist specializing in children with Down syndrome (DS). The aim of Talk-DS is to provide ideas, encouragement, and evidence-based information related to children with DS in the areas of communication and feeding.

n/a
1,398
6,981,330
30

Gulf Coast

About Blog - I'm an ordinary mom living an extraordinary life with a daughter with cerebral palsy, a son with Down syndrome, an adventurous husband, a once-wild Westie, a rescued Schnoodle, a camera, and a worn out pair of running shoes.
Frequency - about 1 post per week

749
1,213
7,331,298
31

About Blog - Having a kid with down syndrome is the most interesting thing that ever happened to me authored by Amy Silverman. Also an author of "My Heart Can't Even Believe It: A Story of Science, Love, and Down Syndrome" Book.
Frequency - about 1 posts per week

1,278
n/a
7,634,769
32

Portland, Maine

About Blog - Two of us are tall and the other one of us is short and has Down syndrome.

728
1,944
8,824,666
33

nossavidacomalice.wordpress...

About Blog - Our life with Alice is a blog that tells the adventures of our daughter Alice, who was born with Down syndrome, and her brother Antonio 🙂
Frequency - about 1 post per month

n/a
n/a
9,664,358
34

Fort Worth, Texas

About Blog - Blog about Down syndrome, working moms and spirituality.

n/a
185
10,468,186
35

About Blog - An author describes about having a child as a Down Syndrome.
Frequency - about 1 post per month

n/a
n/a
10,840,540
36

dontbesorry.net/wp/?page_id=11

About Blog - An account from the heart, of the ups and downs (mainly ups) of having a child who happens to have Down's Syndrome.

22,197
1,363
12,331,942
37

About Blog - The author of this blog is a mother who describes journey of her daughter Evie who has Down Syndrome.
Frequency - about 2 posts per week

n/a
n/a
15,519,499
38

About Blog - Everything and Nothing from Essex is the quite ordinary life of a mom with 4 kids who likes to write about life in a non-ordinary way. Dedicated to Down syndrome advocacy, mothering with grace, and writing Christian fiction.

2,261
n/a
17,712,285
39

About Blog - This blog is a vault of my thoughts and, of course, the daily adventures of life with Tessa and the rest of our family. Here you will read much about our life with Tessa and how her Down Syndome has made a big impact on all of us.

3,012
157
18,341,484
40

About Blog - Patti rice blogs about orphans with Down syndrome, and helping to find their forever families. This blog was started during the pregnancy of her tenth child, Lily Anne.

Frequency - about 1 post per month

n/a
399
19,587,230
41

United Kingdom

About Blog - Love, Laughter and Life. A Little Boy and his Family's Journey with Down Syndrome
Frequency - about 1 posts per week

9,604
421
n/a
42

West Allis, WI

About Blog - The mission of the Down Syndrome Association of Wisconsin is to provide support to Wisconsin families and individuals with Down syndrome through awareness, education, information, programs, services, and the exchange of ideas and experiences.

n/a
171
n/a
43

United States

About Blog - In my blog, I share with you a proactive plan of action to deal with your child's root causes to prevent many of the symptoms of Trisomy 21 i.e Down Syndrome from surfacing and how to help with the symptoms that do appear until we find a way to prevent them. There's new research everyday!
Frequency - about 2 posts per week

n/a
n/a
n/a
44

About Blog - Our journey celebrating love, life, & Down syndrome. The author started this blog to answer some questions about it experiences.
Frequency - about 1 post per month

336
n/a
n/a
45

About Blog - Simply Lambchops is a Singapore family blog which includes parenting experiences to a child with T21, or more commonly known as Down Syndrome.
Frequency - about 7 posts per week

313
n/a
n/a
46

United States

About Blog - On may 17th, 2009 i gave birth to our third beautiful daughter & found out, upon her delivery that she has down syndrome. in just a few months she has taught us so much. like what is in that extra chromosome....pure magic.
Frequency - about 1 post per month

n/a
n/a
n/a
47

About Blog - The story of life with my son Wade who has Down Syndrome. The gorgeous , funny, little light in my world.

870
173
n/a
48

About Blog - The story of Hazel - A sweet girl born with Down Syndrome (Trisomy 21). Hazel, a sweet girl with Trisomy 21. Sometimes we talk Down Syndrome. Mostly she's a kid that is trying, successfully, to manipulate her parents. Join the chase.
Frequency - about 1 posts per week

1,722
404
n/a
49

About Blog - An author is mother describes her son Willow journey who has Down Syndrome.
Frequency - about 1 post per month

n/a
n/a
n/a
50

Yeah Minnesota!, United States

About Blog - Life with Down syndrome and Sotos syndrome -Perfectly normal lives!

n/a
n/a
7,415,406
51

notsoordinarydiary.wordpress..

About Blog - Author Nancy describes about what it's really like to have a child with Down's Syndrome.
Frequency - about 1 post per week

n/a
6,542
n/a
52

About Blog - A stay-at-home mom and Beachbody fitness coach blogs about her a daughter with Down syndrome, ADHD and sensory processing disorder.

n/a
590
n/a
53

London UK

About Blog - Steve Palmer's blog about his son Stanley - who has Down's Syndrome - & the extended family
Frequency - about 2 posts per week

n/a
1,653
n/a
54

Brighton

About Blog - The story of an elf with Down's Syndrome and her family.
Frequency - about 1 post per month

n/a
209
n/a
55

About Blog - A blog about our daughter Vera, a Trisomy 18 girl in Singapore who is most definitely compatible with life!
Frequency - about 7 posts per week

n/a
n/a
n/a
56

crouzonsdownsandme.blogspot.in

About Blog - This is my life, living with and having children with Crouzon syndrome and Down syndrome.
Frequency - about 1 posts per week

n/a
n/a
n/a
57

About Blog - Journey of Heidi who have Down Syndrome.
Frequency - about 1 post per month

n/a
n/a
n/a
58

About Blog - A blog about life in a large Catholic family. Special needs homeschooling, Down syndrome, cranberry farming, recipes, homemaking tips.

293
n/a
n/a
59

South Australia, Australia

About Blog - I'm a proud Mum to 8 amazing children. My youngest son, Felix, has Down syndrome. I am passionate about raising awareness, and increasing acceptance of people with Down syndrome. I feel privileged to have Felix in my life and have learned, and am continuing to learn, so much from this incredible little person.

730
n/a
n/a
60

UK

About Blog - World Down Syndrome Day (WDSD), observed on 21 March every year, is a global awareness day. Down Syndrome International (DSi) encourages our friends all over the world to choose their own activities and events on WDSD to help raise awareness of what Down syndrome is, what it means to have Down syndrome, and how people with Down syndrome play a vital role in our lives and communities.

34,520
7,030
2
61

Burnaby, British Columbia

About Blog - The Down Syndrome Research Foundation empowers individuals with Down syndrome to reach their full potential.
Frequency - about 1 post per month

5,746
2,082
2
62

youtube.com/user/NDSSorg/videos

About Blog - The mission of The National Down Syndrome Society is the leading human rights organization for all individuals with Down syndrome.
Frequency - about 1 post per month

106,458
13,226
2
63

Staffordshire

About Blog - Life doesn't have to be perfect to be happy - the day-to-day philosophies of a woman who chose to have a child with Down's Syndrome, and who chooses to be contented.
Frequency - about 1 posts per week

253
209
n/a
64

NorthEast, United States

About Blog - We are a family blessed with nine children. Four of our blessings were born to us, and five joined us through adoption. They have Down Syndrome and are such a blessing to us and everyone who knows them! Jamie and I have been married 20 years. We are now seeking to live together in a way that is pleasing to Jesus as our family encounters new challenges and embraces what each day brings.

n/a
n/a
n/a
65

About Blog - This blog document the one who has captured our hearts, Susan.
A baby girl found in Eastern Europe. She has Down syndrome and we have committed to bringing her home where she belongs. No one should be left alone because of their designer genes. Susan deserves a life outside of an orphanage. She deserves the blessings of a family! She deserves a chance to blossom and bloom!

n/a
n/a
n/a
66

celebratingphoenix.blogspot.in

About Blog - When my first daughter was born with Down syndrome, I felt like my life was blown apart. It's been the hardest, most profound experience of my life, one which has made me examine my ideas around ability and disability. This is my life raising a child with Down syndrome (and alopecia) and identical twins. These are my thoughts on life, disability, Down syndrome, my family and me.

137
n/a
n/a
67

cornishadoptionjourney.blogs..

About Blog - A Blog about a journey of a family with 12 kids, 10 homeschooled, 7 adopted, 6 with Down syndrome, 5 from Eastern Europe, 5 "home grown," 4 from Ukraine, 4 "typical," 3 with Cerebral Palsy, 2 with RAD, 2 from the USA, 1 with Autism, 2 Committed Parents, 1 very BIG GOD.

Frequency - about 1 post per month

1,684
n/a
n/a
68

About Blog - This little lady is the reason we were led to adopt Victoria. When she came into this world with an extra chromosome, she also brought with her "some great big plans". She opened our hearts to a world we were not really aware of and boy is our life better for it. This adoption journey is just an extension of her miraculous life. She has made this all possible for her soon to be big sister.

n/a
n/a
n/a
69

scarlettourwonderfullife.wor..

About Blog - Scarlett has Down syndrome. My initial fears when she was born was for her quality of life, and ours I suppose, would she be ok? Be happy? Lead a "normal" life? Would the picture I had in my mind of family still be a reality – picnics in the park, roast dinners on Sunday? The Mother of a disabled child. I hope that by sharing a little of our lives I can help to change that.

Frequency - about 2 posts per week

n/a
n/a
n/a
70

272
708
n/a
71

About Blog - We adopted Max on May 1, 2009. He was a month old and was born with Down syndrome, as well as a complete AV canal defect {4 holes in his heart}, which required open heart surgery at 5 months old.

n/a
n/a
n/a
72

About Blog - This blog is created to give others encouragement about living with Down syndrome. Our daughter has Down syndrome and is very happy to be alive. In fact, our family has a wonderful life and Monica brings so much joy to us. I hope that this blog will help families have hope and courage when they are surprised by a child with Down syndrome.

n/a
n/a
n/a
73

Southern California, CA, United States

About Blog - Sweet Pea was born on March 29, 2009 and just happens to have Trisomy 21 (aka Down syndrome). Her sister, Angel, was born January 26, 2011. This is our story..

n/a
n/a
n/a
74

Blountville, TN

About Blog - A blog about Down syndrome parenting, adoption, and adults with Down syndrome.

n/a
384
n/a
75

About Blog - Discovering joy in unexpected places - a journey into parenthood and Down's Syndrome
Frequency - about 7 posts per week

157
n/a
n/a
76

About Blog - Three with a twist blog is about family life with Down Syndrome.

n/a
n/a
n/a
77

About Blog - A day-by-day chronicle of life with my daughter Jessie (who has Down syndrome) as she transitions into adulthood and teaches me everything I need to know about life, love, passion, brokenness, and how to enjoy, really enjoy, a hot fudge sundae.

n/a
n/a
n/a
78

jennifergrafgroneberg.wordpr..

About Blog - Pinwheels is my blog about life with Down syndrome authored by jennifergg
Frequency - about 2 posts per week

n/a
n/a
n/a
79

Michigan, USA

About Blog - Down syndrome awareness and life after the loss of our son.
Frequency - about 1 posts per week

751
19
n/a
80

About Blog - An author Maggie is an mother of three year old named Ellie and a new baby girl named Tessa. At her birth, she got to know that Tessa has Down syndrome. This blog is basically written about her girls by her.
Frequency - about 2 posts per week

n/a
n/a
n/a
81

About Blog - Down With Jax Blog is about Adoption, Down syndrome, 2 moms, and our random life adventures.

n/a
n/a
n/a
82

keepinfantswithdownsyndrome...

About Blog - KIDS was formed for the purpose of gathering families who have chldren with Down syndrome and walking together in the annual March for Life in D.C. Our purpose is to raise awareness about the tragically high abortion rate of babies prenatally diagnosed with Down sydnrome. We wish also to proclaim the joys our special children bring to us.

n/a
n/a
n/a
83

learningfromluke.wordpress.c..

About Blog - Lessons learnt from a little boy born with Down Syndrome. Learning from Luke started as a way of dealing with a myriad of emotions that we faced after our unborn child was diagnosed with Down Syndrome as well as putting pen to paper of the great lessons that we have learnt along the way.

n/a
n/a
n/a
84

Stockport, UK

About Blog - Pictures, words and experiences of raising a child with Down's Syndrome.
Frequency - about 7 posts per week

671
1,646
n/a
85

Nebraska

About Blog - A blog about Down Syndrome, midwest living, and raising boys authored by Angie Willey.

n/a
91
n/a
86

About Blog - My daughter is the most beautiful, wonderful light that exists in the universe and she happens to have Down Syndrome.

n/a
n/a
n/a
87

About Blog - Ariel's World is the journey of a girl who just happens to have Down syndrome & where her namesake scented products raise money for Down Syndrome charities.

1,499
89
n/a
88

About Blog - Our unique insight on having a child with Down Syndrome in one big happy family.

534
n/a
n/a