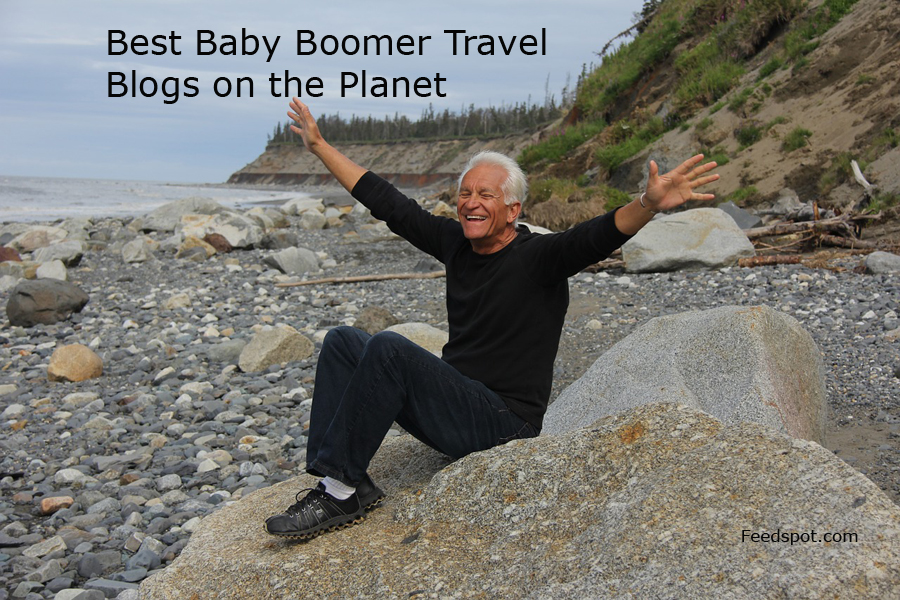 Baby Boomer Travel Blogs List.
The Best Baby Boomer Travel Blogs from thousands of Baby Boomer Travel blogs in our index using search and social metrics. We've carefully selected these websites because they are actively working to educate, inspire, and empower their readers with frequent updates and high-quality information.
If your blog is selected in this list, you have the honour of displaying this Badge (Award) on your blog.
Baby Boomer Travel Blogs

Toronto About Blog The Travelling Boomer is a travel Blog aimed at the older traveler, with information on great destinations, cruising notes, and travel tips.
Frequency 1 post / week
Also in Baby Boomer Blogs
Blog travellingboomer.com
Twitter followers 8K ⋅ Social Engagement 8ⓘ ⋅ Domain Authority 37ⓘ

Portugal About Blog In 2011 Jonathan Look sold everything he owned, took early retirement and began travelling the world. He started this blog to demonstrate to his fellow baby boomers that the world is not some scary place and it is still open and available to those who are motivated and curious enough to go out and see it for themselves.
Frequency 1 post / day
Since Feb 2010
Also in Retirement Travel Blogs
Blog lifepart2.com
Facebook fans 10.9K ⋅ Twitter followers 68.7K ⋅ Instagram Followers 9.8K ⋅ Social Engagement 6ⓘ ⋅ Domain Authority 49ⓘ

Scottsdale, Arizona About Blog We are a Online luxury travel magazine offering destination information, travel news, travel gadget reviews, and more. All delivered with stunning photography and informative videos. Our mission is to inspire you to get out there and explore the wonders of our world.
Frequency 2 posts / week
Since Dec 2009
Blog theroamingboomers.com/blog
Facebook fans 20.7K ⋅ Twitter followers 6.5K ⋅ Instagram Followers 809 ⋅ Domain Authority 42ⓘ

About Blog My name is Barbara Weibel and I'm the person behind Hole in the Donut Cultural Travel. My mission is to Long-term travel to learn about other cultures and bring this information to readers through narrative articles on my travel blog.
Frequency 1 post / week
Since Feb 2000
Blog holeinthedonut.com
Facebook fans 7.6K ⋅ Twitter followers 28.7K ⋅ Instagram Followers 3.1K ⋅ Social Engagement 35ⓘ ⋅ Domain Authority 55ⓘ

Stevensville, Montana About Blog At My Itchy Travel Feet, baby boomers will find inspiration and advice to help plan their next adventure. Baby boomers Donna L. Hull and Alan Hull travel the world recording their experiences with words, photos and videos so that you'll know exactly what to expect.
Frequency 2 posts / week
Since Nov 2008
Blog myitchytravelfeet.com/articles
Facebook fans 12.9K ⋅ Twitter followers 12.2K ⋅ Instagram Followers 2.2K ⋅ Social Engagement 16ⓘ ⋅ Domain Authority 45ⓘ

About Blog We're Kristin Henning and Tom Bartel. In 2010, we sold our business, our home, our possessions, and gave away our dog.We've been traveling the world ever since. Travel Past 50 offers encouragement, entertainment, and information, with sharp writing, personal tales, and professional photography, for travelers over the age of 50.
Frequency 2 posts / week
Since Oct 2010
Also in Couple Travel Blogs
Blog travelpast50.com/blog
Facebook fans 8.2K ⋅ Twitter followers 34.2K ⋅ Instagram Followers 9.6K ⋅ Social Engagement 56ⓘ ⋅ Domain Authority 48ⓘ

British Columbia,Canada About Blog Welcome to Gr8 Travel Tips by Robert. He is a Passionate Travel Blogger focusing on The Millions of Baby Boomers Around the World. He Enjoys Sharing All Kinds of Travel Tips, Travel Inspiration, Exciting Travel Destinations, Travel Health, Travel Fitness, Sports Travel, Travel Products and Much More!
Frequency 13 posts / month
Since Apr 2013
Also in Travel Blogs, Travel Tips Blogs
Blog gr8traveltips.com
Facebook fans 2.7K ⋅ Twitter followers 6K ⋅ Instagram Followers 1.3K ⋅ Social Engagement 13ⓘ ⋅ Domain Authority 39ⓘ

New Zealand About Blog Living in New Zealand and travelling the world, expat Rhonda Albom takes you on a vicarious adventure as she captures the essence of travel through photography, stories, tips, and humour. She inspires young baby boomers to travel New Zealand and the world.
Frequency 2 posts / month
Since Apr 2011
Also in Expat Blogs, American Expat Blogs
Blog albomadventures.com
Facebook fans 3K ⋅ Twitter followers 26.3K ⋅ Instagram Followers 3.5K ⋅ Social Engagement 86ⓘ ⋅ Domain Authority 44ⓘ

About Blog Welcome to GettingOnTravel (GOT)! An online magazine for the 50 luxury traveler. We feature eye-opening explorations by award-winning travel writers.
Frequency 4 posts / month
Since Sep 2017
Blog gettingontravel.com
Facebook fans 1.1K ⋅ Twitter followers 1.4K ⋅ Instagram Followers 269 ⋅ Social Engagement 64ⓘ ⋅ Domain Authority 34ⓘ

Los Angeles About Blog The Opinionated Travelogue of a Photo Maniac. This is a travel blog providing information about beautiful vacation spots, good eats and interesting places around the world.
Frequency 1 post / week
Since Jan 2009
Blog travelnotesandbeyond.com
Facebook fans 1.7K ⋅ Twitter followers 2.6K ⋅ Instagram Followers 348 ⋅ Social Engagement 39ⓘ ⋅ Domain Authority 39ⓘ

New York, USA About Blog More Time to Travel is a site that provides advice, information and inspiration for travellers who have reached their midlife. Follow us to keep up with Travel advice, information, & inspiration for travelers over 50 from Irene S. Levine, an award-winning freelance journalist. Topics include - Destinations, Cruises, Food, Hotels, Tips, and Photo galleries.
Frequency 1 post / week
Since Mar 2012
Blog moretimetotravel.com
Twitter followers 6.2K ⋅ Instagram Followers 746 ⋅ Social Engagement 17ⓘ ⋅ Domain Authority 57ⓘ

Toronto, Ontario, Canada About Blog This is a Travel blog of semi-retired couple featuring Europe, trips to south, cruising and North American road trips.
Frequency 1 post / week
Since Jan 2014
Also in Canada Travel Blogs
Blog retiredandtravelling.com
Facebook fans 779 ⋅ Twitter followers 14.9K ⋅ Instagram Followers 3.6K ⋅ Social Engagement 9ⓘ ⋅ Domain Authority 27ⓘ

Scottsdale, AZ About Blog Catherine Sweeney brings you the best of Europe and North America travel destinations by seizing every travel opportunity she can. She's a boomer woman travel enthusiast with a lifelong passion for going places.
Frequency 1 post / week
Since Nov 2010
Blog travelingwithsweeney.com
Facebook fans 2.4K ⋅ Twitter followers 11.6K ⋅ Instagram Followers 4.1K ⋅ Social Engagement 21ⓘ ⋅ Domain Authority 40ⓘ

About Blog Wandering Rose Travels is the story of a couple of baby boomers, living the dream of exploring the world and being active outdoors. This blog is our perspective on traveling, from the seat of a bicycle to the top of a mountain. It's staying in unique places and sampling local food and drink. It's rambling through quaint Alpine villages, the Florida Keys, and a little bit of everywhere in between.
Frequency 2 posts / month
Blog wanderingrosetravels.com
Facebook fans 5.2K ⋅ Instagram Followers 964 ⋅ Social Engagement 40ⓘ ⋅ Domain Authority 22ⓘ

BOS/ACK About Blog Baby Boomer and founder Alison Abbott has been a multi discipline designer for all of her adult life. She is a serious adventurer, content creator and small business strategist, who is enthusiastic about keeping it local whether at home or abroad. Alison shares the experience of eco-friendly travel and lifestyle through Green With Renvy.
Frequency 2 posts / quarter
Blog greenwithrenvy.com
Facebook fans 2.3K ⋅ Twitter followers 11.7K ⋅ Instagram Followers 16.5K ⋅ Social Engagement 93ⓘ ⋅ Domain Authority 35ⓘ

South America About Blog dare2go is the overland travel blog, written with regular tourists & overlanders in mind. We share our life on the road, beautiful photos, and advice from our experiences.
Frequency 3 posts / month
Blog dare2go.com
Facebook fans 1.3K ⋅ Twitter followers 882 ⋅ Instagram Followers 497 ⋅ Social Engagement 25ⓘ ⋅ Domain Authority 38ⓘ

About Blog We are Ron and Michele, an Australian couple from Perth who have decided not to wait until we retire to travel the world but get out there and embrace life while we are still young. We hope our blog inspires you to step out of your comfort zone and do something different to live the life you love be it travel, study, work or your relationships.
Frequency 1 post / month
Blog leggingit.com.au
Facebook fans 1K ⋅ Instagram Followers 1.5K ⋅ Social Engagement 1ⓘ ⋅ Domain Authority 30ⓘ

Marco Island, Florida About Blog American Baby Boomer sisters traveling internationally to bring you humorous, useful travel tales and advice.
Blog blondebrunettetravel.com
Facebook fans 12.5K ⋅ Twitter followers 32.3K ⋅ Instagram Followers 9.1K ⋅ Domain Authority 35ⓘ

Philadelphia, PA, USA About Blog Boomeresque is a forum for posts and discussions about Baby Boomer Travels for the Body and Mind.
Frequency 1 post / week
Since Aug 2010
Blog boomeresque.com
Facebook fans 964 ⋅ Twitter followers 1.9K ⋅ Social Engagement 28ⓘ ⋅ Domain Authority 38ⓘ

North Port, Florida About Blog Blog by Jennifer Huber, and I am just your average forty-something-year-old gal who travels solo. Empowering others to travel alone, not lonely.
Frequency 1 post / week
Since Apr 2009
Also in Solo Travel Blogs, Solo Female Travel Blogs
Blog solotravelgirl.com/the-blog
Facebook fans 3.4K ⋅ Twitter followers 10.8K ⋅ Instagram Followers 591 ⋅ Social Engagement 2ⓘ ⋅ Domain Authority 40ⓘ

Washington State About Blog This Blog shares the experiences of two average boomers that love to travel. We share the sights, some recommendations, and reviews.
Frequency 18 posts / year
Blog arnieandjoareonthego.com/arn..
Facebook fans 1.7K ⋅ Twitter followers 5K ⋅ Instagram Followers 821 ⋅ Social Engagement 1ⓘ ⋅ Domain Authority 27ⓘ

Australia About Blog We are Jo and Alan, two Remote Area Nurses (RANs) in the process of planning our lives around approaching retirement. We are both very keen travellers and have no plans to slow down any time. This blog will be a bit of a mish-mash of our passed travels, remote work and future (I hope) travel plans.
Frequency 23 posts / year
Blog travegraphics.com/blog
Instagram Followers 1.2K ⋅ Domain Authority 11ⓘ

Ontario, Canada About Blog Welcome to the two travelling toques. We are Kimberley and Jerry. A Canadian couple who have been married for over 30 years. We've always had a passion for travel. So follow us as we prepare for this crazy next journey in life!
Frequency 2 posts / month
Blog twotravellingtoques.com
Facebook fans 90 ⋅ Twitter followers 7K ⋅ Social Engagement 11ⓘ ⋅ Domain Authority 16ⓘ

About Blog We are Cath and Ian, an Aussie couple who love food, wine and travelling. Over the last 5 years we have traveled together, starting with a few weeks at a time until 2017 when we are travelling for 12 months. This is our travel blog to inspire you to take up travelling independently. Subscribe us for tips and tales from our travels to help and inspire you to Possess the World.
Blog possesstheworld.com
Facebook fans 826 ⋅ Domain Authority 22ⓘ

About Blog Travel blog with ideas, information & reviews for the older, active traveller - from Australia to Zululand!
Frequency 1 post / month
Blog notdunroamin.com
Facebook fans 383 ⋅ Twitter followers 46 ⋅ Instagram Followers 364 ⋅ Social Engagement 14ⓘ ⋅ Domain Authority 13ⓘ

Nashville, Tennessee, United States About Blog Southern Girl Gone Global, a lifestyle/travel blog, is a heart's journey of a single mom, writer, and educator who left her empty Nashville nest to find beauty, adventure, and relationship across 4 continents and the Caribbean.
Frequency 1 post / month
Since Dec 2008
Blog southerngirlgoneglobal.com
Twitter followers 598 ⋅ Instagram Followers 919 ⋅ Social Engagement 7ⓘ ⋅ Domain Authority 13ⓘ

Australia About Blog Paula and Gordon of Contented Traveller, are Destination & Experience Marketers. This is a travel blog sharing how to get the best experiences when you travel; because you have worked hard and you've earned it.
Frequency 21 posts / year
Since May 2013
Blog contentedtraveller.com
Facebook fans 12.9K ⋅ Twitter followers 25.9K ⋅ Instagram Followers 18.9K ⋅ Social Engagement 27ⓘ ⋅ Domain Authority 50ⓘ