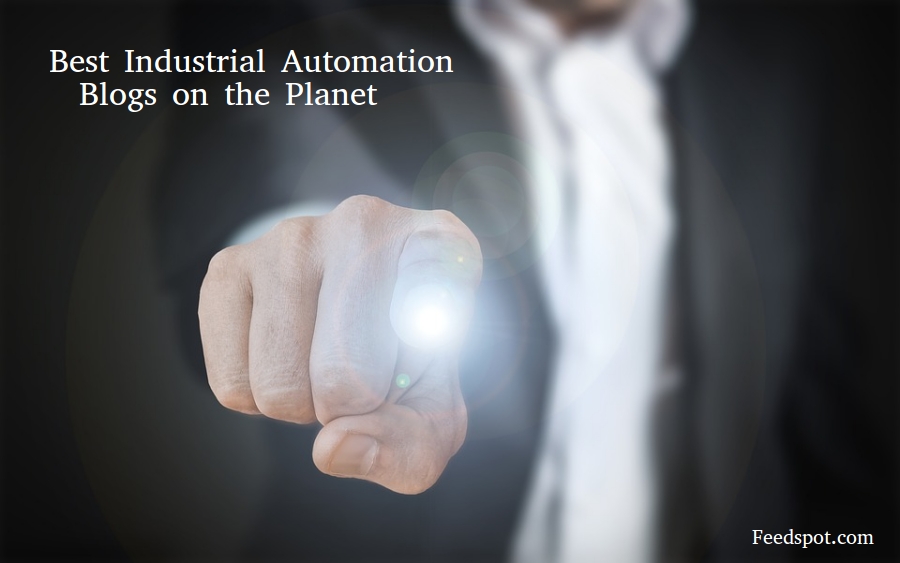 Industrial Automation Blogs List.
The Best Industrial Automation blogs from thousands of top Industrial Automation blogs in our index using search and social metrics. Data will be refreshed once a week. Also check out Automation Podcasts.
If your blog is selected in this list, you have the honour of displaying this Badge (Award) on your blog.
Automation Blogs

Research Triangle Park, NC About Blog Providing automation professionals with news and information to automate manufacturing factories and processes, solve problems, improve production efficiencies. Follow to keep up with News & Resources for Manufacturing, Factory & Industrial Automation; Process Control; Motion Control & Instrumentation.
Frequency about 34 posts per week.
Website automation.com/automation-news
Facebook fans 1,941. Twitter followers 18,347.

About Blog Robotics and Automation News covers the robotics and automation industries around the world.
Frequency about 34 posts per week.
Website roboticsandautomationnews.com
Facebook fans 137. Twitter followers 1,085.

Chicago, IL About Blog Automation World is the leading publication for automation professionals working in discrete, batch and process manufacturing industries. Readers will discover the latest new products and technologies, articles on management issues, Industrial Ethernet, Packaging Automation, and other topics that matter now to automation professionals.
Frequency about 4 posts per week.
Website automationworld.com/blog
Facebook fans 5,464. Twitter followers 23,354.

Northern Ireland About Blog The Centre of the Home Automation Community with News, Reviews, Forums, Wiring Guide and Tutorials.
Frequency about 3 posts per month.
Also in Home Automation Blogs, IOT Blogs
Website automatedhome.co.uk
Facebook fans 1,415. Twitter followers 38,511.

About Blog Robohub is a non-profit online communication platform that brings together experts in robotics research, start-ups, business, and education with news, views from around the world.
Frequency about 8 posts per week.
Also in Robot Blogs
Website robohub.org
Facebook fans 7,553. Twitter followers 13,637.

Mountain View, CA About Blog Comprehensive up-to-date coverage for automation, aggregated from news sources all over the world by Google News.
Frequency about 56 posts per week.
Website news.google.com/news/section..
Facebook fans 21,890,713. Twitter followers 212,822.

San Francisco, CA About Blog A place for the discussion of automation, additive manufacturing, robotics, AI, and all the other tools we've created to enable a global paradise free of menial labor. All can share in our achievements in a world where food is produced, water is purified, and housing is constructed by machines.
Frequency about 15 posts per week.
Website reddit.com/r/Automate
Facebook fans 1,082,043. Twitter followers 466,466.

RTP, Raleigh, NC About Blog The International Society of Automation is a nonprofit professional association that sets the standard for those who apply engineering and technology to improve the management, safety, and cyber-security of modern automation and control systems used across industry and critical infrastructure.
Frequency about 1 post per month.
Website youtube.com/user/isawebgroup..
Facebook fans 17,398. Twitter followers 14,497.

Southern California About Blog A News and Information Resource for the Automation, Security & A/V Systems Industry. Daily News Stories, Products, Industry Tools, Hundreds of Articles and more.
Frequency about 9 posts per week.
Website hometoys.com
Facebook fans 243. Twitter followers 2,076.

Framingham, MA About Blog Gain a competitive edge in the global robotics industry. Access critical robotics research, news, analysis, business transactions, and much more.
Frequency about 10 posts per week.
Website roboticsbusinessreview.com
Facebook fans 499. Twitter followers 5,367.

About Blog Follow this blog for industry & product news. Updated weekly with posts on helpful application stories, white papers, e-books and more. In business since 1994, AutomationDirect is a distributor offering thousands of industrial automation products for electrical control systems, including PLCs, operator interfaces, AC drives, motors, stepper systems, sensors, motor controls, enclosures and more.
Frequency about 2 posts per week.
Website library.automationdirect.com..
Facebook fans 14,071. Twitter followers 2,940.

Boston, MA About Blog Rethink Robotics is leading the way in advanced robotic technology with collaborative robots; changing the way robots are used in research and industry. The Baxter Research Robot is a fully functional humanoid robot platform including sensor suite for research and teaching applications.
Frequency about 3 posts per month.
Website rethinkrobotics.com/blog
Facebook fans 7,927. Twitter followers 20,402.

Home About Blog Read the Nest blog to get the latest information about Nest. You'll get an inside look at the Nest Learning Thermostat, Nest Protect, and the people who make them.
Frequency about 1 post per month.
Website nest.com/blog
Facebook fans 448,020. Twitter followers 168,963.

St. Louis, MO USA About Blog Official home of Emerson's process automation systems and solutions on YouTube.
Frequency about 2 posts per week.
Website youtube.com/user/DeltaVsyste..
Facebook fans 49,437. Twitter followers 12,681.

About Blog SmartThings lets you easily monitor, control, and secure your home from anywhere. You can stay connected to loved ones when you're on the go; control and program lights, temperature, and more; and protect your home more affordably than with a traditional home security system.
Frequency about 1 post per month.
Website blog.smartthings.com
Facebook fans 57,936. Twitter followers 39,602.

1031 Goodworth Dr. Apex, NC About Blog ATI Industrial Automation is the leading engineering-based world developer of robotic accessories and robot arm tooling, including Automatic Tool Changers, Multi-Axis Force/Torque Sensing Systems, Utility Couplers, Robotic Deburring Tools, Robotic Collision Sensors, and Compliance Devices.
Frequency about 1 post per month.
Website youtube.com/user/ATIendeffec..
Facebook fans 824. Twitter followers 1,350.

San Jose, CA About Blog Cisco (NASDAQ: CSCO) is the worldwide technology leader that has been making the Internet work since 1984. Their people, products, and partners help society securely connect and seize tomorrow's digital opportunity today.
Frequency about 1 post per month.
Website blogs.cisco.com/tag/industri..
Facebook fans 836,982. Twitter followers 6,567.

Bangalore About Blog IoT India Magazine is India's very first online magazine dedicated solely to 'Internet of Things' and related areas like wearables and smart cities.
Frequency about 1 post per month.
Website iotindiamag.com
Facebook fans 2,231. Twitter followers 642.

Oxnard, California U.S.A. About Blog America's leading CNC machine tool manufacturer. Founded by Gene Haas in 1983. Haas Automation is the largest machine tool builder in the western world, manufacturing a complete line of CNC vertical machining centers, horizontal machining centers, CNC lathes and rotary products.
Frequency about 1 post per week.
Also in CNC Blogs
Website youtube.com/user/haasautomat..
Facebook fans 51,755. Twitter followers 25,264.

Washington D.C. About Blog Alarm.com is the leading platform solution for the connected home and business. Millions of people depend on Alarm.com's technology to monitor and control their property from anywhere. Our security, video monitoring, intelligent automation and energy management solutions are available through our network of thousands of professional service providers in North America and around the globe.
Frequency about 1 post per month.
Website alarm.com/blog
Facebook fans 107,351. Twitter followers 17,759.

About Blog Advantech Industrial Automation Group is a 30 year strong global pioneer in intelligent Automation technology. They are at the leading-edge of Internet of Things technology, offering products and solutions for Intelligent HMI platforms, Industrial Ethernet, Wireless Communication, Automation Controllers, Automation Software, Embedded Automation Computers, Distributed I/O Modules.
Frequency about 3 posts per month.
Website blog.aac.advantech.com
Facebook fans 149. Twitter followers 9.

New York About Blog Wink is the smarter way to a simpler home. The Wink app is a beautifully designed platform that keeps you connected to your home—no matter where you are. Simple controls allow you to monitor and manage everything in your home.
Frequency about 1 post per month.
Website blog.wink.com
Facebook fans 27,660. Twitter followers 13,905.

Reading, Berkshire About Blog The destination for smart home news. Discover the latest product and software news, tips for building a smart home, real life case studies and more.
Frequency about 1 post per week.
Website loxone.com/enen/blog
Facebook fans 2,264. Twitter followers 3,752.

About Blog Your Connection for Home Theater, Electronics, Automation, Reviews, Photos, Info and More.
Frequency about 3 posts per week.
Website electronichouse.com
Facebook fans 10,748. Twitter followers 9,925.

Esslingen, Germany About Blog Festo is a leading world-wide supplier of automation technology, performance leader in industrial training & education programs.
Frequency about 3 posts per week.
Website youtube.com/user/FestoAutoma..
Facebook fans 18,599. Twitter followers 5,719.

Denmark About Blog Robotics within Reach - that's what this blog is all about. Here you'll find inspiring stories on how collaborative robots - or cobots - are lowering the automation barrier. And learn how the UR cobots can benefit your business.
Frequency about 3 posts per month.
Website blog.universal-robots.com
Facebook fans 320,648. Twitter followers 9,780.

About Blog UiPath is the leading Robotic Process Automation vendor providing a complete software platform to help you efficiently automate business processes.
Frequency about 2 posts per month.
Website uipath.com/blog
Facebook fans 5,996. Twitter followers 25,042.

Santa Monica, CA About Blog Design News owns the largest trusted community of design engineers in the horizontal engineering space. Coverage at Design News is based on four key pillars, which are the backbone of just about every design project: Electronics & Test, Automation & Control, Materials & Assembly, and Design Hardware & Software.
Frequency about 9 posts per week.
Website designnews.com/automation
Facebook fans 39,606. Twitter followers 18,683.

About Blog Learn about the latest developments in routers. How mesh, voice, and smart home technology are enabling complete home WiFi coverage and better home security.
Frequency about 1 post per month.
Website blog.securifi.com
Facebook fans 2,469. Twitter followers 1,761.

Worldwide About Blog Your go-to source for material handling automation and supply chain information.
Frequency about 1 post per week.
Website bastiansolutions.com/blog
Facebook fans 992. Twitter followers 4,969.

Itasca, Illinois About Blog CONTROL is the only magazine exclusively dedicated to the global process automation market with a readership of 65,000 plus engineering, operations and management professionals. The publication reports on developing trends, illustrates successful applications, and updates the basic skills and knowledge base that provide the profession's foundation.
Frequency about 3 posts per month.
Website controlglobal.com/blogs
Facebook fans 1,660. Twitter followers 9,449.

Miami, London, Manchester About Blog Blue Prism invented the term Robotic Process Automation. Their software platform enables business operations to be agile and cost effective through rapid automation of manual, rules based, back office administrative processes, reducing cost and improving accuracy by creating a "digital workforce".
Frequency about 1 post per month.
Website blueprism.com/newsandevents
Facebook fans 2. Twitter followers 7,702.

Berkshires, MA About Blog Insights In Automation is dedicated to sharing automation know-how and experience via blogs, podcasts, videos, and affordable training courses.
Frequency about 1 post per week.
Website theautomationblog.com
Facebook fans 133. Twitter followers 133.

Naperville, IL About Blog ConnectSense is the perfect solution for automating your home or business, allowing you to control everything from your living room to your server room. Their line of wireless products is steeped in the technology of the Internet of Things.
Frequency about 1 post per month.
Website blog.connectsense.com
Facebook fans 8,674. Twitter followers 1,832.

Algonquin, Illinois About Blog Marshall Wolf Automation is first, and obvious, choice for industrial automation products and services. Authorized industrial automation distributor with amazing customer service, in-house tech support and great pricing
Frequency about 3 posts per month.
Website wolfautomation.com/blog
Facebook fans 273. Twitter followers 724.

Schaumburg, IL About Blog Smart Industry is a conference & expo, print publication and online information resource created to accelerate the ongoing digital transformation of manufacturing and related industries, as represented by the convergence of information and operational technologies and industrywide movements such as the Industrial Internet of Things (IIoT), Industrie 4.0 and big data analytics.
Frequency about 3 posts per month.
Website smartindustry.com/blog
Facebook fans 205. Twitter followers 2,356.

Palo Alto, CA About Blog Welcome to Ayehu IT Process Automation blog. Your online source of knowledge and know-how for IT Process Automation. Stay tuned for latest news & reviews, best practices, whitepapers, ebooks, video tutorials and webinars.
Frequency about 3 posts per month.
Website ayehu.com/it-process-automat..
Facebook fans 342. Twitter followers 742.

Austria About Blog As a global leader in industrial automation, B&R combines state-of-the-art technology with advanced engineering to provide complete solutions for process automation.
Frequency about 4 posts per month.
Website youtube.com/user/BerneckerRa..
Facebook fans n/a. Twitter followers 5,579.

About Blog The world's first test automation tool that doesn't require sophisticated understanding and coding experience to build even complex test automation cases. Automate 10 times faster with Leaptest than with regular test automation tools.
Frequency about 1 post per month.
Website leaptest.com/blog
Facebook fans 555. Twitter followers 572.

Florence, KY About Blog This blog is sponsored and administered by Balluff, a leading global supplier of sensors for automation. Although they certainly have a vested interest in selling sensor products to the market, they are dedicated to the successful implementation of sensor technology by the automation community at large.
Frequency about 4 posts per month.
Website sensortech.wordpress.com
Facebook fans 2,867. Twitter followers 5,382.

US About Blog Redwood is the global business and IT process automation expert. They increase the value of existing information technology, information management and infrastructure investments.
Frequency about 1 post per month.
Website redwood.com/blog
Facebook fans 89. Twitter followers 605.

Shakopee, MN About Blog This is KEB America's homepage. KEB manufactures electromagnetic clutches and brakes, integral gearmotors, drives, HMIs, and industrial controls.
Frequency about 2 posts per month.
Website kebblog.com
Facebook fans 118. Twitter followers 128.

Australia About Blog SCOTT are a leading provider of automation & robotic solutions globally designed to improve productivity, reliability, yield, and safety.
Frequency about 1 post per month.
Website scottautomation.com/news-2
Facebook fans 2,147. Twitter followers 294.

Nashville, TN About Blog A smart home blog documenting journey to find the perfect solutions to make home safer, more organized, and a better place to live.
Frequency about 1 post per month.
Website athomeinthefuture.com
Facebook fans 131. Twitter followers 471.

San Clemente, CA About Blog Smarter Home Automation is part of Projector Reviews, Inc. This is all about helping people understand their options when it comes to putting the latest and greatest in the "new school," Internet of Everything, home automation world.
Frequency about 1 post per month.
Website smarterhomeautomation.com/blog
Facebook fans 101. Twitter followers 87.

Worldwide About Blog Top Image Systems Blog is sharing innovative and useful information from industry experts about relevant topics in digital content transformation.
Frequency about 1 post per month.
Website topimagesystems.com/blog
Facebook fans 650. Twitter followers 1,097.

Houston About Blog GIL Automation is an international systems integrator that partners with our customers to provide systems that work. They have core competence in Metering, Instrumentation, Control, Panel Building, Electrical, Safety Systems and Technical training to Industrial clients.
Frequency about 1 post per month.
Website blog.gilautomation.com
Facebook fans 4,639. Twitter followers 2,032.


United States and Brazil About Blog Sharing automation knowledge articles on automation and information solutions including ideas about how to optimize your facility and increase the return on your investment.
Frequency about 1 post per month.
Website info.avidsolutionsinc.com/blog
Facebook fans 141. Twitter followers 269.

Atlanta, GA About Blog SoftWear Automation is disrupting the $100B sewn products industry by replacing sewing labor with cutting edge robots. SoftWear Automation strives to be the first & sole supplier of general case robotic sewing machines that are capable of automatically sewing garments both accurately and reliably.
Frequency about 3 posts per month.
Website softwearautomation.com
Facebook fans 288. Twitter followers 774.

Cheltenham, Preston and India About Blog Enate Blog is About Enate Business Process Automation & Management Software, RPA & Shared services automation software
Frequency about 2 posts per month.
Website enate.net/blog
Facebook fans n/a. Twitter followers 184.

Anaheim, CA About Blog Quantum automation is dedicated to providing the highest quality networking and control products available, on time, to the utility, petrochemical, food, maritime, water/wastewater, and related industrial industries.
Frequency about 4 posts per month.
Website quantumautomation.com/blog
Facebook fans 53. Twitter followers 177.

Ann Arbor, Michigan About Blog Promoting Automation Technologies and Ideas that Transform the Way Business is Done. A3 represents over 1,000 automation manufacturers, component suppliers, system integrators and end users that are driving automation forward.
Frequency about 1 post per month.
Website a3automate.org/blog
Facebook fans n/a. Twitter followers 1,069.

Portage Michigan About Blog Automation Design Entertainment is a full service Residential and Commercial Automation company servicing Michigan. For lighting control, motorized shades, security, or networking needs.
Frequency about 1 post per month.
Website automation-design.com/blog
Facebook fans 548. Twitter followers 174.

Driftwood, TX USA About Blog Guide to a smart, sustainable, healthy house. home. House Digitized House Magazine is the all-digital, original-content source for engaged homeowners, exploring the convergence of the smart house, the sustainable house, and the zero energy house.
Frequency about 2 posts per week.
Website digitized.house
Facebook fans 745. Twitter followers 3,090.

Ahmedabad, INDIA About Blog B2B Portal for Industrial Automation. A&C TODAY a bi-monthly magazine about automation and control and get caught up in the here and now of the fast paced Indian industry. Know the latest automation products news, technology, research, companies, people, event, news, views, issues, movers & shakers.
Frequency about 1 post per month.
Website aandctoday.com/newsline
Facebook fans 2,552. Twitter followers 555.

Singapore About Blog SSON Analytics is the global analytics centre of the Shared Services & Outsourcing Network (SSON), the world's largest shared services, outsourcing and business transformation community. SSON Analytics provides digestible data-driven insights into the shared services and outsourcing industry.
Frequency about 1 post per month.
Website sson-analytics.com/robotic-p..
Facebook fans 2,286. Twitter followers 372.

About Blog Stay up to date with the latest industry news focused on automation technology, industrial control systems, and industrial cyber security.
Frequency about 1 post per month.
Website bedrockautomation.com/news
Facebook fans 80. Twitter followers 245.

Europe About Blog Omron Corporation is a leading industrial automation company that leverages its core sensing & control technologies to expand into businesses, such as control components, electronic components, automotive electronic components, social infrastructure, healthcare, and the environment.
Frequency about 1 post per month.
Website youtube.com/user/omronEurope..
Facebook fans 1,429. Twitter followers 4,075.

Cambridge, Ontario, Canada About Blog Eclipse Automation Inc. is a leading supplier of custom automated manufacturing equipment and engineering services to energy, life sciences, transportation, and other manufacturing industries.
Frequency about 1 post per month.
Website eclipseautomation.com/home/n..
Facebook fans 193. Twitter followers 469.

Pittsburgh, PA About Blog Stay up-to-date on industry-related trends, topics, and technology. Everything in industrial automation, manufacturing, and control panels.
Frequency about 1 post per month.
Website info.panelshop.com/blog
Facebook fans 69. Twitter followers 2,196.

Wisconsin About Blog PCC News provides the latest in industrial automation and manufacturing industry news, product features, whitepapers and educational events.
Frequency about 1 post per month.
Website pccweb.com/news
Facebook fans 85. Twitter followers 584.

Burnsville, MN About Blog A site devoted to providing educational and informative information on industrial process instrumentation and power utility controls. Topics will include information regarding process control, flowmeter selection, toxic and combustible gas detection, process weighing, analytical measurements both liquid and gas, transducers for electrical metering, and protective relaying.
Frequency about 2 posts per month.
Website blog.arjaynet.com
Facebook fans 8. Twitter followers 8.

United States and Canada About Blog Gray Matter Systems is committed to providing hardware and software solutions, training, consulting, and domain expertise – giving industries the power to identify problems, reduce risk, and take action to deliver significantly better outcomes.
Frequency about 4 posts per month.
Website graymattersystems.com/blog-page
Facebook fans 117. Twitter followers 576.

North West, England About Blog Conveyor Networks provide a complete package for warehouse and factory logistics automation, software and conveyor hardware.
Frequency about 1 post per month.
Also in Warehouse Blogs
Website conveyornetworks.co.uk/blog
Facebook fans n/a. Twitter followers 222.

India About Blog Automation Expo, the largest Automation & Instrumentation exhibition of South-East Asia is all set to make a mark in 2017 as well.
Frequency about 1 post per week.
Website automationindiaexpo.com/blog-1
Facebook fans 4,209. Twitter followers 37.

Waltham, MA About Blog Your Intelligent Manufacturing Automation Partner, Delivering the Factory of the Future. Plataine is an award-winning leading provider of Intelligent Automation solutions for advanced manufacturing of various industries.
Frequency about 1 post per month.
Website plataine.com/blog
Facebook fans 70. Twitter followers n/a.

West Sussex, UK About Blog The Door Industry Journal is an independently produced trade journal, published by Avalon Innovations LLP on behalf of the door, security, lock, ironmongery and automated gate industries. Their printed and online content features news from the Industrial Door, Garage Door, Entrance Door, Fire Door, Timber & Metal Doorset, Domestic and Commercial Powered Gate, Fire and Security, Building Hardware.
Frequency about 7 posts per week.
Website blog.doorindustryjournal.co.uk
Facebook fans 102. Twitter followers 3,230.

Montréal About Blog Polytron's Industrial Automation and Manufacturing Intelligence Engineers post regular updates and articles on trends, news and insights in the industry.
Frequency about 1 post per month.
Website polytron.com/blog
Facebook fans 1,037. Twitter followers 34,381.

Auburn Hills, Michigan About Blog Stay up to date on the latest stories in the engineering industry. Follow news section for all the latest info.
Frequency about 1 post per month.
Website esysautomation.com/about/news
Facebook fans 224. Twitter followers 209.

UK and International About Blog All the latest news and product information from Ellard including the latest products and developments from the world of gate automation.
Frequency about 2 posts per month.
Website ellard.co.uk/news
Facebook fans 148. Twitter followers 1,060.

UK About Blog 999 Automation is a single on-line resource for your automation and control product requirements.
Frequency about 1 post per week.
Website blog.999automation.com
Facebook fans 19. Twitter followers 379.

Cambridge, England About Blog Granta Automation - specialists in bespoke automation, control systems and robotics for a wide range of industries from pharmaceutical to industrial automation
Frequency about 1 post per month.
Website granta-automation.co.uk/news
Facebook fans 430. Twitter followers 76.

About Blog Cordis Technology, Best business process automation solutions provider giving businesses the power to control & manage performance through advanced automation.
Frequency about 1 post per month.
Also in CRM Blogs
Website cordis.us/blog
Facebook fans 159. Twitter followers 18.

New York About Blog HTE designs elite systems, incorporating the functionality of luxury technology into high-end decor. HTE has been providing automation and entertainment systems to discerning clients since 2004.
Frequency about 1 post per month.
Website hteny.com/news
Facebook fans 477. Twitter followers 2.

Colorado Springs, CO About Blog Convergent Performance applies the latest in human factors research to high-risk industries wanting to reduce error, increase professionalism, and optimize the human/machine interface.
Frequency about 1 post per month.
Website convergentperformance.com/au..
Facebook fans 264. Twitter followers 149.

Locations in IL and WI About Blog CMA/Flodyne/Hydradyne is a full service distributor with an in house engineering and systems group. They provide a complete machine automation and control solution for machine builders and industrial end users.
Frequency about 3 posts per month.
Website cmafh.wordpress.com
Facebook fans 4,226. Twitter followers 661.

Cambridge, Ontario About Blog RidgeTech Automation Inc. was built to specialize in control systems integration, with a keen understanding that there is a much bigger picture. The control system is the nerve centre of a much larger entity, and we work hard to ensure that our solutions consider every aspect of the machine or system.
Frequency about 1 post per month.
Website ridgetech.com/news
Facebook fans 4. Twitter followers 13.

Houston, Texas About Blog Smart technology integrators of the Houston Texas region, explains how home automation enhances your lifestyle with added convenience, comfort, security and aesthetics.
Frequency about 1 post per month.
Website sesdesigngroup.com/index.php..
Facebook fans 430. Twitter followers 53.

USA About Blog Digital Transformation through SMART - Straight Through Processing, Robotic Process Automation and Business Process Management.
Frequency about 1 post per month.
Website lateetud.com/blog
Facebook fans 312. Twitter followers 5,528.

Northampton NN1 5AJ About Blog Jalubro Consulting is a fast growing and highly competent UK based IT services and business solutions provider. They partners with clients to identify, deliver and sustain business improvement through the implementation of new strategies, processes and technologies.
Frequency about 1 post per month.
Website jalubro.com/blog
Facebook fans 3,331. Twitter followers 6.

Dallas, Texas About Blog Matthew John Smith is automation leader for Cognizant in Emerging Business Accelerator organization. Their Automation practice works closely with Cognizant's vertical and horizontal business units, various technology teams as well as external providers of automation, AI and other cognitive technologies.
Frequency about 1 post per month.
Website matthew-j-smith.com/blog-2
Facebook fans n/a. Twitter followers 1,782.

New York About Blog WorkFusion Intelligent Automation software provides all the capabilities enterprise leaders need to digitize their operation. Committed to powering the digital transformation of work.
Frequency about 2 posts per month.
Website blog.workfusion.com
Facebook fans 249. Twitter followers 1,699.

Long Beach, CA About Blog Delmia Apriso team of world-class manufacturing experts and others share their news, perspectives and best practices.
Frequency about 4 posts per month.
Website apriso.com/blog
Facebook fans 530. Twitter followers 925.
These blogs are ranked based on following criteria
Google reputation and Google search ranking
Influence and popularity on Facebook, twitter and other social media sites

Quality and consistency of posts.

Feedspot's editorial team and expert review
Top 80 Industrial Automation Blogs Winners
CONGRATULATIONS to every blogger that has made this Top Industrial Automation blogs list! This is the most comprehensive list of best Industrial Automation blogs on the internet and I'm honoured to have you as part of this! I personally give you a high-five and want to thank you for your contribution to this world.
If your blog is one of the Top 80 Industrial Automation blogs, you have the honour of displaying the following badge on your site. Use the below code to display this badge proudly on your blog. You deserve it!:
<a href="https://blog.feedspot.com/automation_blogs/" title="Automation Blogs"><img src="https://blog-cdn.feedspot.com/wp-content/uploads/2017/03/automation_transparent_216px.png" ></img></a>