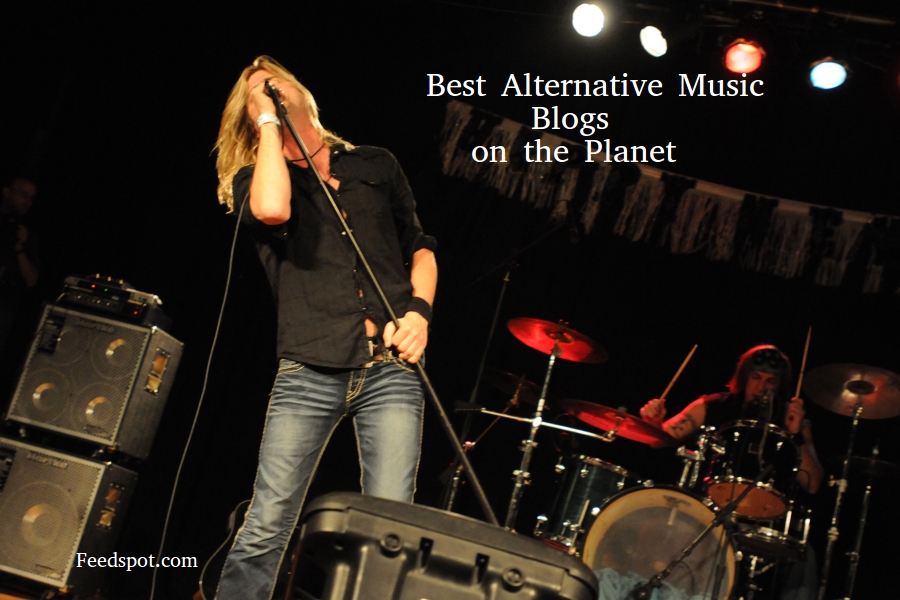 Alternative Music Blogs List.
The Best Alternative Music blogs from thousands of top Alternative Music bloggers in our index using search and social metrics. Data will be refreshed once a week.
If your blog is selected in this list, you have the honour of displaying this Badge (Award) on your blog.
Alternative Music Blogs

New York About Blog Diffuser provide Alternative and indie rock music news. Chronicling the past, present and future of alternative music.
Frequency about 5 posts per week.
Blog diffuser.fm
Facebook fans 78,390. Twitter followers 41,176.

Newport Beach, CA About Blog AlternativeNation.net was opened in May 2009 by Brett Buchanan and it covers the currently active bands from the Grunge era and 90's. Alternative Nation provide news on guitar based alternative rock bands that don't suck from the 90's onwards.
Frequency about 84 posts per week.
Blog alternativenation.net
Facebook fans 74,259. Twitter followers 23,096.

About Blog Magazine brings you the latest rock, metal, pop-punk and metalcore music news and reviews, music videos and pictures. They are are the real alternative. has consistently been first to cover the best new bands (as well as the biggest ones) in the alternative world.
Frequency about 24 posts per week.
Also in Rock Music Blogs
Blog rocksound.tv/news
Facebook fans 677,517. Twitter followers 374,434.

Manchester About Blog Louder Than War is the UK's fastest growing and award-winning music and culture website. Louder Than War is a music and counter culture website and record label. Launched in 2010 www.louderthanwar.com brings you all the latest music latest rock, punk, metal and alternative music news, album and gig reviews, news and interviews as well as covering counter culture film, TV and art.
Frequency about 24 posts per week.
Since Sep 2010
Also in UK Rock Music Blogs, Alternative Music Blogs UK
Blog louderthanwar.com/blogs
Facebook fans 34,190. Twitter followers 32,473.

Toronto About Blog Chart Attack is a guide to indie and alternative music, based out of Toronto, Canada, online since 1996. They're dedicated in showcasing great music that pushes expectations of genre, and getting to know the people who make it through written features and video features.
Frequency about 1 post per month.
Since Apr 2000
Also in Canadian Music Blogs, Toronto Music Blogs
Blog chartattack.com/news
Facebook fans 11,468. Twitter followers 9,888.

About Blog Overblown Webzine is a UK and Ireland based alternative music website funded by readers, with a focus on community and our readers. Overblown is all about subterreanean music. Whether it is post punk, shoegaze, sludge metal, or noise rock they want to bring these alternative music genres to the fore.
Frequency about 3 posts per week.
Blog overblown.co.uk
Facebook fans 5,067. Twitter followers 3,755.

Berlin / the rest of the world About Blog Stereofox is a music blog which helps you discover new indie, alternative and electronic music. Listen, add to favourites and share with friends.
Frequency about 19 posts per week.
Blog stereofox.com
Facebook fans 7,974. Twitter followers 5,723.

San Francisco, CA About Blog A place to share and discover new and old alternative rock.
Frequency about 42 posts per week.
Blog reddit.com/r/Alternativerock
Facebook fans 1,108,273. Twitter followers 484,584.

About Blog The Hard Times is a very real punk news site that you should not question. Just absorb the information as truth and move on. The historic satire site was founded in December 1982 at 171A studios while the founding members were eating broken glass with The Bad Brains. It's made by a group of punk and hardcore kids from all the different sub-genres of the DIY hardcore scene.
Frequency about 34 posts per week.
Blog thehardtimes.net
Facebook fans 219,441. Twitter followers 24,286.

Philadelphia About Blog Real Music Alternatives. Since 1993, MAGNET has published a print magazine, available by subscription and in bookstores and record stores worldwide. MAGNET has covered independent music through artist profiles, critical reviews, in-depth features and bold photography.
Frequency about 42 posts per week.
Blog magnetmagazine.com
Facebook fans 8,515. Twitter followers 18,834.

About Blog Hard Rock Daddy is a place to discover great music, go inside the mind of a modern-day dad and journey with a virtual backstage pass into the lives of an offbeat, entertaining family.
Frequency about 4 posts per week.
Blog hardrockdaddy.com
Facebook fans 3,207. Twitter followers 1,442.

London Ontario About Blog Indie Underground is the creative enterprise of Aaron McMillan and the Indie Underground Contributors. Discover share and support up-and-coming and current indie / alternative musicians, developing scenes.
Frequency about 3 posts per month.
Also in Indie Music Blogs
Blog indieunderground.ca
Facebook fans 3,844. Twitter followers 3,866.

Mountain View, CA About Blog Comprehensive up-to-date coverage for alternative music, aggregated from news sources all over the world by Google News.
Frequency about 168 posts per week.
Blog news.google.com/news/section..
Facebook fans n/a. Twitter followers 213,116.

About Blog In 2008 Lauren was living in New York City and with the birth of the blog culture she felt there was a void in the resurgence and appreciation of the visuals behind the grunge and alternative rock of the '90s. What first began as a blog, 7 years later has become a platform for emerging artists, designers, and an exploration of many creative passions.
Frequency about 1 post per month.
Blog fashiongrunge.com/category/m..
Facebook fans 118,269. Twitter followers 1,526.

Cleveland, Ohio About Blog Alternative Press is one of the largest music magazines in the world. AP provides in-depth interviews and exclusive photos, making it an essential collectors piece for a passionate fan base. AP is the nation's leading voice on underground, alternative, punk music and youth culture both in print and online since 1985.
Frequency about 84 posts per week.
Also in Music Blogs, American Music Blogs, Music News Websites
Blog altpress.com
Facebook fans 1,230,203. Twitter followers 661,336.

About Blog The Alternative was created to be the music site that we wanted to exist. A site with impeccable taste, quality content, and intelligent stances on important issues. The Alternative pledges itself to providing you (our readers) with only the best music and art.
Frequency about 12 posts per week.
Blog getalternative.com
Facebook fans 3,419. Twitter followers 10,340.

Toronto About Blog Toronto-based music blog finding the best new music in the feeds. To the point track features, videos, quick reviews and streaming playlists.
Frequency about 4 posts per month.
Since Jan 2006
Blog indiemusicfilter.com
Facebook fans 8,135. Twitter followers 19,770.

The Quiet Room, Dublin About Blog Irish based music blog focusing on all things reverb, resonance, vibration & echo, shoegaze, ethereal dreampop, post-punk, modern psych rock.
Frequency about 2 posts per week.
Since Jan 2015
Also in Irish Music Blogs
Blog primalmusicblog.com/reviews
Facebook fans n/a. Twitter followers 1,608.

About Blog An alternative music blog. Find and explore new bands and their submissions on this blog.
Frequency about 1 post per month.
Blog rottenyoungearth.blogspot.com
Facebook fans 1,213. Twitter followers n/a.

Michigan, USA About Blog Audio Ink Radio is the forefront of new music. Rock, metal and alternative music news, interviews, features, song reviews, photos, and more.
Frequency about 7 posts per week.
Blog audioinkradio.com
Facebook fans 10,456. Twitter followers 3,351.

Australia and New Zealand About Blog LIFE IS NOISE have spent the last seven years building a solid touring company with a focus on weird, genre-pushing, experimental and exciting music. From dense noise to droning doom, tripped out acid-rock to screams, metal and all the spaces in between. They've brought some of the best boundary-pushing bands in rock, metal, psych, noise and post-rock to Australia, many of them for the first time.
Frequency about 1 post per month.
Blog lifeisnoise.com/blog
Facebook fans 13,348. Twitter followers 2,778.

Yorkshire About Blog An online and print guide to alternative music (rock, goth, metal, electronic, indie) and culture for the North of England and worldwide. They champion alternative music in the North of England and feature bands, artists and culture on a local, national and international level.
Frequency about 7 posts per week.
Blog soundspheremag.com
Facebook fans 13,894. Twitter followers 6,704.

About Blog Indie Is Not A Genre is a music blog that doesn't trust the hype. Get your latest fix on everything pop, rock, alternative. Gigs and album reviews. Initially started in Germany in the summer of 2011, indie is not a genre soon grew into an international project. We cover a broad area of musical styles, ranging from rock to electronica to folk to singer songwriter and even to punk.
Frequency about 5 posts per week.
Blog indieisnotagenre.com
Facebook fans 1,188. Twitter followers 1,184.

About Blog DIY Conspiracy is the unbroken spirit of the anti-authoritarian and Do-It-Yourself punk culture. We created this project to support underground artists and to use Internet as a free and collaborative platform for exchanging information hundreds of news, record reviews, interviews, rants, columns and many more all about underground music and radical ideas.
Frequency about 3 posts per week.
Blog diyconspiracy.net
Facebook fans 2,528. Twitter followers 354.

UK About Blog Based in the UK, Alex Rainbird is one guy working hard to bring you the best independent rock, pop, folk and electronic music. alexrainbirdMusic is the hub for the latest new indie music, trends, news, interviews, compilations and more. A platform for indie artists to be heard. His goal is to provide a platform for underrated artists to be heard, and for viewers to find amazing new music.
Frequency about 1 post per month.
Blog alexrainbirdmusic.com
Facebook fans 6,526. Twitter followers 1,528.

Sapporo, Japan About Blog Fire begins with a spark and we hope we can spread it by plugging amazing music. We're all about great Japanese indie, rock, and electronic music. From the underground live houses to the event centers to the dark and dank clubs, we work to find fantastic music so we can share it, review it, and talk with the artists who created it.
Frequency about 1 post per month.
Blog sparkplugged.net
Facebook fans 382. Twitter followers 514.

East of Nashville's 8th Avenue About Blog East of 8th is an independent thoughts on alternative music. Susan, a self-described life-long band nerd and strong advocate for proper grammar, began her musical adventures at age 9 at a piano keyboard. She named this blog East of 8th because she loves independent and alternative rock, and is lucky enough to live a just a few minutes east of its southern soul.
Frequency about 1 post per week.
Blog eastof8th.com
Facebook fans n/a. Twitter followers 1,531.

Aldershot About Blog Music fans, not critics, this is a place for the Spectral Nights team to wax lyrical about bands we like and gigs we've been to – from album reviews to new music videos and much more besides, including the occasional interview, festival review and band playlist, we mainly focus on alternative music, but have a fond love of pop music and will endlessly quote High Fidelity.
Frequency about 8 posts per week.
Blog spectralnights.com
Facebook fans 313. Twitter followers 1,224.

London / Colchester About Blog BlackPlastic.co.uk is an alternative music blog focused on sharing the best electronic music. It is an alternative music blog focusing on reviews of new album and EP releases.
Frequency about 2 posts per week.
Blog blackplastic.co.uk
Facebook fans 339. Twitter followers 1,829.

About Blog Stereo Stickman is an independent music community & online magazine offering the utmost professional, in depth representation for musicians, producers & bands who work hard at their craft. Follow Stereo Stickman to check out some of the latest Alternative bands & artists they've covered recently from around the globe.
Frequency about 4 posts per month.
Blog stereostickman.com/genre/alt..
Facebook fans 939. Twitter followers 32,353.

Oxford, UK About Blog Starting out as a humble blog in 2011, we have gone from news and reviews to acoustic sessions and more, interviewing the likes of Everything Everything, TTNG, Enemies, Mike Vennart, Piglet, CHON and Delta Sleep. From seminal bands to the DIY scene, we cover a wide variety of math and post-rock oriented music, feature regular reviews, host giveaways and produce acoustic sessions.
Frequency about 1 post per month.
Blog themathrockblog.co.uk
Facebook fans 3,295. Twitter followers 613.

UK About Blog Neon Filler was created in 2009 by Joe Lepper and Dorian Rogers. Since then it has grown to include articles by our wonderful bunch of contributors, regular Top 10 features and in 2011 we published our Top 100 Indie and Alternative Albums list. Indie Music UK is the home of indie and alt music website.
Frequency about 3 posts per month.
Since Sep 2010
Blog neonfiller.com/wordpress
Facebook fans 716. Twitter followers 2,110.

London, England About Blog A London-based music blog that cares about new music. We are committed to giving talented indie & alternative music artists the recognition they deserve.
Frequency about 2 posts per week.
Since Apr 2016
Also in Independent Music Blogs, UK Music Blogs
Blog turtletempo.co.uk
Facebook fans 637. Twitter followers 9,669.

Circling London at 33 ? rpm About Blog Alternative Friday, which has grown into a music blog that champions talented new and independent musicians, and which covers an eclectic array of genres.
Frequency about 2 posts per month.
Blog alternativefriday.com
Facebook fans n/a. Twitter followers 1,232.

Sydney, Australia About Blog Doubtful Sounds is dedicated to bringing you the best news, reviews, interviews and associated ephemera from the wide world of music. From indie and americana to electronica, experimental and metal - we aim to keep you informed across a range of genres.
Frequency about 4 posts per week.
Blog doubtfulsounds.net
Facebook fans 983. Twitter followers 872.

About Blog LIKEYOUSAID is an alternative music magazine with an emphasis on pop punk. LIKEYOUSAID.com features band Interviews, album reviews, pop culture pieces, new music videos, tour announcements, show listings, and more.
Frequency about 1 post per month.
Blog likeyousaid.com
Facebook fans 917. Twitter followers 811.

Cleveland, OH About Blog Mod Melody is a blog devoted to covering all the amazing vibes and excitement that comes from alternative rock. Lizzie will be writing about things like new bands, new releases, classic albums, and what's going on in the music industry in general. Her hope for this blog is that I will be able to mirror all the passion and happiness that comes from the music, the musicians, and the fans.
Frequency about 2 posts per month.
Blog modmelody.wordpress.com
Facebook fans n/a. Twitter followers 209.

California About Blog Punx In Solidarity has extensive knowledge of the punk rock underground. All our other writers and contributors opperate as freelance writers. We are a committed and dedicated group of passionate punk rock music fans that enjoy the hardcore lifestyle.
Frequency about 4 posts per month.
Blog punxinsolidarity.com
Facebook fans 2,575. Twitter followers 4,683.

Toronto, Ontario About Blog Indie Interluded is an alternative music blog. They are are indie interluded, a Toronto based indie music blog. Their passion is music and our goal is to make a site for every indie music fan. A place for all you enthusiastic culture-vultures to discuss, share and discover the very best that the indie music scene has to offer.
Frequency about 1 post per month.
Blog indieinterluded.com
Facebook fans 62. Twitter followers 112.

About Blog Record Crates United is a home for wayward music. Artists and sounds from the past and present that may already have or at least deserve to have a cult following will have their time here. No matter if the artist is from a major label or self-releasing music from their apartment, everything can be reviewed here.
Frequency about 1 post per month.
Blog recordcratesunited.com/categ..
Facebook fans 1. Twitter followers n/a.

Toronto About Blog Since February a lonely Valentine's Day in 2010, Tiana Feng and her dedicated crew of contributors have been highlighting our favourite Canadian music on Ride the Tempo.
Frequency about 3 posts per week.
Blog ridethetempo.com/category/mu..
Facebook fans 2,518. Twitter followers 4,281.

London About Blog Artist and Repertoire (A&R) blog features upcoming unsigned bands and buzz artists from around the world. Their readership includes independent and major labels, publishers, management companies, radio station, PR and sync companies from across the world who use our website as a resource to discover and sign acts.
Frequency about 2 posts per month.
Blog anrfactory.com/tag/alternative
Facebook fans 8,980. Twitter followers 21,019.

New York, NY About Blog I Am The Industry is the only exclusive music hub for independent artists. We provide a platform for only the world's most talented and passionate artists to be featured. Our mission is to be the voice for emerging artists in an ever-changing music industry.
Frequency about 1 post per month.
Blog iamtheindustry.com/blog/cate..
Facebook fans 333. Twitter followers 302.

Dublin City, Ireland About Blog BarryGruff is a music blog, based in Dublin, Ireland and the gist is pretty simple; to share some musical musings with a wider audience than my mates down the pub or wherever.
Frequency about 3 posts per week.
Blog barrygruff.com/category/musi..
Facebook fans 1,074. Twitter followers 2,193.

Atlanta About Blog Carrie likes to explore all music genres, but mostly Alternative/Indie rock. Her music blog (www.immersedincoolmusic.com) started out as a wild, 31 day challenge of listening and finding music that connects her head and her heart. She have followers all over the world and she have shared talented bands that you may never have heard before.
Frequency about 4 posts per month.
Blog immersedincoolmusic.com/cate..
Facebook fans 713. Twitter followers 479.

Toronto About Blog Centrifuge is an alternative rock funk band from Toronto. Centrifuge consists of three members, Peter Albrektsen (guitar and keyboards), Sam Hall (Bass and Vocals), and Denis Banko. They're a band since 2013.
Frequency about 1 post per month.
Blog centrifugeband.com/blog
Facebook fans 489. Twitter followers 354.

About Blog mffm is a Alternative Rock music channel, melodic, vocal Rock: Modern Rock, Post-Grunge, Alternative Metal, Christian Rock, Indie Rock, Vocal Rock & Ballads.
Frequency about 1 post per month.
Blog mffmbs.blogspot.com
Facebook fans n/a. Twitter followers n/a.
These blogs are ranked based on following criteria
Google reputation and Google search ranking
Influence and popularity on Facebook, twitter and other social media sites

Quality and consistency of posts.

Feedspot's editorial team and expert review
Top 50 Alternative Music Blogs Winners
CONGRATULATIONS to every blogger that has made this Top Alternative Music Blogs list! This is the most comprehensive list of best Alternative Music blogs on the internet and I'm honoured to have you as part of this! I personally give you a high-five and want to thank you for your contribution to this world.
If your blog is one of the Top 50 Alternative Music blogs, you have the honour of displaying the following badge on your site. Use the below code to display this badge proudly on your blog. You deserve it!:
<a href="https://blog.feedspot.com/alternative_music_blogs/" title="Alternative Music blogs"><img src="https://blog-cdn.feedspot.com/wp-content/uploads/2017/06/alternative-music-50-transparent_216px.png" ></img></a>
Tags: alternative music rss feeds, alternative music blogs uk