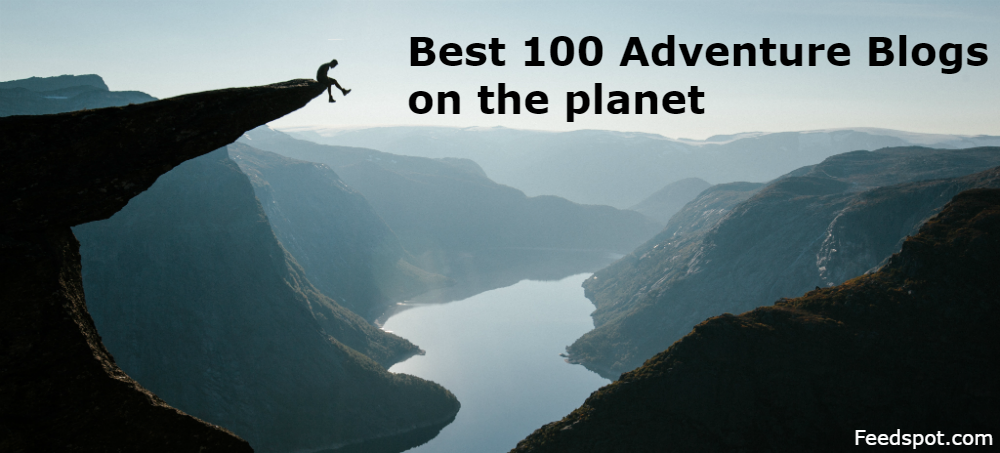 Adventure Blogs Best 100 List
The Best Adventure blogs from thousands of top Adventure blogs in our index using search and social metrics. Data will be refreshed once a week.
If your blog is selected in this list, you have the honour of displaying this Badge (Award) on your blog.
Rank

Blog Name

Facebook Fans

Twitter Followers

Alexa Rank

1

Worldwide

About Blog – G Adventures is an adventure-travel pioneer, offering the widest selection of affordable small-group tours, safaris and expeditions to more than 100 countries on all seven continents.
Frequency – about 6 posts per week

1,227,240

124,866

43,262

2

San Francisco, CA

About Blog – Planning, discussing, and organizing future adventures, and sharing past ones. Base jumping, diving, urban exploration, ghost-hunting, caving, climbing, hiking, wild camping, bushcraft, backpacking, kayaking, anecdotes about dealings with wild animals, authorities, accidents…anything and everything! Share your adventure with us!
Frequency – about 18 posts per week

1,061,482

455,093

24

3

India

About Blog – Take the plunge and experience adventure like you've never done before! From shark diving tours and mountain biking, to wildlife safaris, snowboarding and lots more. Here's bringing you the best adventure trips from around the world!

2,021,780

58,920

952

4

Toronto, Ontario

About Blog – Adventure travel blog by canadian couple Dave & Deb. This blog features travel advice, travel tips, inspirational stories and travel photography that will help you plan your next vacation.
Frequency – about 2 posts per week

190,786

130,073

93,862

5

About Blog – Adventure Journal is an independent voice for authentic outdoor adventure. The online magazine for real outdoor adventure–stoke, inspiration, news, gear, people, photography, more.
Frequency – about 12 posts per week

87,252

74,693

107,987

6

United States

About Blog – Independent online resource that provides top notch, easy to understand, actionable education to get you started with outdoor and adventure activities.
Frequency – about 8 posts per week

33,348

20,719

134,285

7

Harlem, NYC

About Blog – The ultimate guide to solo female travel and inspirational adventures around the world. it's my mission to show you that yes, it IS possible for women to travel on their own and independently while staying safe and having the time of their lives. You're not crazy for wanting to travel on your own. I'll show you how!
Frequency – about 1 posts per week

54,513

51,188

122,506

8

Wanaka, New Zealand

About Blog – Hi I'm Liz and this is a space where culture, travel, and misadventure collide.
Frequency – about 1 post per week

34,700

22,672

123,650

9

San Diego, CA

About Blog – Adventure travel blog featuring advice, tips, and inspiration for world travelers seeking their next vacation destination. Ordinary Traveler follows the adventures of Scott and Christy, two photographers who spend a good portion of their lives in or near the ocean. We want to inspire everyone to travel the world, even if you work a full-time job.
Frequency – about 1 post per week

9,311

22,111

171,292

10

About Blog – Helping others find adventure locally worldwide.
Frequency – about 3 posts per week

4,592

7,549

150,365

11

Global

About Blog – Urban Adventures are the day tour with a difference! We have local operators in all 85 locations that we operate Urban Adventures, delivering local experiences to everyone that travels with us. Our core purpose is to enrich people's lives by creating unique, interactive travel experiences. We provide fun, affordable and sustainable travel adventures that are beneficial to local communities.
Frequency – about 6 posts per week

13,038

6,637

253,997

12

About Blog – DW blogs offer informative insights from experts and journalists: The latest commentary on international news, business, politics, sports and the environment.
Frequency – about 5 posts per week

11,071

648

1,204

13

About Blog – Adventure Nation (the outdoors tribe) is a community of adventure and outdoor enthusiasts completely dedicated to meeting all the needs of people wanting to travel for adventure and nature. Find adventure trips, tours, outdoor activities and adventure holiday packages in India. Join our Tribes, learn from Gurus and find great adventures.

188,913

349

211,507

14

Orlando, Florida

About Blog – Life Coach Tim Brownson offers professional life coaching services to people who feel stuck, stressed and overwhelmed or just want more out of life.
Frequency – about 1 post per month

45

5,922

456,941

15

England

About Blog – Alastair Humphreys is an adventurer, author and motivational speaker. He was a National Geographic Adventurer of the Year in 2012. I have been fortunate over the years to have enjoyed some exciting adventures. There are plenty more to come.
Frequency – about 2 posts per week

57,007

38,201

382,646

16

macsadventure.com/walking-ho..

Scotland

About Blog – Macs Adventure specialises in self guided walking and active holidays in the UK, Europe and Worldwide. We firmly believe that the very best way to experience landscape, history, food and culture is under your own steam. Our mission is to deliver Adventure Excellence.
Frequency – about 3 posts per week

6,745

3,039

381,589

17

Washington, DC

About Blog – Inspired by New Zealand's outdoors and tested in the world's wild backyard, Macpac's outdoor clothing, backpacks and camping equipment is the first choice for outdoor enthusiasts. On their blog, they share outdoor gear reviews, guides and other outdoor information.
Frequency – about 1 post per week

37,380

n/a

406,609

18

Boise, Idaho

About Blog – A Travel Blog of Family Outdoors Adventures and Backpacking, Hiking, Paddling, Skiing, and Climbing Stories, plus Gear Reviews, by Michael Lanza. Offering professional stories, photos, gear reviews, and expert trip-planning advice on America's and the world's best hiking, backpacking, paddling, skiing, family, and other outdoor adventures.
Frequency – about 4 posts per week

10,787

5,364

420,646

19

Munich, Germany

About Blog – Adventures by Day, Luxury by Night!I'm Laurel, the founder of Monkeys and Mountains Adventure Travel, a tour company and travel blog to help you plan your active holidays. The ultimate guide to adventure travel & personally curated adventure holidays to ease your travel planning by award-winning travel blogger, Laurel Robbins.
Frequency – about 1 post per month

10,611

85,231

427,778

20

Golden, CO

About Blog – Outward Bound is a non-profit educational organization and expedition school that serves people of all ages and backgrounds through active learning experiences and expeditions that inspire character development, self-discovery and service both in and out of the classroom.
Frequency – about 1 posts per week

48,468

6,912

438,793

21

UK

About Blog – A top travel blog about adventure and culture. Looking at the world with a different angle to change perceptions of the misunderstood. By Becki Enright
Frequency – about 1 posts per week

7,626

20,105

412,249

22

Manchester

About Blog – I started blogging as a mainly personal record of life with Ben, Chloe & Amy – a place to note down the things they have done to make us smile, their achievements and our adventures as my little people "take on the world". Blog by Colette.
Frequency – about 5 posts per week

3,247

13,901

632,081

23

About Blog – Misadventures is an outdoor and adventure magazine by and for adventurous women. It covers inspirational feats and figures, honest-to-goodness adventures, and discoveries of all.
Frequency – about 2 posts per week

7,563

9,074

742,295

24

Belfast

About Blog – Northern Ireland's Outdoor Adventure Blog is your definitive guide to outdoor activities in Northern Ireland. The website is full of useful information for everybody from the hardcore adrenaline junkie to those of you simply looking for something fun to do with the family.
Frequency – about 1 posts per week

8,812

3,804

845,917

25

Nashville, TN

About Blog – News, commentary, and insights on adventures, and adventurers, from around the globe.
Frequency – about 13 posts per week

2,134

9,068

846,640

26

ww2.wildland.com/travel-blog..

Seattle, WA

About Blog – Wildland Adventures is a leading ecotourism company for small groups, safaris, family adventure vacations, small boat adventure cruises, honeymoon adventures, and personalized custom adventure travel since 1986. Share the joy of discovery on an authentic worldwide cultural and natural history exploration for active and inquisitive travelers who appreciate boutique accommodations & native guides.

3,868

1,931

947,667

27

McCall, ID

About Blog – The MOSS Adventure Learning website offers students an opportunity to share what they are seeing, doing, and learning while at MOSS. Our mission is to facilitate place-based, collaborative science inquiry within the context of Idaho's land, water and communities.
Frequency – about 2 posts per week

2,285

207

24,856

28

About Blog – Travel Talk will take you on life changing adventures and exhilarating experiences without breaking the bank. Guided group tours and sailing holidays in Morocco, Turkey, Egypt, Greece, Croatia, Spain, Portugal, Russia & more…. Indulge in a real discovery while travelling in style and comfort with us.
Frequency – about 1 posts per week

88,080

4,220

1,049,229

29

smithjournal.com.au/blogs/ad..

Australia

About Blog – Read through all of Smith Journal's adventure articles and be inspired by tales of those travelling around the world & places you need to visit!

42,824

8,324

1,049,785

30

About Blog – All of our trips, from short trips in Europe and the UK to long-haul adventures in fascinating destinations such as Peru, Tanzania, Nepal and China, are designed to test your limits, and they offer an unforgettable sense of achievement.
Frequency – about 1 post per month

18,008

9,929

1,593,834

31

California

About Blog – Trail To Peak covers hiking, backpacking, adventure travel, and gear review. See the outdoors come alive with breathtaking photos and trip reports.
Frequency – about 4 posts per week

1,168

18,057

1,083,293

32

New Hampshire, USA

About Blog – Adventure travel blog with travel ideas from New England to world wide. Find your next trip and adventure near and far with us.
Frequency – about 1 post per month

1,271

15,013

1,125,959

33

Berlin & London, among others

About Blog – Indefinite Adventure aim is to give practical advice to other potential long term travellers, inspire you for your two-week holiday, or just appeal to your inner armchair traveller. We seek out great vegan food, digital nomad work places, cool street art and interesting things to do on our travels. Follow Sam and Zab on their indefinite adventure!
Frequency – about 1 posts per week

1,486

3,134

1,020,293

34

Cebu, Philippines

About Blog – Everything you need to know about cheap adventure travel with kids around the Philippines. Tips and tricks when traveling with the little ones!

6,640

2,079

1,114,026

35

Beijing

About Blog – Expat, traveler, and spicy food lover, I've spent the last few years living in China and traveling around Asia. In my spare time I enjoy salsa dancing, scuba diving and stuffing my face with street food.
Frequency – about 1 post per week

2,332

19,040

1,401,518

36

About Blog – Adventure seekers | Nature lovers | Living & traveling by motto: Go through the adventures of life with the smile on your face.
Frequency – about 1 posts per week

968

6,528

1,525,764

37

adventurescience.org/field-n..

Bozeman, Montana

About Blog – Adventure Scientists is a 501(c)3 nonprofit organization based in Bozeman, MT that equips partners with data collected from the outdoors that are crucial to unlocking solutions to the world's environmental challenges. By leveraging the skills of the outdoor adventure community we are uniquely able to gather difficult-to-obtain data at any scale, in any environment.
Frequency – about 1 posts per week

30,090

7,953

1,351,762

38

Dubai, United Arab Emirates

About Blog – We travel for sports events, adventure, adrenaline and luxury. We work hard in Dubai to play hard all around the world. Join our journey to learn how to do the same!
Frequency – about 2 posts per week

1,696

3,398

1,513,102

39

Greece

About Blog – AGreekAdventure promotes outdoor & adventure activities, alternative tourism, agrotourism and ecotourism in Greece. It is well know that Greece has thousands of places and hidden activities treasures. This site brings all these forward, plus announces events and activities.
Frequency – about 5 posts per week

15,837

3,481

1,654,247

40

Calgary, Canada

About Blog – This blog seeks to chronicle the joys and challenges of taking kids hiking, camping, backpacking, skiing, biking, paddling and all-out exploring in the Canadian Rockies. The Calgary Family Adventure Community does not function as a guiding service and the owner is not a complete source of trail information.
Frequency – about 2 posts per week

3,096

3,592

1,745,271

41

Watertown, MA

About Blog – Let your Family travel with the best. Thomson Family Adventures, the experts in family travel.

1,563

5,423

1,733,566

42

Santa Barbara, CA

About Blog – Santa Barbara Adventure Company Exploring some of California's most beautiful places including Channel Islands National Park. Fun Tours and Activities on California's Coast. Kayaking, Biking, Wine Tours, Surfing and More. Offering tours in Channel Islands, Santa Barbara &

3,569

1,976

1,762,849

43

London, England

About Blog – RexyEdventures is a travel blog resource chronicling the Adventures of a Deaf & Handsome Luxury Backpacker on a budget. Travelling the Unexpected. Reviews made By Ed Rex.
Frequency – about 1 post per month

1,877

6,098

3,205,145

44

Arnhem, The Netherlands

About Blog – Follow our adventurous journey and read about the best multi day treks and outdoor stuff!
Frequency – about 1 post per month

5,580

4,407

1,885,384

45

United States

About Blog – Crazy Family Adventure is a family of 6 traveling the US in an RV bringing you great family travel tips! Deepen your family bond through travel! Check out our raw journal of our Crazy Family Adventure!
Frequency – about 1 posts per week

14,516

11,132

1,360,039

46

currently california

About Blog – Exploring the world as much as possible.

1,830

1,411

2,594,349

47

Brunswick, Maine

About Blog – Apogee offers outdoor adventure travel to young adults. We provide students with safe, well-designed trips to spectacular outdoor locations. Teen hiking and biking travel adventure trips and summer camp programs with community service. Trips for youth on US East and West Coasts, Canada & Europe.
Frequency – about 2 posts per week

2,306

161

2,270,225

48

Whistler, BC

About Blog – Best Travel & Adventure Blog For Things To Do In Whistler Located in the heart of bustling Whistler Village and just minutes from Whistler Blackcomb Ski Lifts, The Summit Lodge Hotel offers guests a unique Boutique Hotel experience. Join us as we hike, ski, snowboard, snowshoe, splitboard, & camp our way around Whistler, Canada.
Frequency – about 1 post per month

6,589

3,306

2,196,470

49

Wilmslow, England

About Blog – Packed with useful information, top tips and general musings about all things wildlife and adventure holiday related. Our team of adventure enthusiasts have visited some of the world's most intriguing locations and this blog gives us the chance to share our findings.
Frequency – about 1 post per month

10,261

2,721

2,346,372

50

San Francisco

About Blog – Adventure Collection is a partnership of the world's best adventure travel companies. Search top adventure trips, including rafting, bike tours, & safaris. The mission of the Adventure Collection member companies is to offer curious, discerning travelers a spectrum of exhilarating, life-expanding journeys that nurture diverse cultures and landscapes around the world.
Frequency – about 2 posts per week

4,729

656

2,973,916

51

blog.infinitesafariadventure..

About Blog – We offer unique, custom safari experiences you'll remember for the rest of your life. Explore Africa with us! Our mission is to provide people the trip to Africa they have always dreamed.
Frequency – about 1 posts per week

848

297

2,998,291

52

Ireland

About Blog – Extreme Ireland offer the best in walking and adventures tours around Ireland including day tours. We also provide international adventure from Ireland.
Frequency – about 1 posts per week

5,679

20,573

2,327,664

53

About Blog – The Bucket List Project Blog hopes to share once-in-a-lifetime experiences, people accomplishing them, & hopefully will inspire you to go out & do them!

n/a

1,861

2,240,870

54

Costa Rica

About Blog – Rios Tropicales is an eco-adventure company operating paddle sports and adventure travel thorughout Costa Rica. Let Costa Rica's award-winning ecotourism leader Rios Tropicales show you authentic, nature-based adventure vacations. Raft, hike, bike, tour, safari & more!
Frequency – about 1 post per month

13,411

416

2,614,884

55

fullercenterbikeadventure.or..

Americus, GA United States

About Blog – The Fuller Center for Housing, founded by Millard and Linda Fuller, is a non-profit ecumenical Christian organization devoted to an unrelenting quest to provide adequate shelter for all people in need worldwide. Our mission is to build a better world by cycling to end poverty housing.
Frequency – about 8 posts per week

3,768

434

2,138,503

56

Darwin, Australia

About Blog – Brad McCartney is an adventure Cyclist, Hiker and Nature Lover. His dream is to cycle and hike the most amazing places on the planet.He is a former Wilderness Guide, Police Officer, specialist in Youth Restorative Justice Programs, aspiring author and photographer. He hopes to inspire others to follow their dreams.
Frequency – about 6 posts per week

851

150

3,414,555

57

San Antonio, TX

About Blog – Around the world adventure travel site writing about domestic travel, overseas adventure travel & cheap travel tips.
Frequency – about 1 post per month

6,854

26,652

3,458,851

58

Yosemite National Park, CA

About Blog – YExplore Yosemite Adventures is the only Yosemite Tour Company offering custom guided Yosemite experiences (Adventure Hikes, Half Dome Hikes, Multi Day Backpack Trips, Nature Walks, Birding Walks, Wildflower Walk, Snowshoe Hike, and Photography Workshop) 12 months a year. We guarantee smaller group sizes for a more personalized experience with our professional guides who are all local to Yosemite.
Frequency – about 1 post per month

4,956

2,537

4,076,208

59

Knutsford, Cheshire

About Blog – Outdoor Chics is here to inspire you to try new things, challenge yourself and live life to the fullest. It features adventures, gear reviews, videos, sport, challenges and loads of other inspiring content.
Frequency – about 1 post per month

305

1,417

4,016,445

60

Belize

About Blog – Our adventure vacations to Belize are based out of our private island, Long Caye at Glover's Reef.

7,110

296

4,924,318

61

Calgary, AB (Or Elsewhere)

About Blog – Hi! I'm Ashley Dempster – the face and voice behind Adventure To Anywhere. I'm a twenty-something Canadian girl who is passionate about good food, minimalist packing, running, and inspiring YOU to live a life of adventure both near and far. I believe that you can have it all – a thriving career, solid relationships, a healthy routine and a satisfied sense of wanderlust.

296

290

4,914,617

62

California, USA

About Blog – Artisan travel and lifestyle blog crafted by a small-batch team of outdoor enthusiasts; based in Santa Monica, CA.
Frequency – about 1 post per month

18

26

6,751,064

63

Bude, Cornwall, UK

About Blog – Outdoor Adventure is a residential activity centre situated in a cliff top position above the stunning Widemouth Bay in Bude, Cornwall. Their blog features their outdoor activities.
Frequency – about 1 post per month

2,842

843

6,845,303

64

Zagreb, Croatia

About Blog – If you decided to take some adventure holidays in Croatia, Raftrek is here for you. We know our country well and want to share it with you. We all share a deep passion for travel, a respect for the environment and old cultures. Our love towards nature and the outdoors made us what we are today.

3,463

173

7,558,445

65

african-adventures.co.uk/afr..

#TripsInAfrica

About Blog – African Adventures is the UK's leading volunteer travel organisation, running trips for educational groups, football clubs and charities to Africa. We provide incredible opportunities to volunteer in Africa. On your own or part of an educational, charity or business group, we have a trip to suit you
Frequency – about 2 posts per week

4,628

1,768

7,994,757

66

UK

About Blog – We are passionate about challenges, travel and adventure. Our adventure events and challenges are planned and run by experienced, qualified staff who love working and leading in the outdoors.We help charities, businesses & individuals have amazing experiences and adventures throughout the world. Our aim is to offer exciting, rewarding and fun trips, challenges and courses at a reasonable price.

2,265

1,323

9,489,165

67

About Blog – Voila Travels is a hub of travel tips and advice, itineraries and travel events. Get your mind blown away and get on board for your next trip.
Frequency – about 1 post per month

7

3

12,102,163

68

About Blog – Wild & Free was born from two people's passion for surf and yoga, the balance and freedom each one offers mind, body and soul. It is a space for us to share our adventures on our blog as well as our surf and yoga retreats. We love all things travel, yoga, surfing, photography and film.
Frequency – about 1 post per month

1,004

n/a

13,754,370

69

About Blog – Adventure Loves Company exists to share, inspire and enable a life of adventure. We are a team powered adventure brand with a primary objective to share and enable a life of adventure through our blog. We've been lucky enough to have people expose us to an amazing outdoor lifestyle, so now we're committed to doing the same.

Frequency – about 1 post per week

405

9

13,800,338

70

Wicklow, Ireland

About Blog – Fatbike Adventures, Bike Tours, Bicycle tours, Bike trips in Ireland. We want to get more people riding bikes off road.

551

112

18,428,787

71

About Blog – I ski, run, climb, bike, and travel. Sometimes with an Action Figure Mascot. These are my stories. Blog by kristina ciari.
Frequency – about 1 post per week

n/a

n/a

22,025,173

72

Taipei City, Taiwan

About Blog – ink adventure is where I share my journey – you'll find travel photos, expat experiences, and bits about life as a blogger/writer living in Taiwan. Here you'll find posts on our travels, everyday expat life, and personal musings.
Frequency – about 1 post per month

246

694

23,103,873

73

velvetadventuresailing.com/blog

About Blog – Velvet Adventure Sailing offers sailing holidays in a comfortable friendly atmosphere. With a maximum of six guests at any one time we specialise in trips for small groups and individuals. You can book a berth or charter the whole boat. We offer the opportunity to visit some destinations not on the usual yachting calendar.
Frequency – about 1 posts per week

576

n/a

23,473,682

74

Isle of Wight, United Kingdom

About Blog – Of course the kids are coming, that's part of the adventure.
Frequency – about 3 posts per week

6

455

25,091,057

75

adventurousexperiencesblog.b..

About Blog – Adventurous Experiences is an Adventure Sports Centre. Explore the coastline, viewing wildlife; unforgettable adventurous experiences through Sea Kayaking, Coasteering, Gorge Scrambling and family friendly adventures. Our mission is to Explore the Isle of Man. Experience your adventure. Live life to the full. Share the memories later.
Frequency – about 2 posts per week

3,875

n/a

n/a

76

Aberfeldy, Scotland

About Blog – All About Adventure provide outdoor activities, mountain safety, mountain training, instruction and guiding and technical advice throughout Scotland.We will offer you expert tuition in a wide range of activities and at levels to suit your ambitions. We have instructors with top-level qualifications to ensure that you learn at a pace to suit you & ensuring the maximum level of safety at all times.

284

58

n/a

77

fiddlestickschildcare.co.uk/..

About Blog – Fiddlesticks is a friendly, professional OFSTED registered child minding service run by a mother-daughter team based in Marske-by-the-Sea, Cleveland. We focus on providing a high quality, small scale, outdoor focused child care setting. We offer an outdoor education through exploration and play allowing children to develop their natural wonder, creativity and imagination.
Frequency – about 2 posts per week

n/a

n/a

n/a

78

nomadicexperience.com/advent..

Basilan

About Blog – Summit Expeditions & Nomadic Experience (SENE) was founded in 1998 by mountain guide and ultra-runner Simon Mtuy. He continues to carry out his vision of a sustainable, Tanzanian-owned and operated adventure travel business that promotes the beauty of Tanzania while contributing to the well-being of its people and environment.

1,031

1,833

5,837,102

79

familyadventureguy.blogspot.com

About Blog – National Geographic-featured adventurer encouraging people of all ages to challenge their limits and explore the world

106

714

13,032,915

80

adventureprofessionals.com.a..

Queensland Australia

About Blog – Adventure Professionals is a world-class provider of incredible outdoor adventures. Experience Kokoda, Everest Base Camp, Kilimanjaro and more. Our Mission is to bring the Adventure World to the Professional Client. We believe adventure offers amazing insights into management, business and personal development.

2,961

401

18,799,592

81

Scotland/Chamonix

About Blog – Erin Bastian, Adventurer, Speaker and Expedition Leader. An all round outdoor girl, who loves to travel and explore. Follow her adventures and blog, Watch adventure films, learn more about her expeditions, and Sea kayaking Courses.
Frequency – about 2 posts per week

n/a

656

n/a

82

Bellevue, WA

About Blog – Eddie Bauer's world-class team of sponsored guides, athletes and adventurers share their epic stories and powerful images from their trips, travels and explorations with a daily shot of adrenaline on the Live Your Adventure Blog.

388,640

46,242

10,477

83

About Blog – Our mission is to equip like minded aspiring travellers to achieve their biggest travel dreams Watch Video Join the club for offers updates and to connect with other awesome travelers.

2,667

4,502

779,352

84

Hyderabad, India

About Blog – GHAC is the Premier Adventure and Trekking Club of Hyderabad,Telangana and Andhra Pradesh and caters to trekking, hiking, camping and adventure sports like rock climbing, rappelling, paragliding, skiing, white water rafting, scuba diving etc.

66,679

1,521

1,151,926

85

Iowa

About Blog – Hinterlands is a trusted community marketplace for adventurous people to discover and book unique experiences guided by professionals who live the lifestyle every day. On their blog you will find information about the various outdoor activities done by them and their clients.

656

995

1,452,410

86

About Blog – Your guide to creative Adventure Travel. See my advice on traveling the world, incredible journeys, and how to make every vacation an adventure.

37

292

5,532,059

87

Manipur

About Blog – We Want Adventure is the story of Pieter & Mandy, a couple who travel the world. We share our adventures and vision on life with you through photography and stories.

4,011

56

10,957,086

88

Kathmandu

About Blog – Access Nepal Tour & Trekking is one of the leaders in organizing outdoor activities in Nepal, Tibet and Bhutan. Our mission is to promote Eco-tourism in Nepal, along with offering handpicked trekking and other adventure travel options in Nepal, Tibet & Bhutan.

4,902

428

11,096,453

89

n/a

51

22,077,711

90

2011.chicagoadventuretherapy..

Chicago

About Blog – Using outdoor adventure sports like kayaking, orienteering, cycling, camping and rock climbing, Chicago Adventure Therapy (CAT) helps under-served youth in Chicago have a lasting positive impact on their communities and become healthy adults by teaching effective social skills, increasing participants' sense of possibility, and fostering a sense of empowerment and personal responsibility.

1,127

221

23,147,941

91

About Blog – You love adventures and want to travel the world? This is the place to be! Off The Path is the adventure travel blog offering you the best travel tips! Leave your comfort zone behind and taste what life is really about!

102,787

198

187,538

92

blog.ryanair.com/category/ad..

Ireland

About Blog – Great trips made simple with travel tips, inspiration and destination advice from the Ryanair travel blog. Get planning your next getaway now!

1,462,519

1,994

1,179

93

nomadasaurus.com/category/au..

Perth, Western Australia

About Blog – Travel your way! Australia's best adventure travel blog focused on the explorations of the award-winning photographers and writers,Alesha and Jarryd.

36,656

80,585

372,388

94

Bangalore

About Blog – Freakouts is a company that envisions providing its customers with a gateway to adventure sports and always introduces new kind of adventure activities. Our mission is to getthe adrenaline flowing & enjoy nature.

10,727

74

747,141

95

Boston, MA

About Blog – DuVine Cycling Adventure Co. designs and leads luxury bike tours in the world's most amazing locations. Come explore the world with us by bike. Our ultimate goal is to consistently amaze, surprise, and delight our guests with unparalleled experiences, outrageously satisfying food and drink, and a myriad of thoughtful touches.

25,257

6,173

847,074

96

rovolunteers.com/africa-moza..

Worldwide

About Blog – Reach Out Volunteers offer everyone the chance to be a part of real and effective change to village communities, orphanages, schools and wildlife conservation.

32,071

662

1,192,141

97

About Blog – Hi! We're Eric and Allison. We've sold everything we own, quit our day jobs and hit the road in search of adventure! Our mission to travel the world in search of fun and adventure and not sell our souls to our careers. We blog about our daily travels around the world and share all the tips and tricks we've picked up along the way.

997

1,067

3,998,684

98

Hawaii

About Blog – Alison's Adventures will inspire audiences to take risks, embrace change, and realize that every dream can come true. Alison Teal, a female version of "Indiana Jones," journeys into ancient cultures with her camera and pink eco surfboard to share global secrets of survival, sustainability, health and happiness through her comedic and inspirational film and blog series: Alison's Adventures.

127,542

25,380

4,525,188

99

Northern California

About Blog – AdventureBuddies is dedicated to helping people enjoy the outdoors. Home of the creator of education on how to use poles for hiking, walking & mobility.

n/a

19

5,671,354

100

Global

About Blog – Momentum Adventure is a luxury travel operator specialising in handpicked adventures in some of the most remote places in the world. We craft unique adventure travel experiences for those looking to 'do something different'.

47,946

2,449

6,176,579

101

Mall of America (#N240)

About Blog – JM Cremp's our vision is to be a resource for families by creating opportunities for parents to connect with their children and by fostering the spirit of adventure through the products we sell. In today's society, there is a clear need for a resource center and marketplace that is dedicated to traditional family values, wholesome experiences, and classic adventures. We aim to fill that need.

42,047

910

7,146,893

102

Breckenridge & Buena Vista, CO

About Blog – Experience Colorado up close with the The Adventure Company! We tailor your adventure to ensure that you and your group will have the experience of a lifetime.

5,271

396

7,243,457

103

Middletown, CT, US, 06457

About Blog – EMPOWER Leadership Adventure Center provides leadership training, team building, zip lining, and confidence building adventures. 30 acre adventure facility featuring CT's only true zip line canopy tour, climbing, rappelling, hiking, obstacle courses, adventure races, leadership, team building and more!
Frequency – about 1 post per week

4,924

877

8,660,264

104

About Blog – Washington State freshwater fishing guide based out of Klickitat, WA. Guided trips on many tributaries of the Columbia River such as the Klickitat and Little White Salmon River along with many Olympic Peninsula rivers such as the Soleduc, Bogachiel, Calawah and Hoh Rivers for some big Steelhead.

n/a

n/a

13,383,857

105

Boise, ID

About Blog – Adventure Data, previously Realtime Adventure Data, is an outdoor safety technology company aimed at bringing a new objective way for outdoor enthusiasts to make life or death decisions.Our mission is to provide outdoor enthusiasts with a greater amount of quantitative objective safety, using crowdsourced information, while increasing a sense for adventure.

356

17

18,706,408

106

About Blog – Adventures Global is your ideal adventure partner – whether you are climbing one of the world's highest peaks or starting out on your first outdoor experience. Adventures Global mission is Taking You on Life's Great Adventures.
Frequency – about 1 post per month

2,517

7

21,654,750

107

Seattle, WA

About Blog – A showcase covering the adventure photography work of Pacific Northwest Photographer, Mio Monasch.

543

574

28,645,557

108

jessadventureblog.wordpress.com

Orlando, FL

About Blog – Hello, everyone! My name is Jess. Thank you for visiting my blog and welcome to my adventures! This blog is for to document all of the adventures that happen along the way!

n/a

4,651

n/a

109

Pendine, Wales

About Blog – Morfa Bay Adventure offers a large selection of outdoor activities in Carmarthenshire, Wales, which are suitable for all ages and abilities. We believe that no matter how exciting the activity the most important thing is safety and the friendliness, professionalism and patience of the instructors our staff will not be beaten in this respect and we guarantee that everyone will have an awesome time.

3,001

1,405

n/a
These blogs are ranked based on following criteria
Google reputation and Google search ranking
Influence and popularity on Facebook, twitter and other social media sites

Quality and consistency of posts.

Feedspot's editorial team and expert review
Top 100 Adventure Blogs Winners
CONGRATULATIONS to every blogger that has made this Top Adventure blogs list! This is the most comprehensive list of best Adventure blogs on the internet and I'm honoured to have you as part of this! I personally give you a high-five and want to thank you for your contribution to this world.
If your blog is one of the Top 100 Adventure blogs, you have the honour of displaying the following badge on your site. Use the below code to display this badge proudly on your blog. You deserve it!:
<a href="http://blog.feedspot.com/adventure_blogs/" title="Adventure Blogs"><img src="https://blog-cdn.feedspot.com/wp-content/uploads/2017/01/adventure-100-transparent_216px.png" ></img></a>